Looking for an unconventional Christmas tree which is distinctive in its aesthetic? Check out Light Craft's distinctively unique rattan Christmas tree, which surely would be a conversation piece! Also, jazz up your Christmas and New Year parties with various Light Craft's products, such as colourful handmade thread ball lights, little fancy feather lights and splendid meteor lights, among others.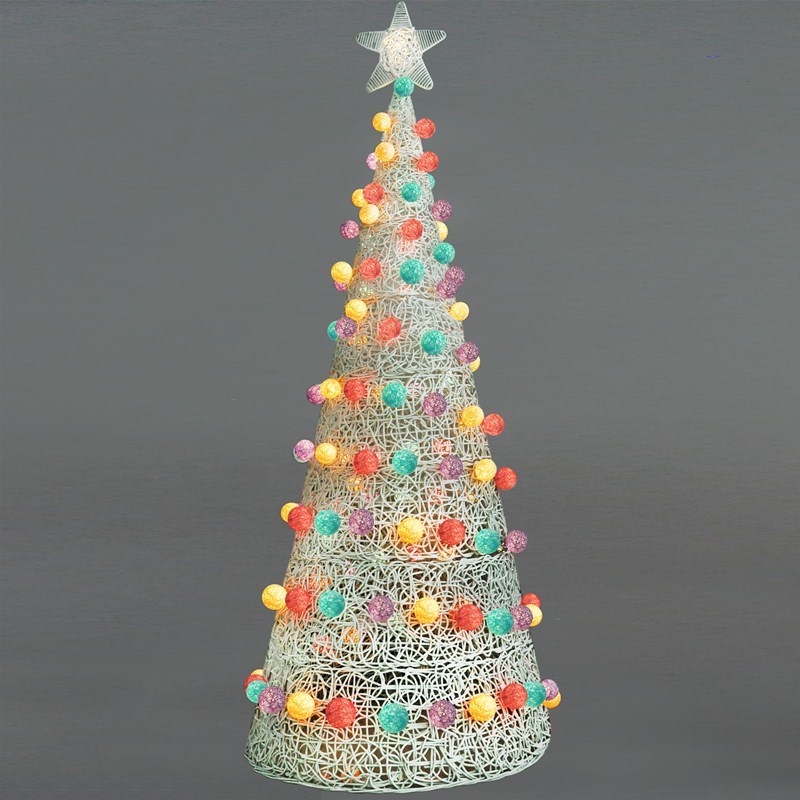 Are you bored of having the same of conventional Christmas tree every year? If you are, then check out the unusual rattan Christmas trees from Light Craft which are made by hand in Indonesia. They come in various heights: 50 cm, 115 cm, 170 cm, 175 cm as well as 225 cm, and those trees can be disassembled for easy storage when not in use.
You can decorate the rattan Christmas tree with your own Christmas ornaments or with Light Craft's handmade colourful cotton ball lights, which can serve as groovy Christmas ball lights. Those ball lights surely add warmth and style to your parties.
Moreover, besides adorning the Christmas trees, they can decorate your living room, the kids' bedrooms, veranda or garden, too. In addition to those small ball lights (6 cm in diameter), the larger version (23 cm, 30 cm and 37 cm in diameter) is also available.
These days, Light Craft's website is the home to lighting and lamps in all shapes and sizes; it stocks a wide variety of lights, both locally made as well as imported ones, and from the simple to the glamorous pieces. Initially, this brand only sold one type of product, namely cotton ball lights. Light Craft, which is based in Surabaya in East Java, actually is the first Indonesian brand that produces cotton ball lights.
Light Craft is the brainchild of Guntoro Rusli. The story of this brand started with the colourful cotton ball lights that piqued his interest and have awaken Guntoro's passion for entrepreneurship. When he worked at cruise ships, Guntoro has had the opportunity to visit various countries, including Thailand, where he saw cotton ball lights and bought them as souvenirs.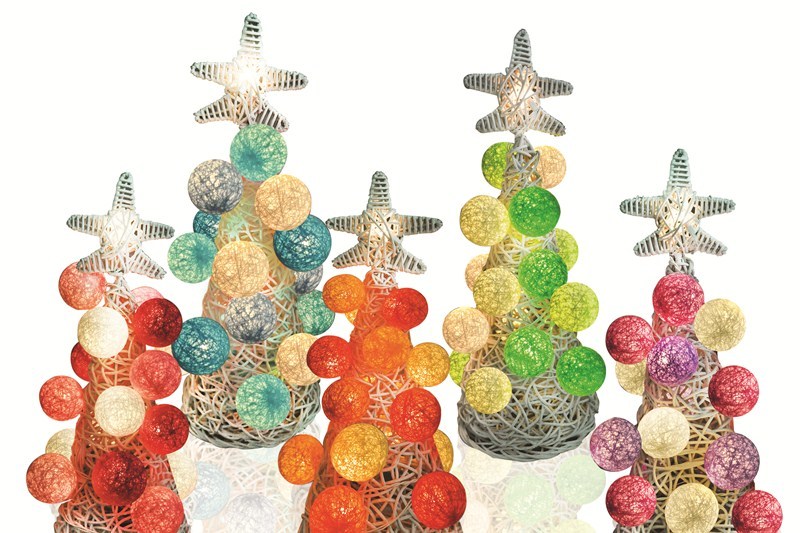 In the 2000's, even though cotton ball lights were popular in many countries. But they were relatively unknown in Indonesia. Guntoro saw an opportunity to delve into a market of handmade cotton ball lights in his home country.
Today there are countless videos on YouTube, which show how to make cotton ball lights, however back in the 2000's there was no guidance for Guntoro on how to make those lamps. It took trial-and-error process since its inception, before the project of making handmade saleable cotton ball lights finally came to fruition.
Those cute little items received a warm response from the market. Hence, in April 2009 Guntoro and his wife named Yenny Wibowo established Multicraft Indonesia, a company that becomes a pioneer in producing cotton ball lights in Indonesia; the goods are sold under the brand name of Light Craft.
In international market, there are countless cotton ball light makers; even though they are called cotton ball lights, it is widely known that in order to make the balls last longer, many of them are made of the durable polyester threads, rather than cotton yarns. As written on its website, Light Craft's balls use polyester threads, too.
After cotton ball lights, Guntoro and his team created rattan Christmas trees in various sizes, which are distinctive in their aesthetic (as a note, the rattan Christmas tree is a pre-order product; for more information, please contact Light Craft directly). They also made rattan ball lights – however, while cotton ball lights are the bread and butter of Guntoro's company, he had to discontinue producing rattan ball lights due to low demand.
Light Craft is, indeed, famous for its cotton ball lights. You can find many cotton ball lights sellers from Indonesia on the Internet; however, most of the products' brand is Light Craft. Online sale, including from its resellers who mostly sell their goods via Instagram, is the backbone of this brand - nevertheless, Light Craft also has several brick-and-mortar stockists in Jakarta, Surabaya, Bogor, Yogyakarta and Pangkalan Bun.
As for its thread lamps, they have evolved beyond simple ball-shaped lights only. Nowadays, among the offers, you can find yarn lamps that depict pilot, police, tennis player, golfer, doctor, nurse, grandmother, grandfather, chef and many more – they can be unique Christmas gifts for your family, friends, and favourite chefs. To celebrate Christmas, lamps in the shape of Snowman and Christmas tree are also available.
Moreover, thread lamps with an Indonesian flavour, join the rank as well; browsing through Light Craft's website, you will find yarn lamps that depict Indonesians clothed in traditional attire that are worn by, among others, Javanese, Balinese and Manadonese. Brides-and-grooms-to-be can order the couple version as their wedding souvenirs, if they wish.
Speaking of lighting and lamps, to provide an extra draw, this brand also sells a wide variety of imported goods, such as marquee letters light, fancy little feather lights, groovy flamingo neon lights, colourful electroluminescent wire, meteor lights and even par lights, among others. These days, Light Craft is the home to lighting and lamps in all shapes and sizes.
All in all, even if unconventional Christmas tree is not your cup of tea, but you have a penchant for lamps and lighting, you may want to check out Light Craft's website and Instagram that offers lights in all shapes and sizes to jazz up your Christmas and New Year parties.
Light Craft
Website: lightcraftindonesia.com
Instagram: @lightcraftindonesia
Tokopedia: Unique Lightshop
WhatsApp: 0813 3252 4941 and 0815 522 6122
Stockists in Jakarta:
LinoLuna (Lippo Mall Kemang L2-26 & LG-26), The Storage Shoppe (Lotte Shopping Avenue, 1st floor), House of Zakka (Arion Mall, 1st floor # 107 & Supermall Karawaci Unit FF # 21, Lippo Tangerang) & Tiramisu House (Kalibata City Square LG C22).
_______
This article is originally from paper. Read NOW!Jakarta Magazine December 2018 issue"Festive Issue". Available at selected bookstore or SUBSCRIBE here.