The world under the sea has always enchanted human kind for its mystery and natural beauty. It has caught the attention and imagination of human civilization – from the ancient Greek world to Jules Verne's Captain Nemo and even James Cameron's Deepsea Challenge – to unravel its various wonders. In this modern age, thanks to advanced technology, there is a new sophisticated way to experience the ocean while enjoying beautiful 'fine dining' at 5.8 metres below the sea: the experience of a lifetime.
Located on one of the islands at Lhaviyani Atoll in Maldives, this dining institution is part of Hurawalhi Island Resort that just opened last December. Known as 5.8 Undersea Restaurant, it is also the world's largest all-glass undersea restaurant that can fit 20 people comfortably. Beneath the lagoon, diners can enjoy an exceptional fine dining experience while watching beautiful sea creatures interact elegantly surrounding the 14 centimetre-thick curved glass dome of the restaurant.
As the sun went down, we could see dramatic changes of the sea colours surrounding the restaurant. A pair of stingrays 'flew' beautifully above the glass dome as several lionfish 'danced' nearby the little shipwreck on the side of the restaurant. Others like clownfish, trumpetfish, moray eels and groups of snappers were happy enough swimming between the anemones and throughout the surrounding coral reef garden.
I was in awe watching this view, all the while enjoying a fine glass of Riesling. It is not every day you can enjoy such unique dining experience under the sea that is beautifully designed and technologically savvy. Working with various experts from engineering to marine biology, those running the resort really have everything well planned and designed.
At the entrance, visitors can learn about the making of this restaurant, done by the ingenious Fitzroy Engineering in New Plymouth, New Zealand, then shipped and installed on Hurawalhi Island in March 2016. The 415-tonne structure is the biggest of its type in the world and was sunk on top of piles that go eight metres below the surface. It was an extreme effort to create this restaurant as the island is surrounded by coral reefs. Not only that, they also had to consider all other elements from water depth and clarity, sea floor conditions, tides and wave heights among other things.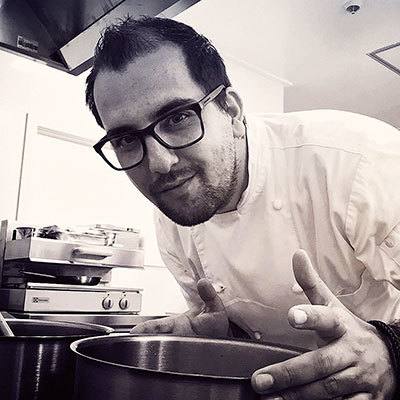 As I sat mesmerized at the sight of a couple of giant pufferfish and jellyfish arguing, a waiter dressed in white with a touch of Maldivian sarong brought us amuse-bouche – a sign that our six-course dégustation set menu was about to start.
The amuse-bouche was placed in a rectangular wooden box filled with white beans as base. On top of these beans were four stunning little snacks featuring a beef tartare with sour cream caviar, lobster roll lemon meringue, pea bruschetta and cream cheese, and crispy oyster and ginger aioli with salmon caviar. They may have been four little pieces of starters, but definitely had a strong impact in preparing our palate for the appetisers.
When the appetisers arrived, I was taken by surprise by the amazing visual presentation of the food. The way the chef presented the diver scallop with peach and almond vinaigrette samphire on a bed of rock salt and fresh seaweed was definitely a work of art and reminded me of Botticelli's classic, 'The Birth of Venus'. My admiration continued with the second dish, which featured yellow fin tuna with cucumber wasabi and sesame ponzu sauce that was very appetizing and with a presentation mimicking the beauty of the coral reef garden just outside the restaurant.
I was quite excited with the interesting mixture of taste presented by various elements that made up each dish. It was quite obvious that the chef had a strong modern technique cuisine and a scorpacciata approach, evident from the first two appetisers and this first seafood-themed main course featuring red mullet cauliflower with pine nut raisin.
The level of finesse soars high in this restaurant. They understand how to respect a great classic ingredient such as foie gras, searing it to perfection while adding a contemporary twist by serving it on a bed of risotto with dried seaweed and bits of smoked eels.
The final main course in this delicious symphony was a juicy, perfect medium rare Angus beef with Asian BBQ sauce served with grilled corn and onion. Overall, it was a beautiful surf and turf featuring great seasonal products from Maldives.
The whole dinner experience was finally sealed with a sweet combination of blueberry cheesecake with pistachio sponge and blueberry ice cream, and Baileys coconut praline accentuated by black forest macaroon. By then, all the fish had seemed to be swimming in slow motion as the side effect of my devouring so much good food 5.8 metres under the sea.
I was quite curious to have a quick chat with the chef to find out more about his food concept and approach, because this was simply something you wouldn't expect to find under the sea. To discover a great dining institution serving modern cuisine in the middle of – and below – the Indian Ocean, now that is what I call true joie de vivre!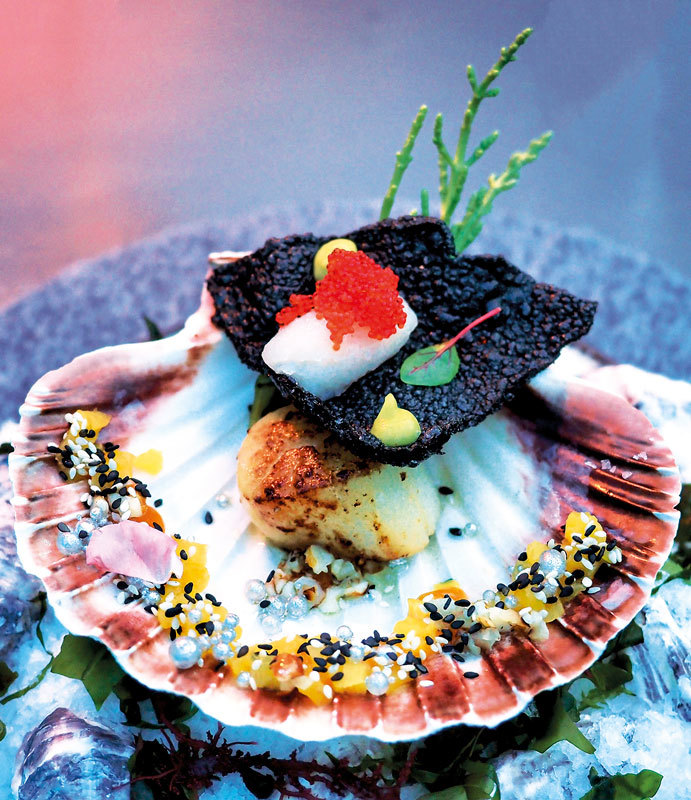 I found out that chef's name was Bjoern van den Oever, a native German who has been garnering his experience in various prestigious dining institutions around the world such as Ireland, Portugal, Turks and Caicos, The Philippines, Dubai, Doha, to even Sri Lanka. He has also had a chance to work in a three-Michelin-starred restaurant called Dieter Müller in Lerbach, Germany, and led the fine dining restaurant at Glenview Hotel Wicklow Co. in Ireland, where he received four Rosettes in the AA ranking for culinary excellence, before finally moving to Hurawalhi Island Resort as the chef de cuisine at 5.8 Undersea Restaurant.
In his second tour in Maldives, Chef Bjoern now creates a concept of multi-course tasting menu emphasising on the best quality products available. In a short meeting after our fantastic dinner, he told us that quality product is simply his passion.
"My culinary style focuses on creating profiles and techniques that enhance the natural flavours of each unique ingredient and present a harmonious interplay of quality ingredients. Each dish is kept true to nature's perfection and as a result is an innovative cuisine that continues to respect the produce itself, seasonality and the skills of the best gourmet producers," he said, adding that the surrounding sea has been the biggest inspiration to create his cuisine.
It was almost 10 PM when we finally concluded the entire undersea dinner experience. It was my first time ever to stay under the sea for more than four hours and I had had an absolutely extraordinary experience of a lifetime. I think 5.8 Undersea Restaurant at Hurawalhi Island Resort is definitely a place that you need to visit once in a lifetime.
PS: Don't you worry, they have Wi-Fi connection too at this undersea restaurant.