In April 2017, Cable News Network (CNN) included Indonesia's lapis legit as one of its favourite cakes from around the world in an article entitled Cakes of the World: Tiramisu, Baklava, Cheesecake and More National Treats. Those whose curiosity has been piqued by that article may drop by at Lapislapis outlets, which are located at various malls, such as Pacific Place and Plaza Indonesia. This brand, which started its business in 1980, specializes in lapis legit, offering both the old-fashioned and modern versions of the layered cake.
Lapis legit is widely popular in Indonesia – it is one of the traditional celebration cakes here, as you will often find this delicious treat at Indonesian homes during Christmas, Eid al-Fitr and Chinese New Year celebrations. Lapis means layer, while legit means very sweet. Thanks to the many thin layers that form this cake, its nickname is thousand-layer cake; in reality, the cake usually contains between fifteen and twenty layers.
The original, old-fashioned lapis legit, which is called spekkoek, is enhanced with spices, namely cardamom, cinnamon and nutmeg. However, today many bakers (and many recipes on the Internet) omit those three spices in making their lapis legit.
This cake has an unpalatable Dutch name of spekkoek (spek means bacon, while koek means cake in Dutch) as it resembles bacon, due to its streaky appearance. The origin of this Dutch-Indonesian delicacy is debatable, but it is widely believed that spekkoek, which was created during the Dutch colonial era by Dutch women who lived in Indonesia, is inspired by European layered-cakes, such as the multi-layered Baumkuchen from Germany, which looks a bit like spekkoek in appearance.
Lapis legit is one of my favourite cakes. It is rich and buttery, has a firm, moist texture and is sweet in taste - but since I do not have a sweet tooth, some lapis legit cakes are too sweet for me. I especially like lapis legit cakes from Lapislapis (layers in Indonesian language) for three reasons: they are not oily, they are not too sweet for my liking, and they are delicious.
Unfortunately, they come with premium price tags (priced between Rp 16,500 and Rp 18,500 per slice, they are on the expensive side for Indonesian traditional cakes) – but fortunately, you can taste the quality of Lapislapis' premium ingredients, including Dutch Wijsman butter, in every bite.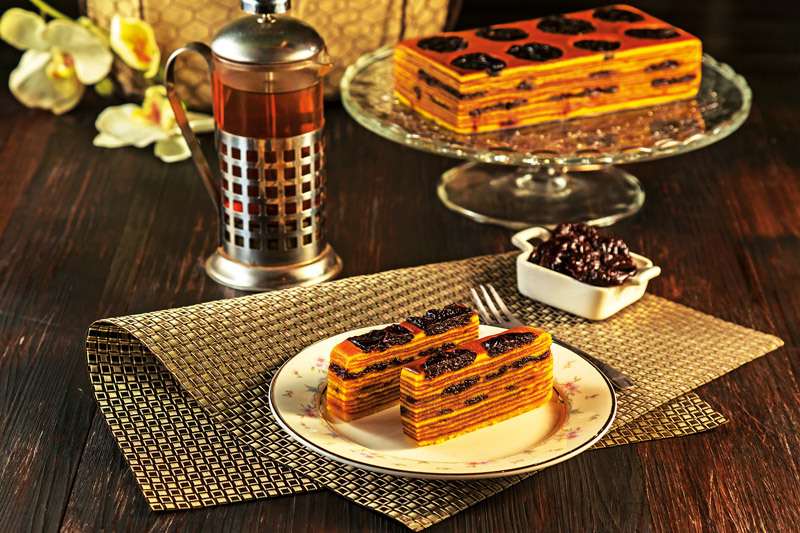 All delicious lapis legit cakes available on the market – whatever their brands – are actually sold at premium prices due to the cost of their ingredients, as this cake is usually made with 20 or 30 egg yolks and Dutch Wijsman butter, but also because the key to baking this labour-intensive cake is, literally, patience.
"Lapis legit is slowly built, layer by layer, baking each one in the oven for about 3 or 5 minutes before another layer of batter is spread on top. You must stand by the oven, observing each layer's progress carefully, and when you see any air bubbles, you must poke it with a toothpick to prevent the layers from puffing up," says Yenny Gunawan, one of the owners of Lapislapis.
Lapislapis started as a humble home-based bakery in 1980 and the goods simply known as "Yanti Lapis Legit" – the business then spread by word of mouth. In 2004, Lapislapis was chosen as its official brand name, and Lapislapis' first outlet was opened at Kelapa Gading Mall the same year.
Today, it has expanded to multiple locations, such as Pacific Place, Plaza Indonesia, Plaza Senayan as well as Pondok Indah Mall, among others. The business is run by Yanti Gunawan's children and their spouses. Lapislapis also has a stand-alone flagship store-cum-restaurant called Lapislapis the Kitchen; this is where they bake their famous lapis legit.
Lapislapis' tagline is Traditional home-baked premium lapis cake. "We do not outsource our goods, every cake is still made in-house from scratch by our staff, at our kitchen, thus we can control the quality of our products at every stage. Also, we do not use any preservatives. Hence, our lapis cakes will keep well at room temperature for five days only and are best consumed within two weeks if you put them in the fridge," says Tonny Gunawan, one of the owners of Lapislapis.
Lapislapis offers various lapis legit cakes. The list includes lapis cheese, lapis green tea, lapis coffee, lapis pandan, lapis chocolate and lapis mocca, among others. Some products that are enhanced with fruits, such as durian lapis and cempedak (artocarpus integer) lapis, are subject to availability. Lapis prune is the most expensive one at Rp 18,500 per slice. The cheapest ones, at Rp 16,500, are lapis original ("plain" lapis) and lapis spekkoek. Lapis original, actually, remains the best selling cake.
"To be honest, the term, 'original' is quite confusing, as our lapis original is actually made without any spices, while we call our lapis legit that uses spices lapis spekkoek. Even though, in the past, the original lapis legit is spekkoek, a layered-cake enhanced with spices," says Tonny.
Even though my favourite cake is Lapislapis' lapis original, I highly recommend Lapislapis' spekkoek – it has a pungent smell of aromatic cinnamon, and the cake is perfectly spiced with the rich flavour of cinnamon, cardamom and nutmeg, with no overwhelming flavour.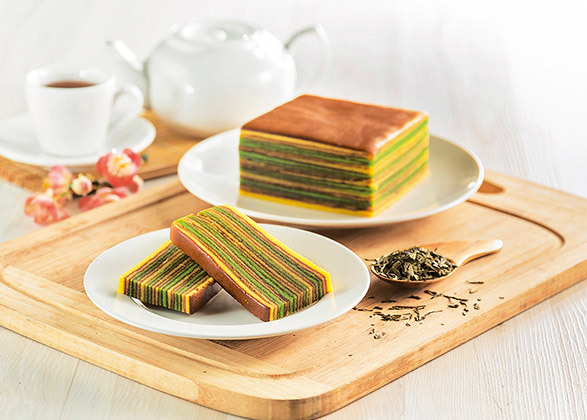 Besides in slices, the cakes are also available in quarter-sized (375 grams) and half-sized (750 grams) versions, as well as a whole cake. Prices vary; for lapis original and spekkoek, the quarter-sized version is Rp 155,000, half-sized version costs Rp 280,000, while the whole cakes are priced from Rp 375,000 (1 kg) to Rp 530,000 (1,5 kg).
Today, Lapislapis has evolved beyond baking lapis legit. At its outlets, you can also find other heritage cakes which are familiar to Indonesians, such as kastangel, lidah kucing and semprit, among others – I highly recommend its nastar, which happens to be one of this brand's best selling products.
Lapislapis also offers lapis Surabaya that melts in your mouth - this traditional three-layered cake is as popular as lapis legit in Indonesia, and surely worth a try. Indeed, Lapislapis is a place to go when one wants to taste heritage treats.
Yenny Gunawan and her family who run the business recognise that consistent quality and taste is crucial to keep Lapislapis' customers enthralled. As Indonesians, they surely understand that for many of their fellow countrymen, there is nothing like a rich, buttery lapis legit, with the taste of fragrant Dutch Wijsman butter in every bite.
Cake trends may come and go, but delicious traditional treats, such as lapis legit, never go out of style.
---
Lapislapis:
www.lapislapis.co.id
Instagram & Twitter: @lapisthekitchen
FB: lapislapis
Order by Whatsapp: 0878 8283 7314 - by email: [email protected]
Lapislapis the Kitchen (Flagship store & restaurant):
Danau Agung 2, block C # 21-22, (next to Dhammacakka temple)
Sunter, Jakarta Utara
T: (+62-21) 6583 2072
Lapislapis cakes are also available at:
Pacific Place Mall (4th floor), Plaza Indonesia (Food Hall), Grand Indonesia (Food Hall & Ranch Market), Plaza Senayan (Food Hall), Senayan City (Food Hall), Pondok Indah Mall 2 (Food Hall), Mall Kelapa Gading 3 (Gourmet Walk), Hermina Tower (Jl. HBR Motik, Kemayoran Block B10 Kav 4), Lippo Mall Puri (LG floor).
Soekarno Hatta Airport:
Terminal 3 Ultimate
Domestic Departure
2nd floor / Food Terminal & International Departure: 2nd floor / Eat & Eat TO GO