The object of a smart city in Indonesia is the community, government, and city infrastructure. In essence, the program aims to integrate information from the three objects above for efficient service. How about in Jakarta itself, has it become a smart city?
A little flashback to 2019, the year of the campaign, some of us may still remember where many candidates included smart city programs in their campaigns as solutions to urban problems. But the understanding of the Indonesian people about that program at that time was not that deep, perhaps until now. In the last two years, the smart city concept has been promoted by several cities with various approaches and implementations. Smart cities are an added value for regional leaders because they promise something new and stimulate citizens to be creative. However, after two years, there are several things that make smart city programs in several places in Indonesia to be misguided, they only measured a smart city from the advanced technology they had: monitoring room, CCTV, public spaces, etc.
In fact, according to the Director of Jakarta Smart City (JSC), Yudhistira Nugraha, talking about the smart city is the development of smart people. In essence, building a smart city is to build an ecosystem where entities work together to achieve goals. How to build the ecosystem? He answered,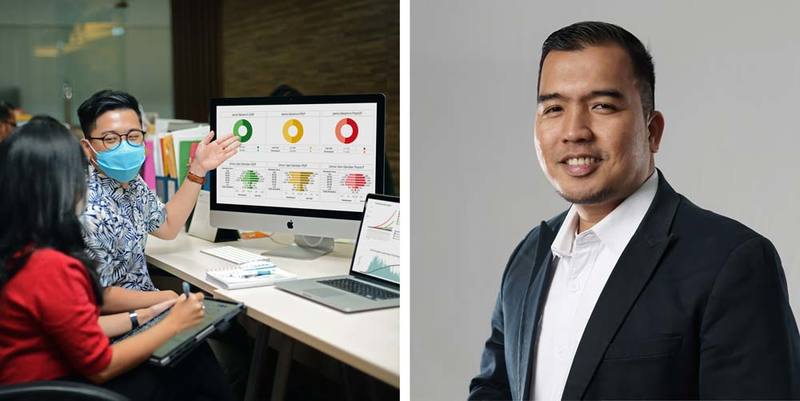 "First, people connecting to the people, how do we improve people's digital literacy so that a digital society is formed. Second, connecting people to the business, where we can increase economic growth that leads to a digital economy. And third, people connecting to the government which we call digital government. So it must include what we call digital society, digital government, and digital economy whose concepts have three objective values, namely how we can improve the quality of life, economic growth, and sustainability. Simply put, we mix it into two main concepts, namely the innovative city and happiness. So Jakarta is called a smart city, it is a city that always innovates to become an ecosystem that understands citizens' needs and ends with happiness. The essence is how to become a developed city and the people are happy."
A smart city isn't a product but a process that is measured by the quality of life of its people, economic growth, and the sustainability of the environment that is maintained. It's homework to give understanding to regions that think and claim to be smart cities, they understand that is a city plus technology.
Yudhistira said for the moment the government is developing the Future City Hub Jakarta, a collaboration with Berlin government. It means that JSC brings the problem owner and problem solver that the city must grow as an innovative and problem solver city. Who is the problem owner? It starts from regional work units, environment agencies, health agencies, start-ups, communities, etc to how to overcome the urban issues together.
"The Covid-19 pandemic is actually a big momentum that should not be seen as a mere health and economy crisis, but how now we see a problem and there is an opportunity, one of which is a digital life breakthrough and a greener environment. This is where Jakarta grows as a city of collaboration and our opportunity to increase the value of life from various aspects of life. We are required to understand citizen needs, solve the problem, and put a value on livelihood. Before the pandemic, it was difficult for us to find a place to wash our hands, but now there are many places. This is not all done by the government. This is a form of collaboration." Yudhistira said to NOW! Jakarta.
Since 2020, JSC has changed its status from a service unit to a regional public service agency to become the first city in Indonesia to be given the freedom to focus on developing a smart city ecosystem. In this case, JSC has flexibility in terms of budgeting, cooperates with many parties without going through bureaucracy, conducts B2B, and performs monetization of services provided to the community.
In addition, JSC believes that there are four main components in building the future smart city ecosystem. The first is spatial planning which is very important for an order. Here, not only physical space but also digital space is a workspace to build digital and community-oriented. Second is welfare where Jakarta must be able to develop personalized services to the community and must have data so that interventions are carried out based on data. For example, Jakarta has a distribution of vaccinations per neighborhood unit (RT) so that it knows which areas have vaccine rush.
The third is government. Here the government must be efficient and data-driven government with how to change government data that was previously rigid and inflexible to be transparent. Fourth is the business, where we can't see the business as just a hierarchical model. Industry must have various core businesses and digital workforces so as not to collapse. What was previously manual, how to automate online so as to create value-added industry, this is very important for SMEs.
"The point is that in building a smart city, everyone must have the same smart, inclusiveness. Anyone can contribute. Society must also be positive. A smart city is the power of citizen participation. Without the role of the community, the ecosystem will not be formed. We hope that with technology, people can be data literate. Technology cannot run alone, there must be regulation. Must be equipped and managed. So technology, innovation, and collaboration are the keywords." Yudhistira added.