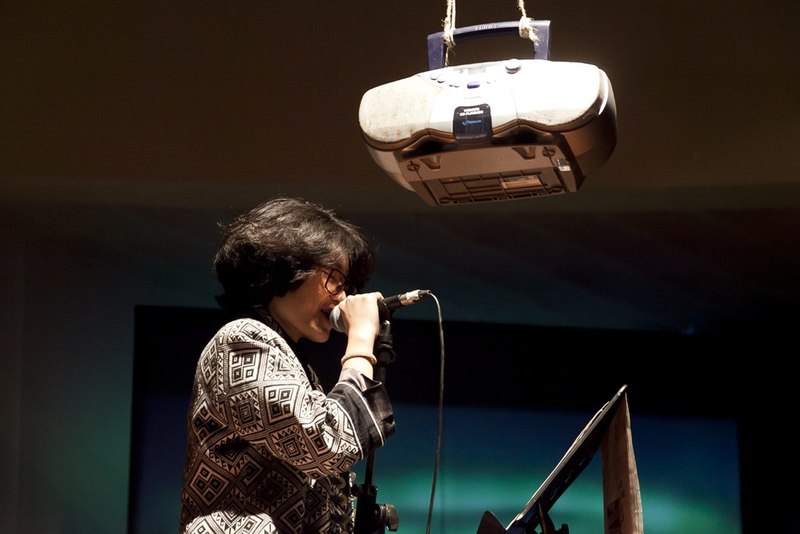 Since it was first introduced two years ago, the project Alur Bunyi has became a music laboratory and a platform of experimentation. Organised by Goethe Institut Indonesien, the third edition of Alur Bunyi invites various artists across the country and matches them with unexpected collaboration in five special performances with shows running until the end of this year.
The initial concert in May brought together multidisciplinary artist Julian Abraham Tagor with visual artist Nissal Nurafryanshah (LNDG) for the first time. The performance intertwined analog with digital instruments, humans with automation and natural with synthetic process. The resonance between kinetic object and percussion enriched the vibration and its whimsical visual entity.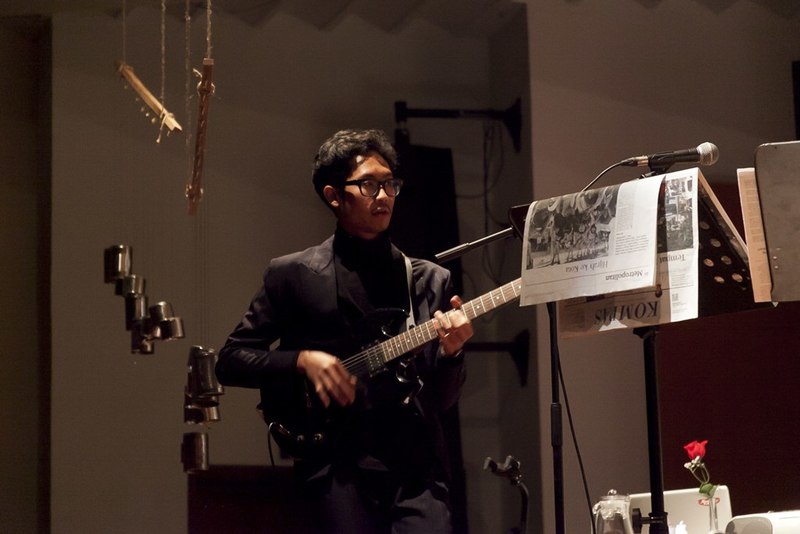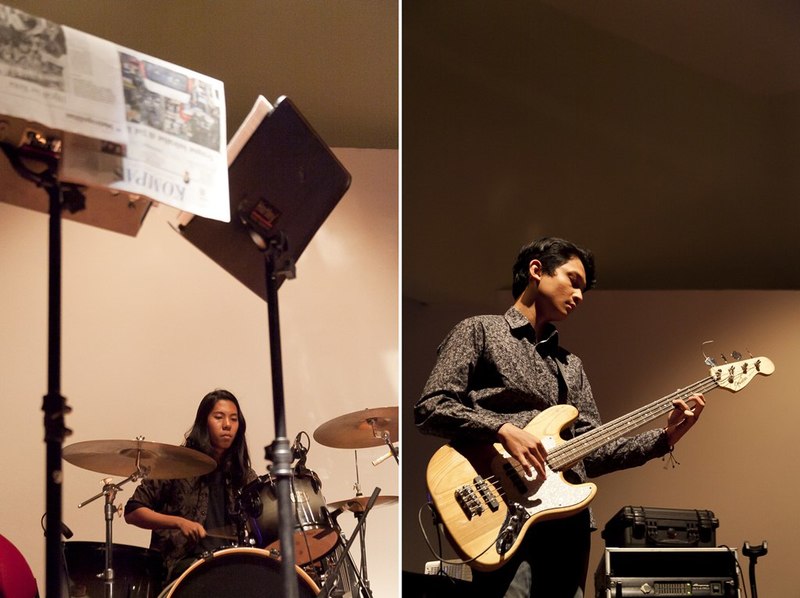 A group of four, GURU performed situational music using semi-chance operation and atypical composition in the second Alur Bunyi concert in July. Covered with satire narrative, GURU produced disruption of sound by mixing a running narrative from social media with newspaper reading. Through their band, Mira Rizki, Bayu Pratama, Fahma Rosmansyah and Gazza Ryandika played their instruments layered with urban noises, clamouring crowds and chaotic city atmosphere noises. The team of art teachers took the stage for the first time and presented tonal and atonal collisions with random blocking. With a full improvisation approach, they went unorthodox from music norms inviting their audience to solemn contemplation.
Curator Harsya Wahono intends to create a project which allows the artist to detach from specific musical categorisation. The Berklee College of Music graduate—specialising in music composition and contemporary production—compiles the hybridity of sounds, vocals, medium and instruments on stage.
"This year, we have a line up of artists and musicians collaborating for the first time to create an experiment from cross discipline and various musical genres. We want to see how instruments from differing practical arts and forms play with each other," the young curator added. Harsya is also a member of collective artist, DIVISI62.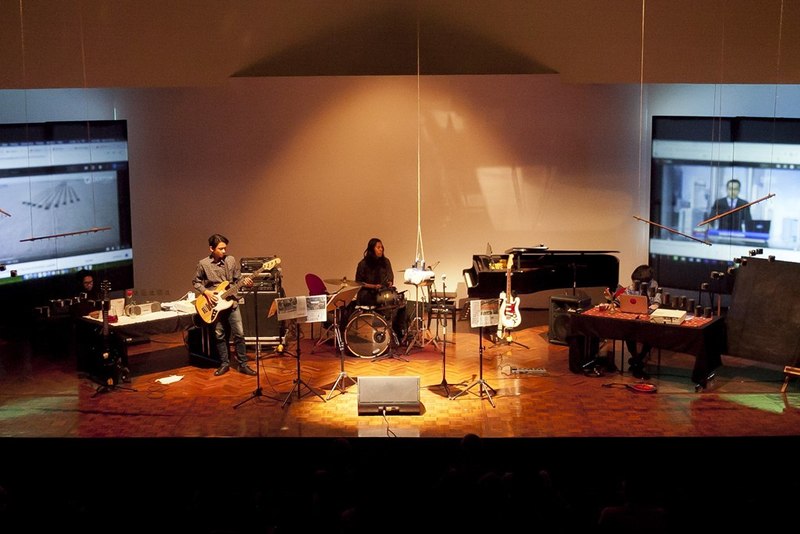 Looking back at history, experimentation has always been the core of fast growing Western music industry. The Chicago riot 'Disco Demolition Night' in 1979 might be an explosive tragedy which sparked many a backlash, but it was also the birth of 12 inch vinyl records and the beginning of disco revolution to house music. In mainstream wave, nobody expected Queens' Bohemian Rhapsody or when The Beattles introduced reverb drum percussion in 1960s, which is now available in digital instruments.
Aretha Franklin's R&B tracks in the early 70s were vastly different compared to Usher and Neyo's R&B version from 2000s—it's a different type of rhythm and blues. When Kanye West synthesised his own voice as part of an instrument in Heartless and Stronger, it broke billboard charts. "That's why they have a progressive industry—they are always experimenting and inventing something new. New sounds from certain songs may annoy one's ears with unfamiliarity, but everyone reacts differently. Music is always evolving and it happens everywhere and across genre," Wahono stated.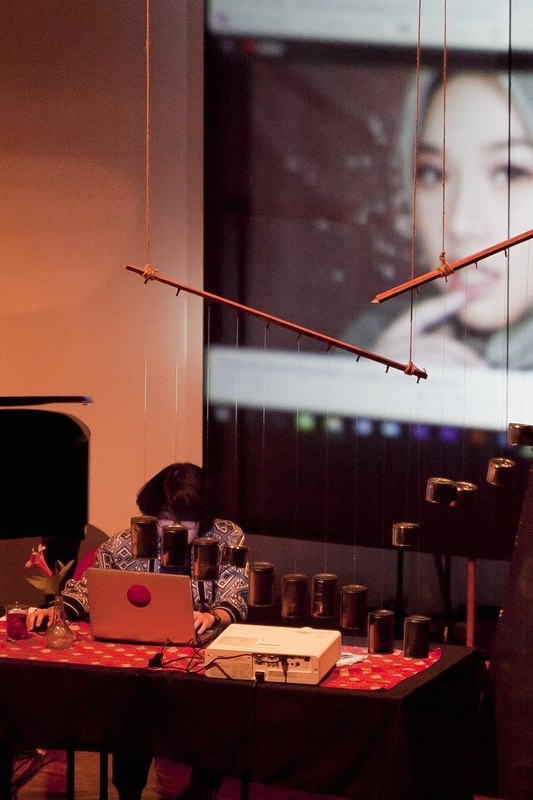 In Indonesia, experimental music started in the 70s in conformity to new culture and an injection of pop music, which had gone through experimentation itself to gain popularity in Hollywood. The birth of experimental music in the country has developed in parallel with the political situation in that era, which emboldened rebellious movement in homegrown music scene. This made the experimentalism a platform to criticise social conditions.
In Jakarta, the capital of commercial music, alternative space for experimentation has been developed in the last few years but still remains invisible compared to indie, electronic, house and jazz. According to Wahono, emerging musicians have found their confidence to present experimental music, but only a small number of artists carry specific purposes in their artistic direction. "Nowadays, there is no reason that experimental music has no market here. It's the core of music innovation that we are listening to today. New song needs new sense of hearing, and so does new music. If artists put themselves in specific segmentation, genre and other commercial purposes for the sake of public acceptance, they may forget how to experiment and be creative," Wahono argued.In the future, experimental music opens further possibility for convergence and multidimensional collaboration, which not only involve musician, but visual artists, scientists, engineers and other experts as well.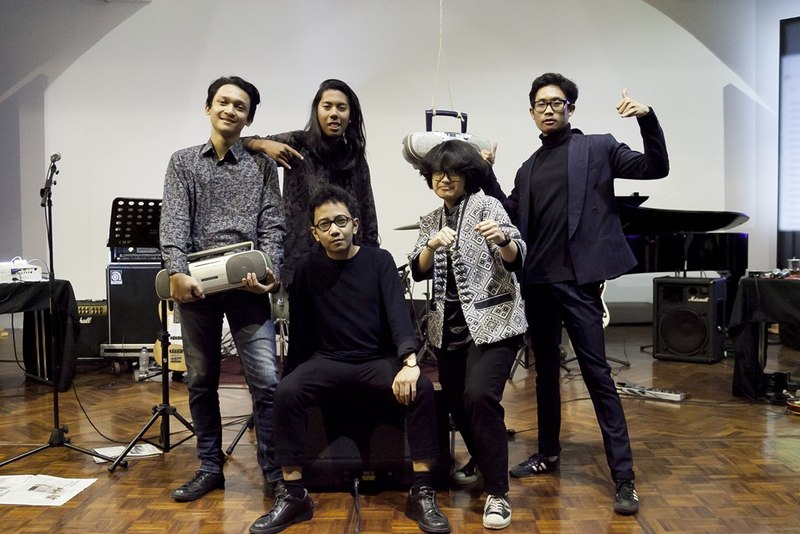 For more information about Alur Bunyi 2019, visit www.goethe.de.
---
This article is originally from paper. Read NOW!Jakarta Magazine September 2019 issue "Jakarta's Music and Nightlife". Available at selected bookstores or SUBSCRIBE here.