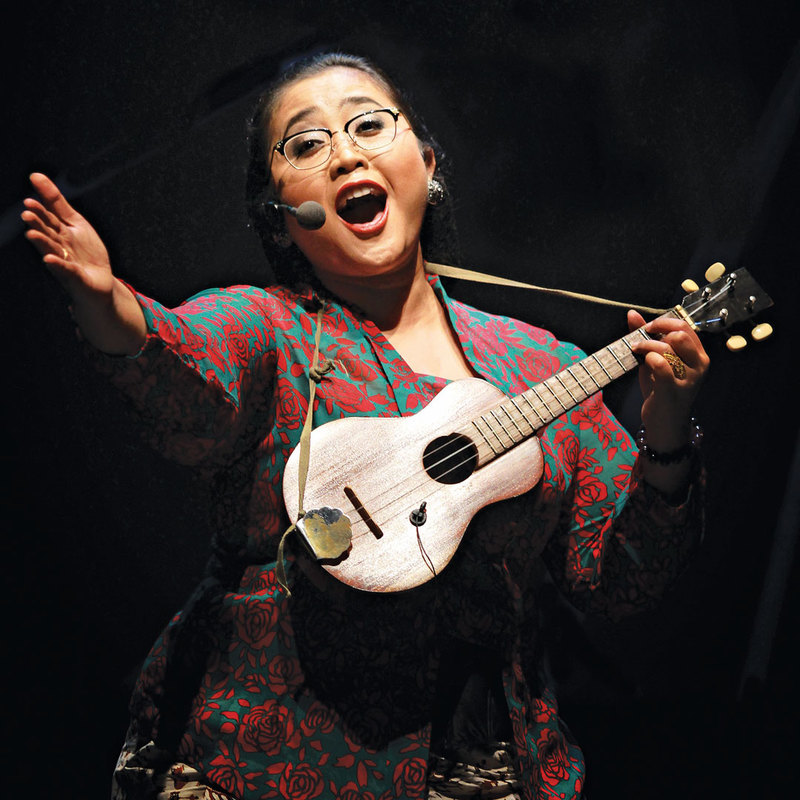 Multi-talented keroncong singer, Endah Laras, penetrated local and international stages armed with Javanese traditional arts and culture.
Endah Laras stole the attention of Indonesian music lovers with her melodious voice and skills in playing ukulele. Her appearance is very Javanese, as if untouched by modernization, using kebaya (traditional women's blouse-dress) and jarikan (batik fabric wrapped around the lower body worn like a skirt) completed with classic Javanese bun hair-style. In her performance, she sometimes deliver refreshing humour with warm and sincere body language and showing her other talents in karawitan (playing traditional gamelan instrument or singing accompanied by it), dancing and chanting parikan (Javanese rhymes), a performance that can be accepted by various circles, including today's young generation.
Born in Solo, Central Java from a late puppeteer father and mother who is a traditional dancer, Endah and her three siblings are blessed with artistic talents. Gamelan, puppet and Javanese songs became their daily toys. Traditional arts and its many forms were part of daily family activities and each family member naturally fits in to their own roles according to their respective talents and interests.Having graduated elementary schools, Endah moved to Jakarta and faced difficulties in finding Javanese arts community. She then joined a choir group in junior high school and learned how to compose songs and mix sounds, and these filled her days in the city until she graduated from senior high school. Back to her beloved hometown, she intended to deepen karawitan but she found keroncong and directly fell in love. Endah then continuously learned parts of the music both self-taught and from the maestros.
"Keroncong for me stands between tradition and modern. It is traditional because in Javanese karawitan there are langgam-langgam, an adapted form of keroncong music based on traditional Javanese music idioms, especially gamelan. And it is modern because the music accompaniment with instruments which more modern than gamelan or Javanese karawitan that include cello, bass, contrabass cak and cuk (ukulele in different size and sound). And the songs are not only Javanese langgam and original keroncong but also with parts of stambul (developed from keroncong music), Indonesian songs, dangdut, etc. Every song can be played with keroncong, even young generation nowadays make various collaborations, like keroncong with rock, jazz and humour instrumentals in order to this music more open and is liked by millennials," Endah explains.
"My ultimate goal is to spread the knowledge which I've obtained about Javanese arts and culture starting from I learned about nyinden, playing gamelan to dancing to the younger generation. This is my life's pride," Endah further explains.
Endah started her career as a keroncong singer by covering a famous song from the legendary singer Waljinah, Yen In Tawang Ana Lintang (If There are Stars in the Sky) in a wedding party in a small village. Her voice amazed the audience, as well as the accompanying keroncong orchestra group, who immediately invited her to join. Since then, her journey as a professional singer began. Not just keroncong songs, Endah often deliver songs of campursari (a crossover of several contemporary Indonesian music genres, mainly Javanese langgam Jawa and dangdut) and sinden or karawitan.
Her first album appeared in 1996 titled Gemes (Love) in collaboration with senior singer, Anjar Any, after which she released many more albums in collaboration with a variety of other art workers, both fellow keroncong artists, puppeters, campursari artists, ketoprak (Javanese drama performance) groups as well as theatre artists and pop musicians and even contemporary dancers.
Thanks to her experience in arts, Endah also had the opportunity to collaborate with Indonesian big names, such as Dedek Wahyudi, Rahayu Supanggah, Slamet Gundono, Djaduk Ferianto, Gunawan Mohammad and Garin Nugroho both domestically and abroad. Endah was also involved in the Javanese Opera by Garin Nugroho titled Tusuk Konde (Bun Pin) which was performed in France and Amsterdam and several times involved in making films like Soegija, Finding Srimulat, Miracle Jatuh dari Surga (Miracle Fell from Heaven), and Guru Ngaji dan Badut Maksimal (Qoran Reading Teacher and Maximum Clown).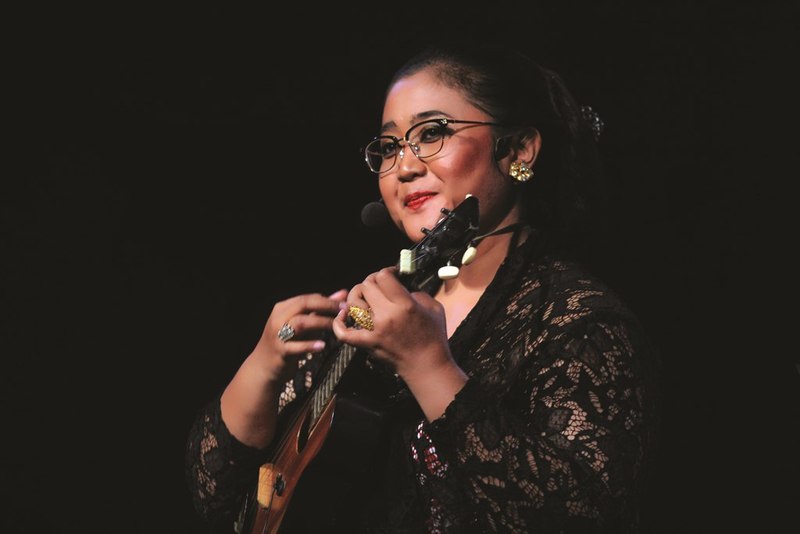 Her friendly attitude also brought her to participate as a musician and singer in Wayang Superstar Ki Enthus Susmono (Puppet Superstar Ki Enthus Susmono) in the Netherlands, France, Belgium and Korea. Endah also performed at the 50th Asia Art Culture with Quartet Music String and music director Yasuhiro Morinaga from Japan and collaborated with Japanese dance choreographer Akiko Kotamura in To Belong in Japan, Singapore, Hong Kong and Indonesia.
Endah also took the opportunity to read Serat Jaka Tingkir (A Story of Jaka Tingkir) to represent Indonesia as a Guest of Honor at the opening of the 2015 Frankfurt Book Fair and collaborated on Servant of the World with Elizabeth Inandiak, Jennifer Lindsay, Tina Schoot and Landung Simatupang to be staged in Berlin and Singapore. In addition, in October 2016 she also had the opportunity to perform in World Economic Forum in Davos, Switzerland.
Until now, Endah is still intensely involved in giving workshops in the Chinese University of Hong Kong and in the United World College of South East Asia in Singapore.
Her great love for keroncong music is dedicated to caring for young generation through the Surakarta Youth Keroncong Community, where Endah provides a space in her house for about 40 young people to learn and develop keroncong.