Jakarta is full of amazing bars, restaurants and lounges offering vibrant nightlife and music experience, and handpicking just a few of them was a daunting task. Nevertheless, here are some of our favourite venues.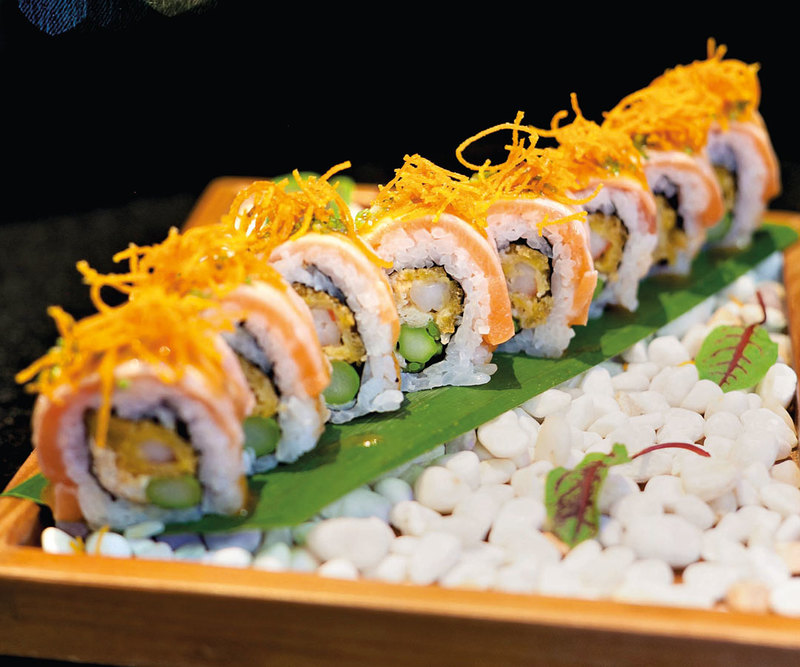 Henshin at The Westin Jakarta​​​​​​​
Recently celebrated their second anniversary with not one but two parties dubbed by some as Jakarta's best party event of the year, Henshin at The Westin Jakarta is still the undisputed champion when it comes to an all-encompassing upscale bar experience.
The bar is perched on the 67th level, effectively making it the highest bar in the country, both literally, as well as in terms of quality of experience offered. You cant go wrong with the Fried Sushi Bolas or Chino Salmon. Both light bites are the perfect starting snacks to explore the wide range of Nikkei-inspired cocktails.
The best way to enjoy the Henshin experience is by securing a spot on the outdoor area after dark. This way you'll enjoy the full view of Jakarta's glitzy night lights from up high. A few notable signature cocktails to try include The Last Ronin, a whisky based concoction with choya umeshu, yuzu juice, orange juice and pasteurised egg syrup; as well as the Shogun, a delightfully refreshing mix of gin, campari and sake.
The Westin Jakarta, Level 67
Jalan H. R. Rasuna Said Kav C-22
T: +62 8780 0028 008
IG: @henshinjakarta
FB: Henshin
E: [email protected]
www.henshinjakarta.com
This venue participated in the 2019 BRBCA. See the winners here!
---
Ambrosia Private Club
A members-only upscale restaurant serving Mediterranean cuisine with added tapas, artisanal charcuterie, paella and seafood, Ambrosia Private Club offers exclusivity like no other. The idea is to bring together individuals who appreciate great food and drinks while maintaining a positive community.
Due to increasing demands, Ambrosia Private Club is starting to allow more food and drinks enthusiast to join its fold by launching open-for-public programmes on certain days, such as the Casa de Carne and the AMBROSIA x BLANCO par Mandif two-night degustation dinner in August.
After dinner, the fine-dining restaurant transforms into a lively lounge where DJs play on weekends, inviting the crowd to sip and dance the night away. In addition to delicious dishes like the Beef Bone Marrow—my personal favourite and also a perfect pre-drink snack when shared—don't miss some of the bar's innovative cocktail creations, which include the Garden in the Sky, a vodka based drink with jalapeno and egg white in a martini glass decorated with vines on the outside glued with simple syrup. For the gentleman, the Burning Bourbon is whisky and aromatic bitters garnished with a crispy bacon.
Jalan Daksa I No. 20
IG: @ambrosiaprivateclub
www.ambrosiaprivateclub.com
---
A/A Bar
Short for Alchemist Anonymous, A/A Bar is ISMAYA group's latest venue that offers the exclusivity and welcoming ambience of a speakeasy combined with a unique offering of signature cocktails worthy of any world-class bars. As the name implies, A/A Bar prefers to be known only to a select few. They rely on word-of-mouth for branding, and the way things are going, that's all they need to be one of the most popular bars in town.
Upon entering the building, no one will even stand by on the outside to tell you where to go. You need to pick up a retro rotary dial telephone located on an antique bookshelf in front of the elevator to request entry through a hidden door on the nearby wall.
Once inside, you will suddenly find yourself in this speakeasy lounge from 1930s Manhattan that plays live jazz music most nights and DJs on others. If the vibe alone does not compel you enough, the luscious bites and drinks will.
The Chrysanthemum—a mixture of gin and chrysanthemum cordial—is particularly popular among the ladies, while the Curry—curry leaf-infused negroni—pleases most gents. Some of my favourite light bites include the Korean Shortribs, which had a very balanced and authentic composition of Korean spices, and Truffle Bikini Sandwich, a savoury comfort food that plates grilled cheese, truffle honey and serrano ham.
Jalan Gunawarman RT 5, RW 5
IG: @aa___bar
FB: A/A Bar
www.ismaya.com/eat-drink/aa
---
Flow Jakarta
Located in the heart of Jakarta's commercial area within Menara BTPN at Mega Kuningan, Flow is an inviting bar and lounge that offers an excellent menu of modern international dishes with an Asian twist.
While popular for lunch and afternoon snacks, Flow really comes alive in the evenings. The attractive happy hour package alone warrants a visit to Flow. Daily live music follows after happy hour, played by bands curated by the owners themselves, and finished by DJs spinning into the wee hours every night.
Flow offers a wide array of light bites to work up your thirst, some of which include the Salt Pepper Calamari, which has just the right level spiciness to tempt you to keep nibbling and sipping. The counterpart to the calamari is the Salt Pepper Tofu, which is well-balanced and less seafood-y. Don't miss the Beef Rendang Quesadilla as well, which comes with a side salad, minced pepper and spicy quesadilla sauce.
As far as sips are concerned, we recommend the Perfect Lady cocktail, which rounds up a sweet peach flavour on top of a dry gin base. It really is the perfect drink for the ladies to warm up. For the gents, whisky-based The Godfather offers a tamed whisky kick that takes you in to a long, warm and smooth caramel-y finish. Flow also offers a diverse list of wines, craft beer and spirits at approachable prices.
Menara BTPN, Level 2
IG: @flowjakarta
FB: Flow Jakarta
www.flowjakarta.com
---
Eastern Promise
Astablished in 1989, Eastern Promise is often dubbed as the oldest bar in Kemang, and it is home to those who enjoy a sense of community, beer, great food, sports shows and live music performances.
The menu consists of a great selection of British-Indian dishes, including all-time pub favourites like banger and mash, beer-battered fish and chips, homemade pies and various types of naan pizzas.
In addition to broadcasting sporting events and live music performance on Friday and Saturday nights, the bar holds a variety of events, such as a monthly pub quiz, ladies night, stand-up comedies, 'beach' parties and many more.
You'll never go thirsty at Eastern Promise thanks to their wide array of beers to choose from, including imported raft beers, the famous Lagerita and a special selection of Mojito said to be one of the best in the area. The classic cocktails is another sure-fire way to have a good time. I like the Rusty Nail and Long Island Ice Tea, to name a few.
Jalan Kemang Raya No. 5
IG: @epkemang
FB: Eastern Promise
www.epjakarta.com
This venue participated in the 2019 BRBCA. See the winners here!
---
Glass House Jakarta
Nestled on the rooftop space of Eastern Opulence, Glass House is a bar promising to offer an escape from mediocrity. True to its name, Glass House is surrounded by floor-to-ceiling glass windows that allows patrons unobstructed view of the surrounding glitzy area.
Glass House offers a range of bar food to choose from, and some of the favourites include Parmesan Truffle Fries, plating perfectly fried potato cuts sprinkled with parmesan and Italian truffle oil.
If you're feeling adventurous, one of the flaming cocktails of Glass House would be a fitting reat. Do try the Pertamax Plus Plus, which will pit you up against a mix of kahlua, baileys and absinthe. The signature cocktails also deserve some love. One of my favourites is the Martini Wedang Jahe. With arak bali, vodka, homemade wedang and palm sugar, you can't help but marvel at how well local ingredients fuse with vodka.
Jalan Cipaku 1 No. 85
IG: @glasshousejkt
FB: Glass House Jakarta
---
Beer Brother Kemang
You can feel the bar ambience immediately upon entering Beer Brother, with a spacious dining area adjoined by a well-appointed bar on the indoor side of the venue. Past the glass partition separating the outdoor and indoor area and you'll find where the excitement happens. The outdoor area of Beer Brother is a spacious venue lined with wooden chairs and tables encircling a centre stage that hosts live musical performances on a regular schedule.
Aside from the copious choice of spirits available, there are some exceptional cocktails here that you must not miss, including the 'XL-Size' Sweet 17 (The Legendary). This drink is an infusion of gin, vodka, rum, tequila triple sec, whiskey, brandy, gold rum, banana liqueur, créme de casis, cacao white, melon liquer, cacao brown, coffee liqueur, southern comfort, frangelico and galliano. Few can withstand the might of this explosive cocktail that offers an explosion of flavours. If this doesn't get you tipsy, no drinks will.
Pizzas and pastas at Beer Brother comes in decent sizes, but if you're here for the craft beer and drinks, you have to opt for one of the 'beer friends' selection, such as the Hot Wings or Salted Egg Chicken Wings.
Jalan Taman Kemang II No. 28
IG: @beerbrotherkemang
FB: Beer Brother Kemang
www.beerbrotherkemang.com
---
McGettigan's Jakarta
aking full advantage of its strategic locality amidst the bustling Mega Kuningan business district, McGettigan's Jakarta is a hip and contemporary bar with an international vibe. It offers innovative beverages, world-class cuisine, a welcoming atmosphere and regular live performances. It is no surprise that McGettigan's is one of the most popular bar destinations among executives working around the immediate area.
Bearing the spirit of a true Irish pub, McGettigan's cook international dishes influenced heavily by Ireland, Asia, America and beyond. A popular start and drinking companion is the McGettigan's Chicken Wings available in three different flavours: dry spicy, buffalo or barbecue. The Wagyu Beef Sliders is also enticing with aged cheddar, caramelised onions, truffle mayo and brioche buns.
Sample the spirit of the old country by ordering Irish Island signature cocktail. It is an Irish whisky-based drink with gin, rum, tequila, triple sec and Irish beer. Guaranteed to give you a distinct punch you'll not soon forget. Another recommended signature is The Dark Irish, which is a mix of vodka, kahlua, galiano and light beer.
Menara BTPN, Sunken Plaza
IG: mcgettiganspubs
FB: McGettigan's
www.mcgettigans.com
---
This article is originally from paper. Read NOW!Jakarta Magazine September 2019 issue "Jakarta's Music and Nightlife". Available at selected bookstores or SUBSCRIBE here. ​​​​​​​