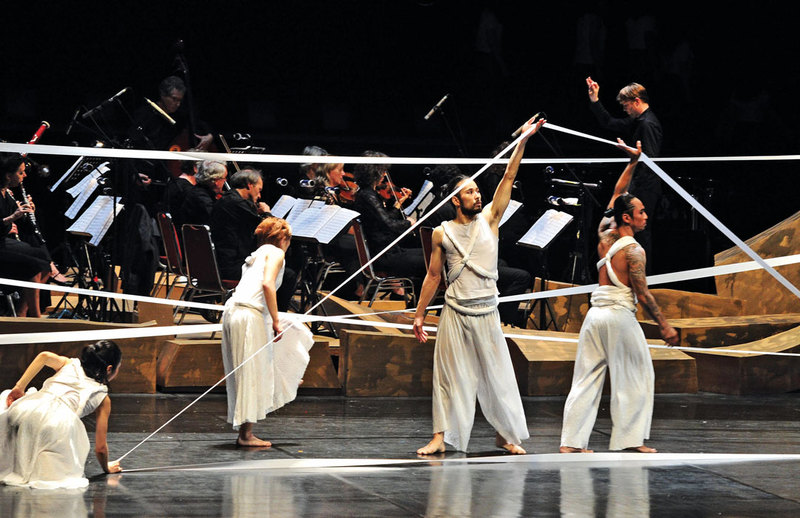 The first edition of contemporary music festival MUSIKINI aims to advance the industry and local talent through innovation of sounds and performance.
In the last few years, celebrated Indonesian composer and avant-garde figure Tony Prabowo has collaborated with Indonesian creative minds to envision the future of contemporary music in Indonesia. His dream is coming to life as the first festival showcasing contemporary classical music will be the milestone to develop contemporary pieces and creative ensemble show that could contribute to homegrown industry.
MUSIKINI, the first contemporary music festival, will take place at the end of this year with epic concerts featuring Batavia Madrigal Singers and The Resonanz Children Choir as well as Gandari opera led by Tony Prabowo himself. Under the umbrella of Yayasan Rumah Musik Indonesia, the festival is expected to be a creative hub to celebrate sounds of Indonesian contemporary classic and ensemble performance by young talented artists.
"Contemporary music forms the frontline of musical innovations. It encourages creativity. There are many things to explore through contemporary music. It could be dynamic, oriented to the future and it has a high standard of artistry in it," Prabowo said to NOW! Jakarta.
The grand opera performance is adapted from a classic piece by Indonesian poet and playwright Goenawan Mohamad. As the original opera was performed at a number of events both local and international, Tony Prabowo has revised the score to be more dynamic and easily enjoyable for public, especially younger audiences. Show director and choreographer Melati Suryodarmo offers new context about the main character Gandari—inspired by Hindu Javanese folklore—to portray modern women. Artistic director and set designer Jay Subiakto helps visualise the 60-minute long show that has 25 scores of ensemble, solo performance, narration and choir.
Opera Gandari will feature a number of professionals, such as Peter Veale (German conductor), Bernadeta Astari (soprano), Reza Rahadian (actor), Max Riefer (german percussionist), T'ang Quartet (Singaporean strings group) and Batavia Madrigal Singers under the chorus master Avip Priatna. Video designer Taba Sanchabakhtiar and Finnish lighting director Joonas Tikkanen will present an immersive visual experience on stage.
In addition to the concerts and opera, MUSIKINI also introduces Jakarta Modern Ensemble as an education platform to learn about contemporary classical music for emerging talents. In collaboration with European, American and Asian musicians, Jakarta Modern Ensemble offers masterclasses and workshops for local musicians. "In the long term, the music group will be a space for expression for young composers and a development platform to improve technical skill and musicality," Prabowo stated.
MUSIKINI will also be holding a series of programme such as talkshows, workshops for Junior Ensemble, outreach and scholarship programmes. In an effort to promote contemporary music to younger audiences, MUSIKINI also runs online campaigns and runshows in a number of schools.
Opera Gandari is slated to run on 14 and 15 December 2019. The recital concert will feature 12 new contemporary pieces by Tony Prabowo and will be held next year from 13 to 15 March 2020.
---
This article is originally from paper. Read NOW!Jakarta Magazine September 2019 issue "Jakarta's Music and Nightlife". Available at selected bookstores or SUBSCRIBE here.