Despite high literacy levels, how can all Indonesian students benefit from the 'right' kind of education?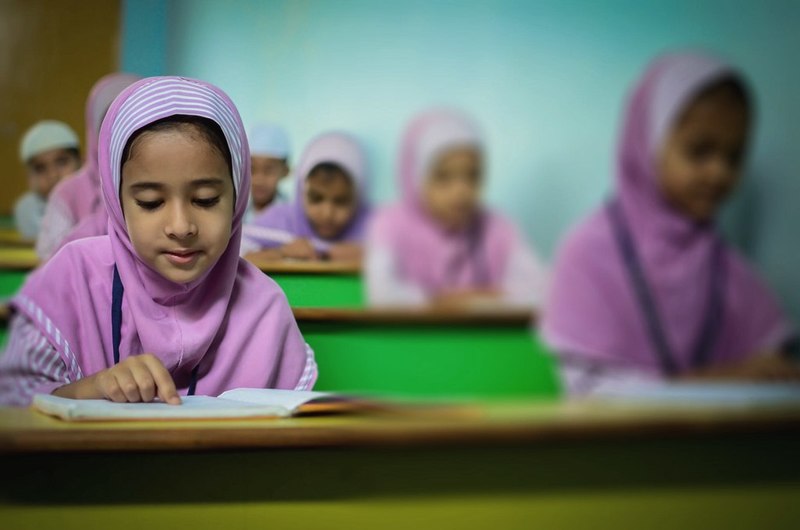 In a report on the state of education in Indonesia, "Beyond access: Making Indonesia's education system work" by the Sydney-based Lowy Institute analyses the shortcomings of the education system of Southeast Asia's largest nation and economy, tracing its failures to "politics and power" rather than a lack of educational funding.
Writing in Study International, Max Walden references the aforementioned report in his analysis of education, noting the particularly damning line that despite Indonesia's ability to keep students in school until the end of the basic education period, "However, it has had much less success in ensuring that these children receive an education."
According to Unesco, Indonesia's literacy rate is now high at around 95 per cent. Its youth literacy rate is even more impressive at 99.67 percent. Nevertheless, other educational indicators illustrate a bleaker picture, Walden notes, continuing that PISA ( Programme for International Student Assessment ) tests conducted by the OECD in 2015 showed that Indonesian students were performing at lower levels in all areas – science, mathematics and reading – than the OECD average.
A shocking 42 per cent of Indonesian students were failing to meet minimum standards in all three areas covered by the test – being outperformed by students in neighbouring Malaysia, Vietnam and Thailand, he notes in his report.
What is particularly discouraging for educators is that the country's endemic cronyism has found its way to the education system too with many university appointments being the result of friendship or other connections rather than out of merit. What this means, ultimately is that students suffer from inadequately qualified teachers, which leads to an inadquate education, the report continues.
World Education News (WES), a non-profit organisation which helps evaluate international education standards, recently published a report on the state of education in Indonesia today.
It notes Indonesia also has the highest number of international schools in Southeast Asia. These schools teach foreign curricula and are clustered in major cities. Indonesians can attend so-called "joint cooperation schools" which are locally owned but accredited overseas. These schools are required to incorporate parts of the national curriculum, namely Indonesian culture and language, while still teaching foreign curricula.
Global Business Guide Indonesia notes that for a long time, primary and secondary education in Indonesia did not feature prominently on the radar of investors, not least because the public education system offers free basic schooling for all. This is in stark contrast to higher education, where private organisations run the vast majority of institutions. Over the past decade, however, Indonesian parents have become more demanding with regards to their children's education and many have high hopes for language development. Rising disposable incomes allow an increasing number of families to pay for education themselves. Most well-to-do parents in the urban centres are willing to spend generously on education if they are convinced this will enhance their children's career prospects. Others are motivated by the desire to instil in their children a sense of global awareness. Promising to immerse students in foreign languages, foreign cultures and foreign ways of thinking, private schools that pride themselves as "international schools" are increasingly sought after. Of course, these schools also cater to foreigners living in Indonesia, many of whom wish for their children to be taught in English.
Indonesians have become more interested in learning foreign languages, especially English, that an international school education automatically provides. As more Indonesians can afford it, bilingual education from preschool all the way through to university looks set to become the norm rather than the exception. This is the core of what makes the international schools international, while claims to modern teaching methods and high security complete the package.
The Education and Culture Ministry must balance the goal of guaranteeing free basic education to all citizens with that of raising the quality of its schools to empower students to compete on the global stage. With more and more schools rushing to implement bilingual or even multilingual curricula, the obvious challenge is finding enough qualified teachers to do the job. There is concern about those teaching in English not being qualified to do so in a manner that will actually enhance student's linguistic capacity.
Teaching at Indonesian schools is often too theoretical and an authoritarian style of instruction offers scant opportunities for creative and critical thinking – the very skills necessary to develop entrepreneurship and problem-solving capabilities. This makes vocational training next to formal education an interesting segment for those looking to invest more in the country.
_______
This article is originally from paper. Read NOW!Jakarta Magazine May 2019 issue "Kids, Family, and Education". Available at selected bookstore or SUBSCRIBE here.