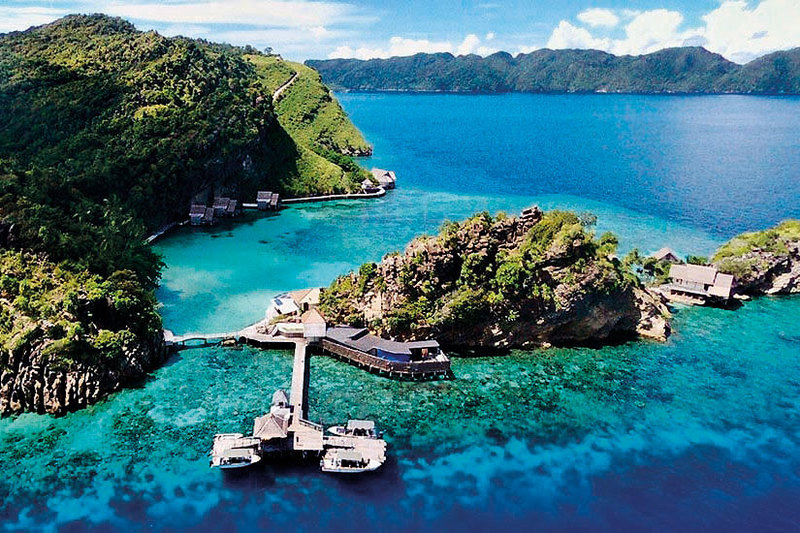 While Bali is one of the most popular honeymoon destinations, the Indonesian archipelago offers so much more. NOW! Jakarta looked at some of the coolest places across the country.
Misool Eco Resort, Raja Ampat
Raja Ampat is a paradise for divers to see manta rays, sharks and shoals of schooling fish and to explore reef slopes with some of the world's widest diversity of coral reefs. This place is also a heaven for honeymooners! Misool Eco Resort is an exclusive dive resort located on a remote private island with white sandy beaches and pristine coral reefs in southern Raja Ampat. Brimming with chirping birds and the lapping of the waves under the bungalows, Misool Eco Resort offers simple yet comfortable accommodation with top quality service. Indulge yourself in amenities like open-air bathrooms, air-conditioning, fresh hot and cold showers, mini-bars, in-room safes and handcrafted furniture and fittings. Misool Eco Resort offers airport transfers for all visitors. It is best to take an early flight from Jakarta (CGK) to Sorong (SOQ) and rush to a private speedboat to get to the resort.
For further information visit www.misool.info
---
Pulau Cinta Eco-resort, Gorontalo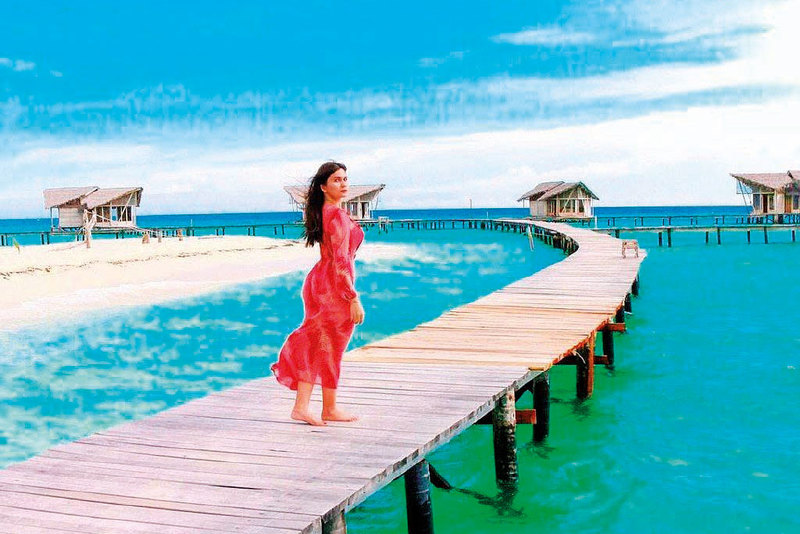 Are you a newlywed looking for a non-cliché honeymoon destination? Head up straight to Gorontalo! Situated on top of the incredible reef of Boalemo District, Northern Sulawesi, the heart-shaped island, commonly known as Pulau Cinta, has become more popular today in Indonesia. Isolated in the middle of the small archipelago of Northern Sulawesi, the overwater bungalows ensure that you'll be just steps away from glistening waters, enveloped in the ultimate honeymoon vibes. Completely solar-powered, the resort is committed to preserving its delicate environment. Stunning panoramic views of the sparkling crystal-clear waters makes it a perfect hidden paradise getaway.
Visit www.pulocinta.com for more information.
---
Nyaman Katamaran, Labuan Bajo
Combining authenticity with tradition, the 32 metre-long Nyaman Boat offers adventurous couples an innovative and extraordinary stay with its deck-slash-cabin luxury accommodation. Guaranteed with a 5-star retreat, one can never get enough of the excellent service and the interior design reflecting both Indonesian heritage with a touch of contemporary atmosphere. The 10-meter boat provides an impressive level of comfort and liveability unlike any other. Home to breathtaking volcanic islands complemented by the lushness of the wild, sailing around the island of the Komodo National Park is one of the must-do excursions. Sailing with Nyaman Katamaran will bring you to the magnificent views of the natural panorama whether stationary or on the move. This exploratory cruise to the crystal-clear water in the enchanting seabed will take you to discover manta rays, dolphins, Napoleon fish, coral reefs, turtles, reef sharks and even the occasional whale.
Visit www.nyaman-boat.com/eng/ for more information and reservation.
---
Nikoi Island, Bintan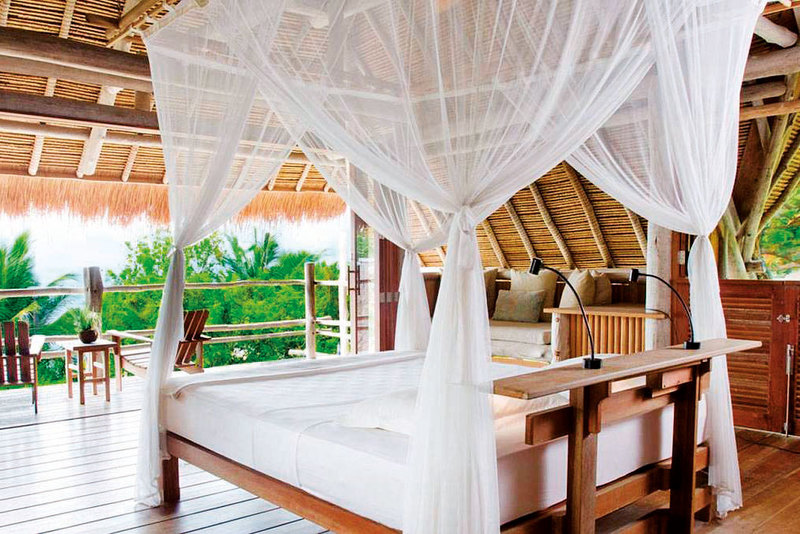 Situated eight kilometres away from the eastern coast of Bintan, Riau Archipelago, Nikoi Island is widely known as one of the most stunning islands in the western part of Indonesia. This laid-back, secluded getaway offers an abundance of pristine natural wonders and wildlife encounters. Studded with huge white granite boulders and spectacular coral reefs, the island is home to not only pristine secluded beaches but also to a rainforest populated with native banyan trees and a diverse population of local birds. The resort's design touches cultural sensitivity blending traditional Indonesian architectural elements with contemporary elements for a true 'Crusoe Luxe' experience. Thanks to its graceful environment, many visitors are of regular visitors, thus making Nikoi often heavily booked months in advance.
Read more about Nikoi Island here www.nikoi.com
---
Villa Borobudur Resort, Magelang
Experience Javanese hospitality at its finest while being one with nature at Villa Borobudur Resort. Not only does the resort offer 5-star accommodation, but you'll also be rewarded by the majestic views of legendary volcanoes, such as Mount Merapi, Sumbing and Merbabu while immersing yourself in the glory of lush greenery during your honeymoon period. The heritage site of Borobudur Temple in the distance is a mere 10 to 15 minutes away, allowing you to learn about the rich culture, history and heritage of the region, as well as experience one of the most romantic sunrises in Indonesia.
Direct booking is available at www.villaborobudurresort.com
---
This article is originally from paper. Read NOW!Jakarta Magazine Febuary 2020 issue "Love and Romance". Available at selected bookstores or SUBSCRIBE here.