For many, make up enhances one's appearance, or hides a blemish. For others, make up is an essential tool that transforms their appearance into something they would rather be. No matter the reason, one sometimes needs a little help getting the right look - and that's where make up artists step in. NOW! Jakarta spoke to two professionals—Christina Theodorus in Jakarta and Carolina Budiman in Bali — about trends in the industry.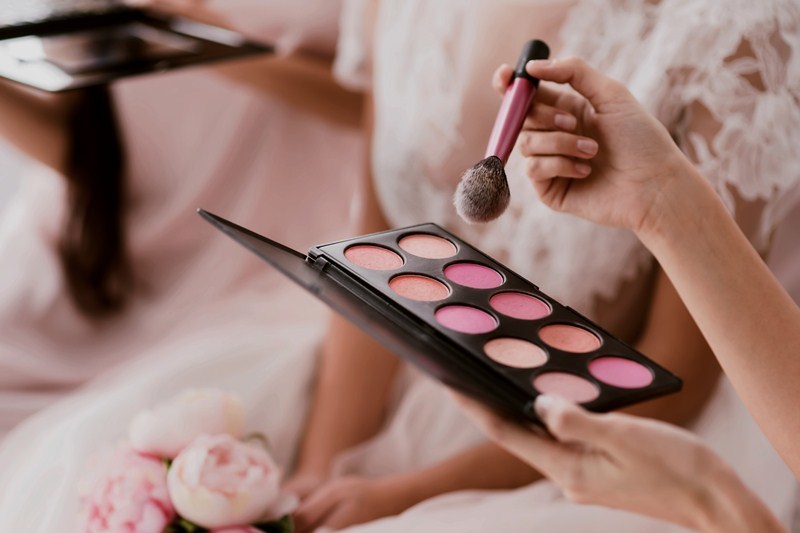 Christina Theodorus first wore make up at age 14. After completing University studies, she tried her hand at makeup artistry as a "way out of [a] mundane job as a manager," she notes. Enrolling in a make up course, she was "fascinated with not just the creative side but the idea of having a career out of it and being your own boss." She then left her job, took on beauty management roles and a few years later managed an international beauty brand while freelancing on weekends.
Bali-based make up artist Carolina Budiman has a similar story. "As a child, I loved to make people look pretty. I would do their hair, put on lipstick, powder, just playing and imagining my self as an artist, and i would feel so happy if people felt pretty about themselves," she said. Realising her passion for the make up industry, she honed her skills by pursuing a diploma in International Bridal Make up.Today she's sought after by many brides looking to enhance their features on their special day.
What are some of the trends that you've seen in wedding make up requests during your career?
Christina: I'm lucky, most of clients just let me decide what I think looks best for them. Some trends that I've seen people want on their wedding day: smokey eyes, double eyelid creation, vintage, bushy brows, contour and highlighting.
Carolina: My first official job was probably three years ago after I finished my make up studies. I went to Martha Tilaar make up school. There, I learned how to do bridal make up. The trend back then was arched brows, with crazy colours like green and purple and blue. Then after than came the thick eyebrows, and contouring, baking, and everything in matte. And now what's trending is jahit mata which is a "sewing" technique on the eyelids. We use special glue to create a double eyelid. There were also times where we are highly influenced by Korean make up style.
Make up here tends to be very heavily applied, especially for special occasions. Do many people stray from this norm these days?
Christina: Many Indonesian brides want to look almost unrecognisable on their big day. For the longest time the goal has always been to use makeup to transform rather to enhance the features but now the trend has slowly shifted partly because there are more makeup artists who embrace and showcase the softer style. People really look up to that as guidance, makeup artists are one of the greatest trendsetters in the country, among celebrities and social media influencers.
Carolina: I think make up trends change from one year to another. Now the trend is "no make up" make up look, using contouring, and skin coloured eyeshadow and nude lips to create a more subtle look. I try my best to meet my clients' expectations and what i think best for them. I would always suggest, no matter how much I put on their face, is a great skin care routine. Great skin is a great canvas. I think glowing radiant skin is the best to work with.
What are some of your own philosophies/styles regarding make up? How do you go about making plans for clients?

Christina: I love creating healthy glowing complexion, defined eyes and believe that skin preparation makes the biggest difference. When a client has a preference, I try to find a middle ground between accommodating the request and recommending what I think will look best. Makeup is such a personal thing and it's important for my clients to feel comfortable but at the end of the day they're paying me for my expertise which shouldn't go wasted.
Carolina: I am a big believer that everyone is different, and we are beautiful in our own unique way. That is why when I do my clients' make up, I try my best to picture the best version of a person with make up on without changing so much of the character. Back in the day, and perhaps even now, people love to look different from how they usually look, like a complete transformation from top to toe. But i believe that wedding make up should be simple, it is supposed to enhance your features, not change it completely.
Who are some of your inspirations (make up artists or famous personalities whose make up you draw inspiration from, etc)

Christina: I adore Nongchat's makeup, classic and always fresh. I've been slightly obsessed with Hailey Bieber, she exudes effortless beauty and her skin always looks amazing. Also seeing Indonesian makeup artists' work always leave me feeling inspired. From eyelid creation to using ice on the skin for makeup longevity, their skills are amongst the best in the world.
Carolina: I have so many make up artists that i look up to, from the US there is Mario Dedivanovic and Namvo, From Thailand, Lindsay Magic and Surasak, from Indonesia, I love Upanduvan and Cherry Jessica. They are all totally different one another, they have their own speciality.

---
This article is originally from paper. Read NOW!Jakarta Magazine February 2019 issue"Love and Romance". Available at selected bookstore or SUBSCRIBE here.