Since 2017, startup company Warung Pintar has helped modernise traditional kiosk businesses adapt to more modern methods of commerce.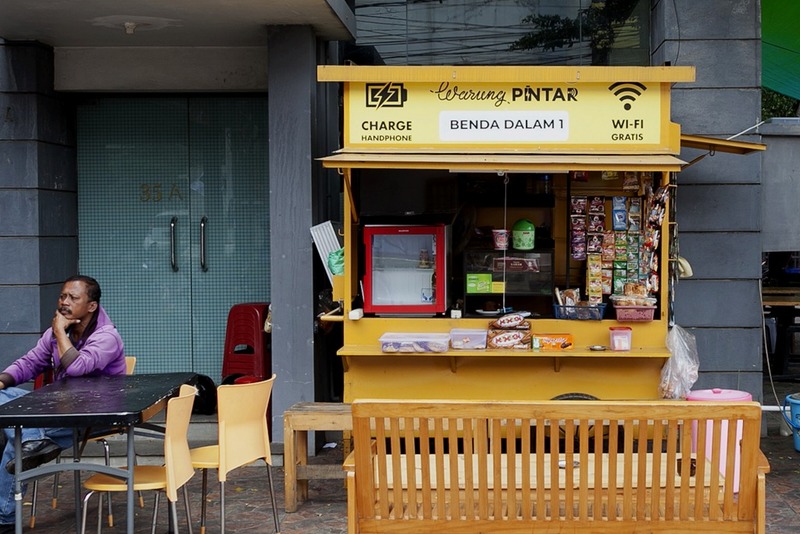 Agung Bezharie Hadinegoro, 29, the CEO and co-founder of Warung Pintar is a fan of the warung (a small, family-run locally-focused restaurant). An MBA graduate from the Bandung Institute of Technology (ITB) has envisioned transforming the traditional warung into a 'smart' one by helping the business grow and increase the revenue for the owner.
Hadinegoro, who previously worked as an Investment Associate at East Ventures, noticed that most owners of these traditional eateries lack the business acumen and management skills required to run the operation successfully. Traditional warung owners don't really consider how to map the inventory, procurement, sales numbers and the general monitoring of their business.
According to Warung Pintar, there are around 2,374,400 Traditional Warung establishments in the country that need developing and modernising. Most of them are mismanaged and are not consistent in their product. Keeping the traditional warung culture alive— where people go to relax and enjoy a meal and socialise— is important to Hadinegoro. It's his way of helping develop Indonesia's tertiary economy and he is optimistic about the potential of Small and Medium Enterprises that are believed to support daily life for many communities in Indonesia.
"I don't want to be a careless young person when there are so many problems that we face as Indonesians. And I think about how I can contribute to my country by participating and choosing to help the tertiary economy," Hadinegoro said.
Along with Sofian Hadiwijaya, Harya Putra, and Pandu Kartika Putra, Hadinegoro built his team and was able to grow significantly from two Warung Pintar locations in Jakarta to 1,200 around the greater area. Now, Warung Pintar has expanded its mission to Banyuwangi, East Java with 36 partners joining him. It continues to grow with funding support ranging from IDR 38 to 54 million.
Warung Pintar has revolutionised the traditional economy through three pillars such as Buying, Selling, as well as Monitoring and Support.
Warung Pintar has built a central procurement system using Do-Cart which enables Warung Pintar owners to purchase products to be sold at the kiosk. With its fast delivery, the owner will get the best offer and sell it at an affordable price. Warung Pintar also adapts technology from Waresix to provide a system for the distribution of inventory.
In managing sales, Warung Pintar trains partners to use modern cashier technology using a PoS (Point of Sale) system with a user friendly interface and Jurnal to input finance circulation (sales data) to help determine the margin.
Now, people who are not used to monitoring their warung can analyse their decisions to help them determine the most profitable product to prioritising allocation of finance.
"There are always challenges especially when people are not business and technology savvy. But It's part of the job if we want to help people grow. We have challenges in communicating with the partners but they are excited about change. Hopefully these technology features can help them achieve economic independence," Hadinegoro noted.
Through the adoption of technology system and Payment Point Online Bank, Warung Pintar partners are also able to offer diversified products as consumers could buy bus or train tickets, pay their electricity bill, and lease a motorcycle. Plus, people can use the cashless payment system and earn loyalty points.
"We also offer them more products which they can see and increase their revenue stream. Besides investment and capital, we are also open to partners who want to be trained, and help address problems in running a business," Hadianegoro added.
To make the concept of the kiosk become more attractive, the team at Warung Pintar revamped the appearance to attract people who want to socialise. Painted yellow, people can find additional facilities compared to traditional warung kiosks. Consumers can access a Wi-fi connection and can also use charging points. Unlike a traditional warung, people can watch television on digital LCD screens.
Recently, Warung Pintar received a USD 27.5 million (IDR 390 billion) investment from SMDV, Bertex, Pavilion Capital, Line Ventures, Digital Gerages, to name a few. Grab and OVO have also collaborated with Warung Pintar to support digital inclusion. It also acquired Limakilo, a startup focused on farm products, to build the synergy in supply and the procurement of products.
In the future, Warung Pintar will focus on more technology products to create a better system for partners and customers and to find the potential for smaller retailers and other business opportunities for warung owners
According to published data, Warung Pintar partners have increased their revenue up to 89.5 per cent with 70 per cent being able to earn above minimum wage (UMR).
"My target is to solve this problem. I know it's idealistic but we are here with hope that our traditional retail can evolve to where the seller and the consumer will be more educated and everybody benefits. So, it's not only big companies that can enjoy the profit but all those involved at the basic level can reap these benefits," Hadinegoro said.
---
This article is originally from paper. Read NOW!Jakarta Magazine April 2019 issue "Money & Finance". Available at selected bookstore or SUBSCRIBE here.