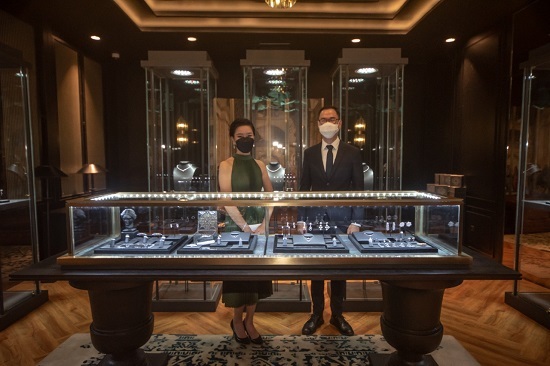 Métier is a high-end jewellery shop dedicated to passing on the expertise of Indonesian jewellery artists.
Métier is a new brand crafted by PT Cahaya Sani Vokasi, a well-known name amongst the jewellery industry as one of Indonesia's prominent diamond jewellery manufacturers that owns two previous jewellery brands: Parva and Siorai.
Métier was formed by a group of artisans that share the same philosophy and deep passion for the beauty of jewellery design with "Translating Visions, Preserving Legacies" as the tagline. They aim to provide consumers with a personalized jewellery shopping experience, creating bespoke pieces that reflects each customer's personality and style, in addition providing a wide range of stunning ready-to-wear jewellery collections.
To celebrate the grand opening of Métier's flagship boutique, the company organised Florescence, an exhibition to show the collections, including the exquisite Jardin D'eden during March and April. The Jardin D'eden collections which was inspired by the beauty of Château de Bagatelle's rose garden in Paris telling about the relationship between butterflies and roses in the garden where butterflies are always falling in love with beautiful roses.
It took a year to create the collection, consisting of six, one-of-a-kind pieces of necklace, bracelet, ring, ear-cuff, bangle and brooch, and two ready-to-wear pieces.

Jewellery enthusiasts will have the opportunity to view and appreciate the exceptional creations up-close in a renaissance art period setting, with so many insta-worthy spots to take photos.
"Métier is not here to compete with existing jewellery stores because we believe the people already have many choices out there. We want to make dreams come true while also preserving the craftsmanship and art itself. We started from the belief that everyone has a different background and culture, as well as their own style and ideals for jewellery. So, Métier is beyond a shop but a place to pass on the expertise of a jewellery artist." Said Vitalik Zhuang, CEO PT. Cahaya Sani Vokasi.
Métier Private Jeweller
Jalan Hang Tuah Raya No. 3
Jakarta Selatan, 12120
www.metier.id