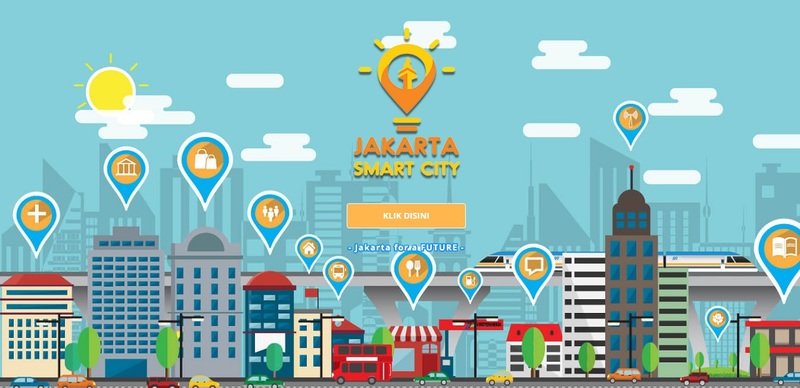 What is a Smart City?
For Jakarta, it is in accordance to the Governor of Jakarta's Vision and Mission :
Maju Kotanya, Bahagia Warganya - Innovative City and Happiness.

Established in 2015, Jakarta Smart City runs on six pillars: smart governance, smart living, smart people, smart mobility, smart economy, and smart environment. These serve as a guide for the provincial government to formulate specific development objectives for Jakarta. The current coronavirus outbreak gives the integration of digital technologies even more importance for the urban development of Jakarta to ensure equitable and sustainable development.
Jakarta Smart City initiative provides opportunities to understand current priorities of the initiative and future plans of the Jakarta Provincial Government.
Smart City 4.0 is seen as an 'ecosystem' with the government as 'Collaborator' and Citizens, Media, Industry/Business/Investors and other governments as "Co-creators". The city's problems and citizens needs are addressed though the best use of Cloud, Big Data, AI, 1oT and Block Chain technologies, leading to an 'Innovative City and 'Happy Citizens'.
The Smart City 4.0 Framework consists of :
Two

(2)

Aims

: to be an Innovative City and Happiness for the people

Three

(3)

Values

Objectives : Quality of Life, Economic

Growth and Sustainable Environment.

Four

(4)

Principles

: System and Data Driver, Mobile First, Digital Experience and Smart Collaboration.

Five

(5)

Co-creatives

: Governments/Academics/Citizens& Community/Media, Business/Investors/Industry/ Startups.

Six

(6)

Outcomes

: Economic Impact, Accountable & Trusted, Safe and Comfortable, Savvy Data, Equitable, inclusive and positive, Eco-friendly and livable.

Seven

(7)

Indicators

: Smart Mobility, Smart Environment, Smart Economy, Smart People, Smart Branding, Smart Living, Smart Governance.
And this is how Jakarta wants to implement this.
Mobile First
Jakarta Smart City has a principle to provide a variety of services that are easily accessible through an integrated mobile device.

JAKI (Jakarta KINI) as the Jakarta Super-App platform has integrated more than 15 features and 28 applications developed by agencies and the public.

They will develop JAKI by presenting a Digital ID for Jakarta residents, so that various services and data for Jakarta residents can be integrated.
System and Data Driven
Jakarta Smart City supports the DKI Jakarta Provincial Government's policy to be based on data by analyzing various data in Jakarta.

To support data-based policies, they have used various types of sensors to collect various data in real time (for example : Bus movement sensor, air quality, water level, ambulance tracking, garbage truck tracking).

Supporting various pandemic management programs by utilizing data, such as analyzing Covid-19 data in Jakarta, social assistance data, to building CLM as a machine learning-based Covid-19 risk test.
Digital Xperience
Various events that they present to improve soft skills or digital literacy in Jakarta through the principles of Digital Xperience.

By 2020, they have hosted more than 20 online webinars and 16 offline events.

They also provide digital literacy training for both the public and agencies in the DKI Jakarta Provincial Government.
Smart Collaboration
To implement City 4.0, Jakarta Smart City is collaborating with Co-Creators to present various solutions from the community, especially startups.

They present a Collaborative Sandbox scheme, which is a space for discussion between the government and technology companies to provide innovation to solve various city problems.

Until January 2021, they have collaborated with more than 20 startups to provide public services in Jakarta.



JAKI as a Collaborative Ecosystem Platform with Citizen-designed Service Mobile First provides various services for the public's daily needs in the palm of your hand, as follows :

Finally, the whole program is based on Accelerating Digitalization :
A. Enhancing digital government services: One Stop App Service : JAKI ("Jakarta Kini") apps, providing various government services and COVID-19 data, information, and features; Citizen Relation Management, Active participation to report violations and complaints for the better Jakarta.
B. Changing the way governments works: e-government, digital based business process, enterprises resource planning
C. Exploring digital based new revenue stream: Data and digital transaction, digital infrastructure to intensifying and potential revenue objects
However, this is a highly ambitious plan, broad based and very technology driven which we applaud but wonder if it is too great a leap? Currently we are still experiencing the same major problems of flooding, water depletion, waste management, inter-regional lack of coordination (e.g. between Jakarta and W. Java and Banten) traffic management etc. These are not directly addressed by this plan which focuses on communication rather than by implementation. Nevertheless we wish them very good luck, and will do all we can to assist.