The British Embassy Jakarta's Tech Hub's 'ESSENCE' training programme has run for 4 months, and succeeded in empowering more than 1,500 women, people with disabilities, and communities in eastern and central Indonesia to use digital innovation to develop their businesses.
MSMEs from Manado, Palu, Bali, Lombok, Sumba, Kepulauan Riau, Pulau Taliabu, Gorontalo, Bengkulu, Kupang, Ambon, and Papua have benefited from Hybrid (online and offline) training sessions.
Topics covered include Basic Bookkeeping & Financial Management for MSMEs, Digital Security & Digital Payments, Legality & Certification, Branding Strategy, Digital Marketing for MSMEs, and Marketplace & Promotional Media. 60% of participants report significantly improved understanding.
The pandemic has encouraged MSMEs to use digital technology to adapt and transform, to survive and grow. At least 25.6% of MSMEs (around 16.4 million) have adopted digital technology in their business during the pandemic according to data from the Ministry of Cooperatives and MSMEs.
The pandemic sped up existing trends toward digitalisation – surely what the future looks like. Yet, a digitalization gap still exists in Indonesia, caused by varying infrastructure, literacy, and access to digital training. Unless steps are proactively taken to address these gaps, digitalisation might make existing inequalities worse.
The British Embassy Jakarta's UK Indonesia Tech Hub has therefore closely collaborated with the Archipelagic & Island States Forum, UNDP Indonesia, KUMPUL and the Semesta Nusantara Foundation to present a business development program for MSMEs called ESSENCE, which aims to empower disadvantaged groups and communities to innovate digitally.
ESSENCE aims to help women, young people, people with disabilities, and entrepreneurs in the eastern and central parts of Indonesia to access the opportunities of digitalisation. ESSENCE compliments the Indonesian government's goal of getting 30 million MSMEs online by 2024. Training is an essential part of this, so entrepreneurs have the knowledge they need to compete.
1,200 people attended the launch of the ESSENCE program in November 2021. Since then online training has helped more than 1,500 MSMEs, and in person training has helped 125 participants in Manado, Lombok, Kupang, and Bangka Island.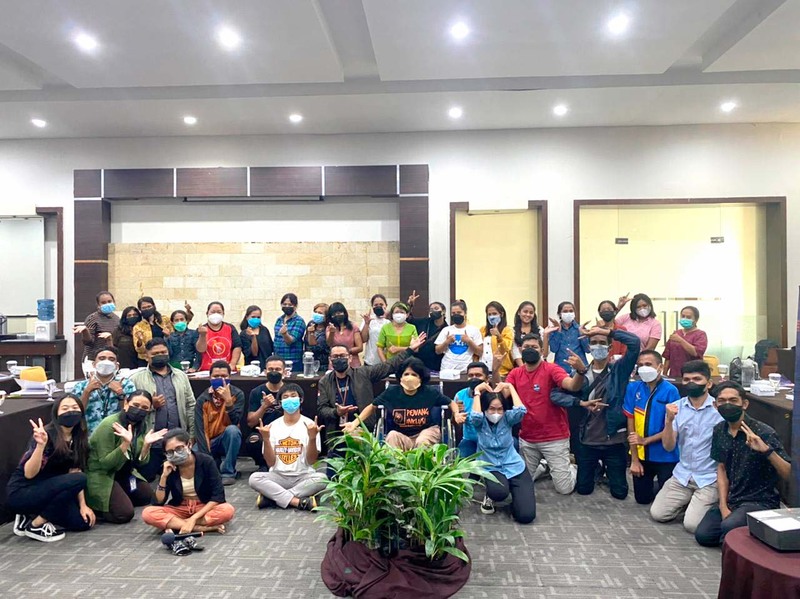 20 experts from industry have acted as mentors for participants – listening, learning and teaching participants about marketing, legal, finance, and entrepreneurship. Adjustments were made for those with disabilities so they could fully participate in the learning and mentoring programme.
Each participant from the ESSENCE program has received lessons in six areas, namely Basic Bookkeeping & Financial Management for MSMEs, Digital Security & Digital Payments, Legality & Certification, Branding Strategy, Digital Marketing for MSMEs, and Marketplace & Promotional Media. These areas are critical for the success of participants businesses.
Now the next stage of the ESSENCE program will proceed with collaborations with BukuWarung and GoStore to empower the participants' further. GoStore can be used to create a personal online store that can connect with millions of social media users. BukuWarung is a solution for MSME bookkeeping and financial statements through digital recording and payment features. After joining the training we hope the participants could join digital platforms and get going.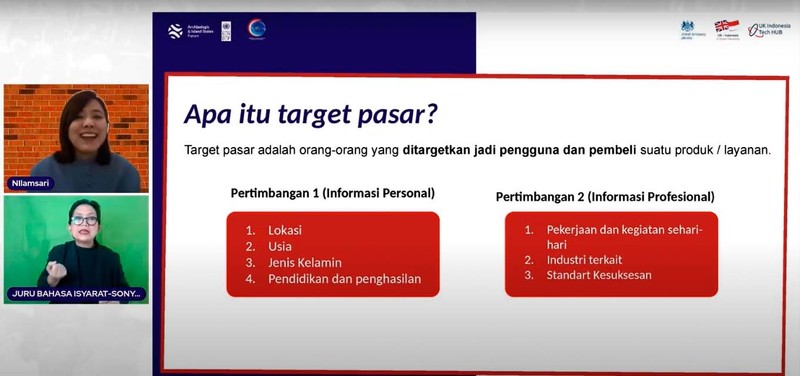 HMA Owen Jenkins, British Ambassador to Indonesia and Timor Leste, said:
"Digitalisation offers the promise of a better life for many remote and disadvantaged communities. But if we do not take enough proactive steps to include people, digitalisation could actually risk people being left further behind. I am proud that the UK is working with the Indonesian government on this effort. Extending learning opportunities to all is a global priority and essential to strengthening livelihoods. In the UK and Indonesia – we cannot leave communities behind. The timing for ESSENCE is ripe – as the pandemic already encourages digital transformation. I am glad that the UK has, and continues, to support Indonesia's growing number of micro, small and medium businesses, with a necessary set of skills to grow, break barriers and thrive. These diverse entrepreneurs go forth with newly discovered knowledge, and their better use of technology will help the communities around them thrive and join in Indonesia's rapid digital transformation."
UNDP Resident Representative, Norimasa Shimomura said:
"In keeping with UNDP mantra of 'Leave No One Behind,' ESSENCE has equipped underrepresented groups on coastal communities in Indonesia with the necessary digital literacy to help them not to fall behind. I hope the result of the training will boost the ecosystem of Indonesia's small and medium enterprises where access to technology, infrastructure and cutting-edge knowledge is more challenging."
Faye Scarlet Alund, Chief Executive Director of Kumpul expressed:
"Access to information is key in empowering the community as it opens up channels to knowledge, resources and support systems. Talent is universal, but opportunity is not. ESSENCE Program is a concrete example on how we can distribute equal access to opportunities and empower communities who were customarily disadvantaged."
Notes to Editors:
• British Embassy Jakarta's UK – Indonesia Tech Hub is a Foreign, Commonwealth and Development Office (FCDO) led Digital Access Programme (DAP) project which started operating in September 2019 in Indonesia to support the growth of the digital ecosystem that will facilitate sustainable economic growth and development for Indonesia under the wider International Tech Hub Network.
• The International Tech Hub Network (ITHN) was initiated by the UK's Department of Digital, Culture, Media and Sports to act as a bridge between the UK and Indonesia in the technology sector, to push for digital innovation, to support the development of digital economy, and to improve digital capacities to create a sustainable job creation and opportunities. UK – Indonesia Tech Hub also support digital inclusivity in Indonesia, particularly for women and underrepresented groups.
• The Archipelagic and Island States Forum was initiated in 2018 as a response to SDG 14: the conservation and sustainable use of oceans, seas, and marine resources for sustainable development. It specifically focuses on four thematic areas namely climate change mitigation, blue economy, good maritime governance and marine plastic debris. The forum itself develops a program called the AIS Blue Startup Hub - a virtual ecosystem for businesses in marine related industries. The main mission is to develop the archipelagic and island state's enterprises by creating a novel business ecosystem as well as by accessing global opportunities that allow startups and small medium enterprises to tap into new markets and talent pools within the international community.
• KUMPUL is the strategic planner of the ESSENCE Program. KUMPUL is an entrepreneurship ecosystem builder through incubation and business acceleration programs with integrated modules, a strong network of ecosystem key players, and access to local communities in more than 34 cities in Indonesia. KUMPUL constantly encourages collaboration to create sustainable innovations. Visit KUMPUL at www.kumpul.id
• Yayasan Semesta Nusantara is a hub for the local community, businesses, social entrepreneurs, traders, start-ups, artists, and creatives. Yayasan Semesta Nusantara aims to empower diverse communities by providing programs for multidisciplinary artists & producers working with a commitment to sustainable practices and social impact in Indonesia.
For more information please contact British Embassy Media and Communications Section
Head: John Nickell at 0812 1091372
Deputy Head: Faye Belnis 0811 87777 62