For a long time, Denmark has been top of the class when it comes to developing and exporting solutions within sustainable energy. In 2017, Denmark topped the Global Cleantech Innovation Index, published by World Wildlife Fund (WWF) and Cleantech Group. The index assesses which country currently has the greatest potential to produce entrepreneurial cleantech start-up companies that will commercialise clean technology innovations over the next 10 years.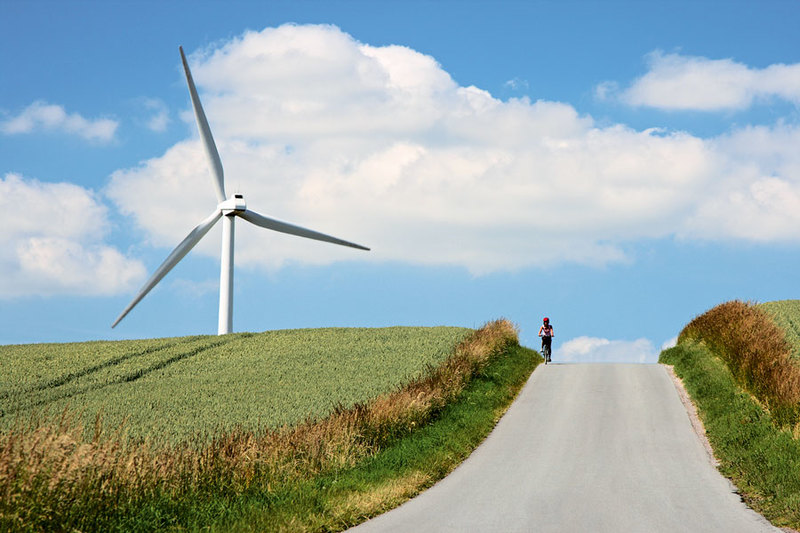 Denmark shows strong evidence of commercialised cleantech, including cleantech exports, the number of public cleantech companies and the number of renewable energy jobs. Further, Denmark has recently launched a new export strategy that aims to double the Danish export of energy technology before 2030.
In the past four decades, Denmark has undergone a transition from being 100 percent dependent on fossil fuels to being self-sufficient in its energy supply. Renewable energy now constitutes around 30 percent of the final energy consumption. It has experienced remarkable progress in terms of incorporating renewable energy into the energy mix.
It is the Danish government's clear vision that the green road is the one we all need to travel. As part of this transition, the government has set an ambitious target of weaning Denmark off fossil fuel by 2050. The strategy, which has also been referred to as the declaration of energy independence, will make the country independent from oil, coal and gas.
Due to the rising efficiency of renewable energy, the transition and related costs turn out to be relatively cheap and business competitiveness remains unharmed. In fact, figures have shown that Danish companies actually have lower electricity prices than their European competitors. Thus, this proves that the green transition is good business in more than just one sense.
The world's highest energy security despite large shares of fluctuating renewables
For the third consecutive year, the Danish energy system was recently ranked number one by the World Energy Council. Based on three core conditions, energy equity, environmental sustainability and energy security, they benchmark the sustainability of national energy systems against each other. The result reflects Denmark's successful transformation as well as its development of an energy sector that guarantees both affordable clean energy and a high level of energy security for all citizens.
A significant part of this transformation is driven by the utilisation of both on- and offshore wind resources. Today, 42 percent of the Danish electricity production stems from wind power. The fact that Denmark has still managed to achieve a significant high level of energy security proves that large shares of fluctuating renewables can go hand in hand with energy security. With well-developed tools for forecasting, strong integration and interconnectors, it is certainly possible.
Denmark is here to assist and support Indonesia's energy vision and policy targets. Denmark has gained experiences and developed methodologies that may be adoptable in Indonesia. The Government-to-Government cooperation on energy, where Denmark is sharing the knowledge and solutions from the Danish energy system with Indonesian counterparts, paves the way. This includes the introduction of advanced planning software that the Indonesian National Energy Council can use to forecast the development of the energy sector. Moreover, it involves transferring knowledge on renewable energy integration including updating grid codes and increasing flexibility in power plants.
With an estimated potential of 9 GW wind power and a vast amount of solar, lessons from a country with high shares of fluctuating renewables can play a key role in driving the sustainable transition of the Indonesian energy sector. Hence, Denmark is here to show that the green transition is doable and might bring about more benefits in terms of sustainable growth, new jobs, and to develop B2B opportunities.
Fuelling the country with sustainable materials
The increased focus on renewable energy has led to a rapid decrease in prices. The latest figures from Denmark show that the costs of producing offshore wind energy have been reduced by 65 percent over the last 5 years. This means that a point has been reached where offshore wind parks now are cheaper than new coal power plants in Denmark. Therefore, the Danish government believes that coal is a fuel source of the past in the Danish electricity production and its goal is to phase out coal completely from the electricity production before 2030.
Further, the Danish company Ørsted has pledged to become one of the first major European power companies to stop burning coal before 2023 as it ratchets up its shift away from fossil fuels towards renewables. For the past 15 years, the company has steadily been converting its Danish power plants to burn biomass instead of coal and now plans to switch the two remaining plants to make its power division entirely coal-free.
In connection hereto, waste-to-energy has proven to be a way to kill two birds with one stone by creating value from waste. In Denmark, more than 12 percent or all residential buildings are already heated by waste. Denmark has some of the most energy-efficient and clean incineration plants in the world. Recently, Copenhagen has also welcomed a state of the art multiple purpose waste-to-energy plant, Copenhill, which is set out to be one of the best performing European plants in terms of energy efficiency, waste treatment capacity and environmental standards. Thus, Denmark continues to be at the forefront of the green transition while showing that the transition can actually pay off in more than one way.
Copenhagen to become CO2 neutral by 2025
With climate change gaining increasing attention, the Danish capital has assumed its share of the responsibility with the "CPH 2025 Climate Plan". The plan aims to show that it is possible to combine growth, development and improved quality of life with the reduction of CO2 emissions. To achieve this, solutions are needed that are smarter, greener, healthier and more profitable. The end goal is to become the world's first carbon neutral capital by 2025!
The plan is a holistic plan as well as a collection of specific goals and initiatives within four areas – energy consumption, energy production, green mobility and the City Administration. It defines and specifies how ambitions for carbon neutrality should be used as leverage for a better quality of life, innovation, job creation and investment, and how the goal of carbon neutrality can be achieved through close cooperation between government, businesses, knowledge institutions and Copenhageners. One goal is that 75 percent of journeys in Copenhagen should be done by foot, bike or public transportation. Another is that heat consumption should be reduced by 20 percent compared to 2010.
Copenhagen is regularly placed in the top ten in the rankings of the smartest cities in the world due to the multitude of new smart city technologies and solutions tested and developed across the ICT, cleantech, construction and transportation sectors. Back in 2014, Copenhagen claimed the prestigious World Smart Cities Award for its "Copenhagen Connecting" plan. Hence, with the long Danish tradition of designing urban development solutions that benefit the goals of the people, businesses and environment as well as its vision to be fossil fuel independent by 2050 and carbon neutral by 2025, Copenhagen can be seen as a role model for sustainable and livable cities.
This article was provided by the Danish Embassy in Jakarta.