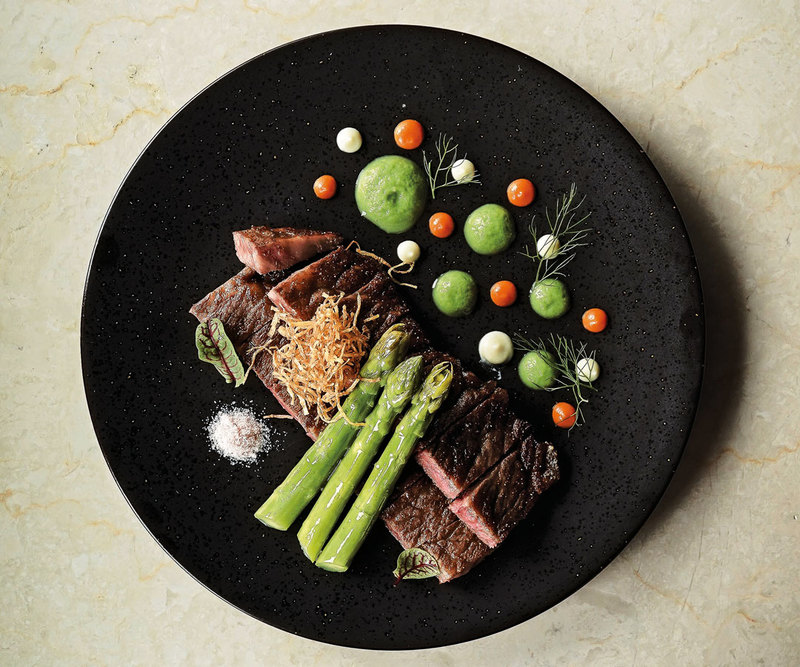 With a luxurious ambience and impeccable classic French dishes, Basic Instinct aims to please Jakarta's fine dining enthusiasts.
Amidst the busy street of Senopati, I never expected to find this little gem of restaurant inside the quiet sprawling complex of Electronic City. Especially such a swanky establishment with ornate interior decoration that reminds you of the 1920s great gatsby era. Basic Instinct is definitely one of my great finds of contemporary French restaurants in town! The name Basic Instinct may not ring a bell for many millenials, but for our generation, the memory of the erotic thriller may cause quite a stir, and you can bet the first thing I wanted to find out was why such a controversial name was used.
After some inquiries, I found out that Basic Instinct refers to a human being's most basic need: food, and this is translated into the restaurant's logo in the form of five petalled Frangipani flowers. Each petal symbolizes the five basic tastes: sour, salty, bitter, sweet and umami. I am impressed by the deep philosophy that inspires the concept of the restaurant profoundly to the elements of ambience, interior, music, food and service.
The dining room is decked in classic black-and-white chequered marble flooring, champagne coloured dining chairs and panelling and plush sofas. The customised dome and ceiling lights illuminate the space with a warm golden glow. It is a tastefully designed dining room that incorporates space yet with intimacy, simplicity and elegance. The bar at the other end of the main dining room is a gorgeous cocktail spot with electric blue velvet stools lined with fine fabric. The bar has great collections of white, red, sweet wines and champagne with a variety of grapes from various countries. If you are into cocktails, try the signature Green Cucumber cocktail made of premium London gin, homemade cucumber syrup mixed with blend of citrus and tropical fruit juices.
The restaurant offers three selections of five-course prix fixe menu as well as à la carte. For those of us who are fans of classic specialities like French Onion Soup, Scallop with Beurre Blanc Sauce, Lobster Thermidore, Pan Seared Foie Gras, you have come to the right place. The executive sous chef, Chef Shiul used to work at Riva, Park Lane hotel, one of the pioneers of French fine dining in Jakarta. With his extensive kitchen experience, Chef Shiul combines the elevated qualities of first-class ingredients and age-old techniques to create all their delectable recipes. That night we had lobster bisque, sous vide cod fish, spaghetti vongole, angel hair with crab and Australian wagyu sirloin. The menu might look simple and generic, but each dish was cooked to perfection. The Lobster Bisque is deliciously creamy with lobster infused broth mixed with aromatics, cream and chunks of juicy lobster meat. The Angel Hair with Crab is one of the restaurant's signature dishes, made with white wine and parmesan to add that nutty, sweet and savoury flavour. The Sirloin Grade 11-12MB is exquisite, the highly prized meat is abundantly marbled therefore incredibly tender and has a rich buttery flavour that melts in your mouth. Spaghetti Vongole is generally known as an easy dish to make, but as it happens, no other restaurants in Jakarta comes close to this scrumptious pasta dish!
We finished the evening with three desserts: strawberry short cake, cheese cake and black forest cake. They were all delicious, but if I were to choose one, it'll have to be the Strawberry Short Cake. The flavour and texture combination of the fluffy yellow cake, the ripe red strawberry and the sweet whipped cream is glorious.
It has been an excellent food tasting experience. The attention to detail, the execution and service were admirable. I love how the menu is based on the principles of purity. Bringing out the flavours of each dish by going the extra mile to refine everything to the utmost, well worth hours of effort, avoiding unnecessary seasoning, hence guests can enjoy the purest flavour and texture of the high quality ingredients.
Throughout our conversation, I learned that the restaurant has been opened for quite some time, since July 2018. However, the venue has been staying under the radar. It hasn't launched any soft opening or grand opening, people mostly know about this place through words of mouth, and most of the patrons are loyal returning customers. This place is no doubt one of the best kept secrets in town. The establishment inspires to bring together people with a mutual interest in good food, wine, and conviviality. When driven by such ideal and passion, dining at Basic Instinct is a treat in itself and always a memorable experience.
Basic Instinct Culinary
SCBD, Lot 22
Jalan Jend. Sudirman Kav. 52 - 53
T: +62 21 5140 2121
IG: @basicinstinctculinary
FB: @basicinstinctculinary
www.basicinstinct-culinary.com
---
This article is originally from paper. Read NOW!Jakarta Magazine October 2019 issue "The Culinary Issue". Available at selected bookstores or SUBSCRIBE here.