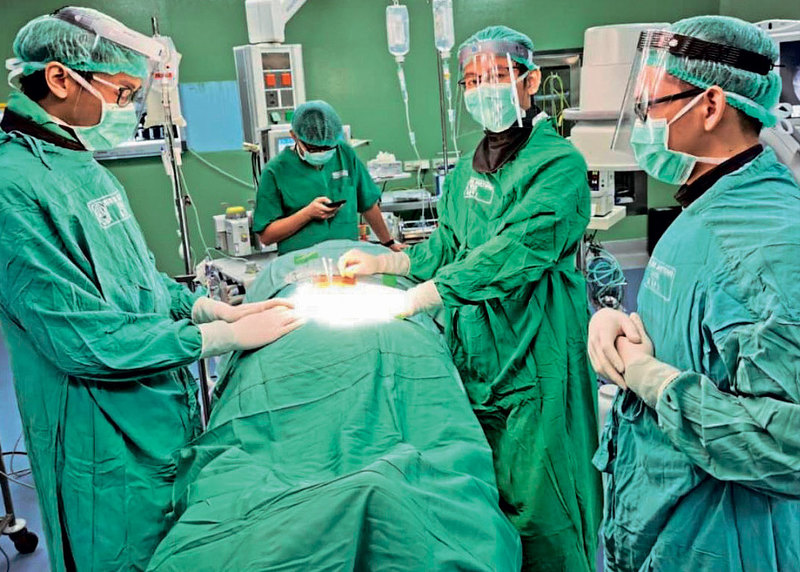 A group of product designers join hands in the face of the deadly novel coronavirus pandemic by generating some product ideas, particularly in addressing medical products.
Indonesia has called for Indonesia's communities and various circles to effectively hand in hand deal with the health crisis during the coronavirus outbreak. Departing from the calls, Indonesian Alliance of Industrial Product Designers (ADPII) immediately formed the task force or Satgas Covid-19 to contribute to the handling of the virus spread through their expertise and abilities.
ADPII which established in 1976 plays an active role as a hub that unites industrial product designers in the country whether they practice the profession or have a background in industrial product design disciplines. In practice, ADPII tries to raise public awareness of the existence of this profession and provide information for designers including opportunities that they can take advantage of. ADPII is also an official body that can be a partner for the government by prioritizing the existence of the profession.
One of the roles of the alliance that can be seen today is that its members coordinate several initiatives for the realization of ideas to meet medical needs in times of the Covid-19 outbreak where they contribute ideas in utual assistance.
The process began with a WhatsApp group discussing members' concerns about the situation and then they discussed what they could contribute as product designers. The discussion became more serious along with sharing sketches and references, and sharing photos of the progress of prototyping.
"The task force was formed to consolidate the initiative of some of our members who had already initiated and made several products for handling Covid-19 in the field. Previously who were moving individually, in the end we were made into a forum which further became a place to give updates to each other's initiatives and input on some of the research that is already running. We also seek access to additional support from outside parties, both from the government and the private sectors, which are expected to be able to escalate and organize these initiatives that are already running more collectively," said Fitorio Leksono, Secretary-General of ADPII.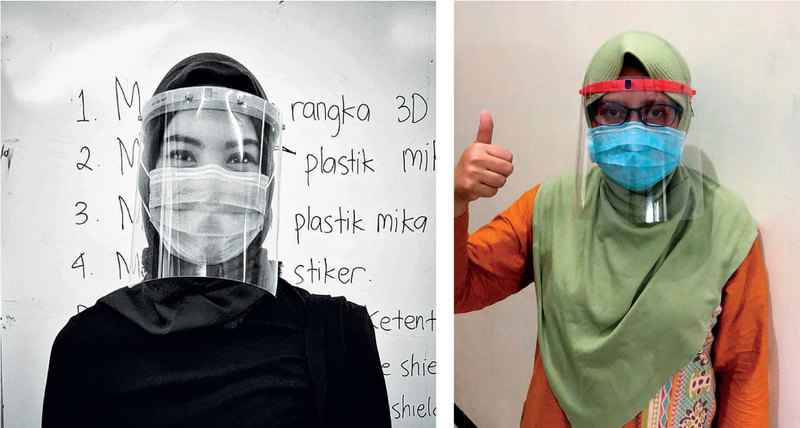 One of the initial ideas came from discussions on the rampant sterilization partitions due to that equipment sold at high prices. Then, ADPII tried to make these partitions at very cheap prices and could be duplicated quickly. But, after several prototypes were made, the design was stopped and not continued because of the issue of using certain liquids that could endanger humans. The discussion in this initiative then continues with several products that have been made by members including face shield, protective mask and PPE suit or hazmat created by one of its members who is an entrepreneur of hiking and outdoor equipment, Torch. The hazmat itself is made with special designs and strong fabric so that the medical personnel feel secure and flexible to move with the reusable coverall and bara coat hazmat.
The most widely made product is a face shield or face mask, this is because the product is a type of PPE that is not categorized as a medical device so no need for special marketing authorization from the Ministry of Health.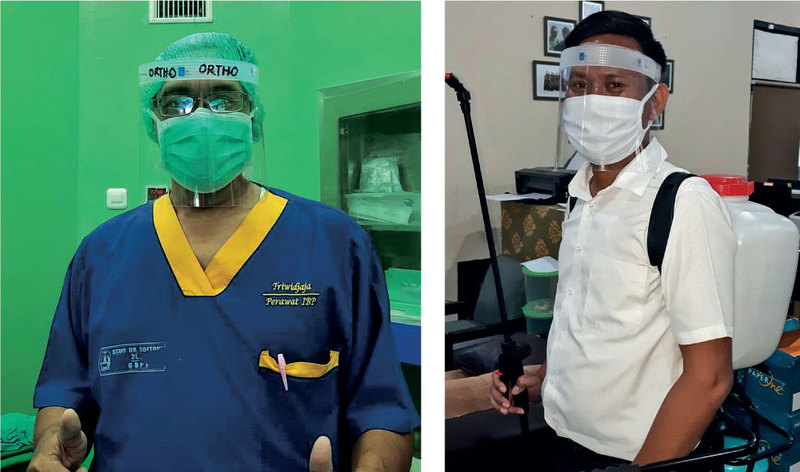 The organisation also said the final result of these products also differ, especially in terms of material. The designers tried to use materials that are easily available around them, such as ABS plastic, PLA plastic, foam, and clear plastic. Those who develop this face shield device are spread across several regions including Jakarta, Bandung, Garut, Temanggung, Sidoarjo, Surabaya and Bali.
For the face shield itself, ADPII has produced up to tens of thousands of the total needs of around 300,000 pieces, which are distributed to various regions, such as on the islands of Java, Bali, Kalimantan, and Sulawesi. They still produce face shields to reach the required numbers. In addition, some of the face shields are designed to be easily duplicated so that people can directly make their own. In Bali, a well-known architect office then accommodates the designs of one of its Satgas members, Singgih S. Kartono to be made by the office staff and distributed in the Bali region.
"In addition, at this time our members are also trying to design tools that can change swimming masks or diving masks into PPEs equipment for medical personnel in the ICU and making CPAP (continuous positive airway pressure) ventilators because we have heard that there is a need for these devices just in case this crisis gets worse. It's in the developing process and we have presented it in front of the Ministry of Defence," added Fitorio Leksono.
With the amount of around 300 members spread over five provinces, Jakarta, West Java, Central Java include Yogyakarta, East Java, and Bali, ADPII concerns about the coronavirus test system that is accessible to many people with a faster test result system. They are now planning to create mobile laboratory cars that can carry out PCR tests to increase the number of people being tested. In addition, the organisation wants to be able to create a portable hospital to accommodate patients whose numbers exceed the capacity of the hospital.
Indonesian Alliance of Industrial Designers (ADPII)
IG: @adpii
---
This article is originally from paper. Read NOW!Jakarta Magazine May 2020 issue "The Plague of Our Time". Available at selected bookstores or SUBSCRIBE here.