Addie Muljadi Sumaatmadja, commonly referred to as Addie MS, is a leading figure in the Indonesian music scene. The conductor founded the Twilite Orchestra in 1991 and has tirelessly promoted classical music on the local and global stage throughout his career.
Addie MS spoke to NOW! Jakarta about his passion for classical music, the growing interest in symphony orchestras in Indonesia and the challenges that remain.
When did you first become interested in music?
I first fell in love with classical music when I heard David Nadien's Humoresque recording from my family's vinyl. Then, when I was 12, my father bought a piano and I started to have lessons with a private teacher.
It was not easy to share my interest in classical music with my school friends that were more interested in pop or rock music. So I tried to observe The Carpenters, Led Zeppelin, Genesis, ELP, Earth Wind and Fire and similar bands. And I loved them all, too!
The most crucial moment came when I had to decide which path to follow after graduating from high school. My father did not want me to pursue my career in music while I was confident that music is the only thing that could make me happy in the future. I made a commitment to stop receiving allowance and funds from my parents for my higher education provided that they allow me to be a musician.
You first made a foray into pop music, but later "settled" on classical music. Why did you make this switch?
It was hard to make a living from classical music activities in those days. So I ended up doing various pop music gigs and recordings. In between, I always found time to nurture my love for classical music. I spent my income mostly on classical music books and recordings. I visited the Metropolitan Opera House, Avery Fisher Hall, Carnegie Hall and Broadway quite often.
In1991 I met Indra U. Bakrie and Oddie Agam who asked me to set up a new orchestra, the Twilite Orchestra, and focus on symphonic music. That was the moment that really changed my life. Suddenly God gave me a red carpet to do what I love to do, symphonic music. Our repertoire is not only classical music, but musicals, traditional songs, sometimes pop. I was inspired by the Boston Pops Orchestra.
You founded the Twilite Orchestra in 1991 during a time when classical music in Indonesia was a niche market. What made you decide to go ahead with this? Did you ever have doubts?
Twilite Orchestra has become the oldest symphony orchestra in Indonesia with its 26 years of continuing activity. We started with playing a mixed repertoire, 30% musicals, 30% classical, 40% pop/traditional/patriotic music. In our first five years, we played The Phantom of the Opera, Le Mis, Miss Saigon as well as opera overtures and arias, but also popular classical music such as 1812 Overture, Pictures at an Exhibition, Choral Symphony.
It wasn't easy, of course, and it wouldn't have been possible without the generous support from our patron, Indra U. Bakrie and several other sponsors. If you ask me what made me decide to go ahead, my answer is simply the love of symphonic music. I never had doubts, fortunately. I just want to live happily. And to be happy, I have to follow my heart.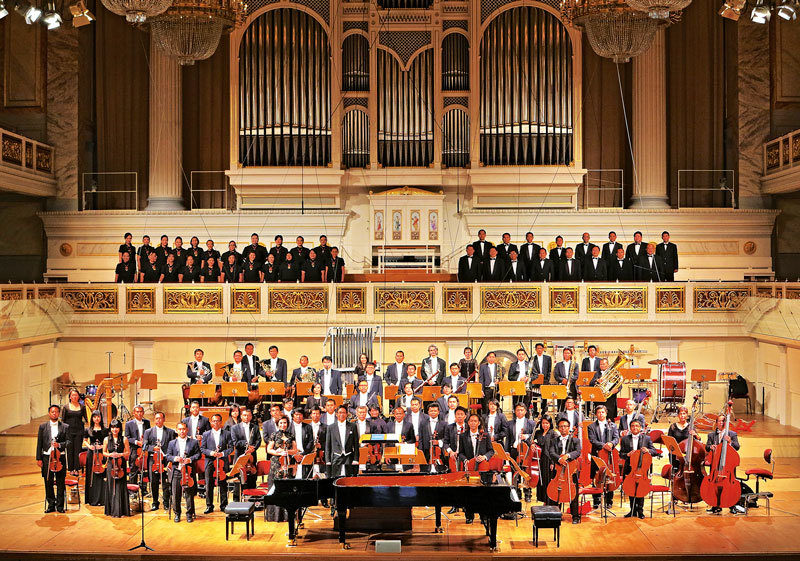 Tell us more about the Twilite Orchestra, which has become well-established over the years and was the first Indonesian orchestra to ever perform at the Sydney Opera House and in Europe. How did that feel, and what do you think is the key to your success?
I am sad to see that while other countries such as Japan, Korea, China, Singapore, Thailand, Malaysia are developing their symphony orchestras seriously and building their own concert halls, Indonesia's government never built one single concert hall. But sometimes I am lucky to have support from officials that understand symphonic music and performance as a tool of diplomacy, not merely an art form.
I was fortunate to meet Sapta Nirwandar of Kemenparekraf (Ministry of Tourism and Creative Economy) who brought the Twilite Orchestra and Chorus to Sydney Opera House in 2009 as the first Indonesian symphonic orchestra to perform there. He also initiated our performances in Bratislava and Berlin in 2012, where we received standing ovations. For me, those were historical moments. The audience seemed to be surprised to learn that there are symphony orchestras in Indonesia, and not only gamelan.
I think the essential factor in running this high-cost activity amid the unfortunate situation for art music in Indonesia is networking and communication. I spent a lot of time to be connected to many people with different professions and backgrounds, trying to find ways to nurture the symphonic music scene in this country. And you need to be consistent as well.
As a conductor, what are the main skills you need to possess? How do you keep learning and evolving?
Conducting is an art of communication. It is more than just waving your hands and moving your body. You have to understand the concept - and interpretations - in the first place and then transmit, conveying it using all the techniques you possess.
I always see myself as a passionate student. Not as a "Maestro", as sometimes my fellow musicians call me. I often tell them to just call me "Masbro" (brother), not "Maestro" - simply because the more you know, the more you know you don't know, as Aristotle said.
Who are the conductors you look up to?
Leonard Bernstein. He inspired me to have the passion to share the love for symphonic music to the young generation with respect.
How do you see the classical music scene in Indonesia? I feel that there has been a growing interest by the Indonesian public, yet it still doesn't compare to other countries. What do you think needs to be done to get more people to enjoy classical music?
It is growing. I see more and more amazing young Indonesian musicians emerging. They studied in Europe, USA and other great countries with a long tradition in classical music. The crowds at classical concerts are getting bigger and bigger, too! Thanks to social media such as Twitter, Instagram and Facebook, I don't have to spend so much money as I used to for advertisement in traditional media. And yet, the concerts are mostly sold out.
Symphonic orchestra is a high cost activity. Most of the symphonies in other countries are supported by their government, financially or at least through policy in taxation and incentives for the corporations that support it - which is needed in order for the orchestras to have a continuing and well-scheduled programme. The key word is regularity. Only then we can set a goal and see the growth. We can see such an example of government support from our neighbours in Singapore. Singapore Symphony Orchestra started from zero in 1979, and with continuing support from its government, it has now become a world class symphony.
Where are you planning to take the Twilite Orchestra in the future? Where do you see yourself in 10 years from now?
I started the Twilite Orchestra in 1991 amid a shortage of orchestral musicians. Then I founded the Twilite Chorus in 1995 and the Twilite Youth Orchestra in 2004. We established an outreach programme to introduce symphonic music in schools and campuses in 1998. Some of the students have now become our musicians. I have brought Indonesian symphonic music to Sydney, Bratislava, Berlin, Warsaw and more.
I also tried to expose the beauty of symphonic music to Indonesian music lovers through the orchestrations of Indonesian patriotic and traditional songs that I produced in CD albums, such as "Simfoni Negeriku & The Sounds of Indonesia in 1997 & 2013". Next week I will be releasing the first Twilite Orchestra's live concert DVD.
I will be happy if God allows me to what I do for the rest of my life. I don't have any goals other than trying my best to better myself so I can continuously contribute to my country.
Photos courtesy of Alex Frits & Irwan Salim