Music is a fundamental part of humanity that is used to express emotions and ideas about the cultural milieu from which it arises. In Jakarta, much as in other major cities across the world, music lovers long for open public spaces where they can live out their musical aspirations. The following parks are some of Jakarta's friendliest and most popular open public spaces for those who want to play some tunes.
Taman Suropati
Named after Untung Suropati, a national hero who was born in Bali in the first half of the 17th century, this park is located in central Menteng, right in the neighbourhood of some very important government officials. The official residence of the Governor of Jakarta, for example, is within close proximity to the park.
The park was originally named Burgemeester Bisschopsplein, in reference to the name of the first Batavia mayor, G.J. Bisshop. It's also known as "Taman Persahabatan Seniman ASEAN" for its showcase of beautiful modern statues made by artists from Southeast Asian countries.
Taman Suropati today is a centre of various art activities, recreations and serves as a popular meeting point of many communities in the city, such as Komunitas Musik Suropati Chamber, Kota Seni Taman Suropati and Komunitas Tricking Jakarta.
Every weekend in the afternoon, throngs of music enthusiasts flock to Taman Suropati to play and mingle. Some though keep a different schedule. Komunitas Musik Suropati Chamber, for example, has a violin practice every Sunday at 10 AM. Founded by senior musician Ages Dwiharso in 2007, the community strives to preserve folk music from different regions in Indonesia.
For those interested in honing their music skills, feel free to join Kota Seni Taman Suropati, a community that was established in 2008. Instructors are available on weekends for those interested in playing the violin, cello, percussion or guitar. Kota Seni Taman Suropati also runs art and literature divisions, in addition to music.
Taman Menteng
Where Taman Menteng sits today used to be the basecamp of Persija Jakarta, a football club based in Jakarta, also known as the Menteng Stadium. It's one of the most popular parks in town for its recreational facilities such as children's playground, greenhouse and exhibition space. It also boasts futsal and basketball courts as well as a jogging track. Plus, it also offers Wi-Fi. Needless to say, since its opening in 2007, Taman Menteng has been a hit among young people in Jakarta.
On the southeast corner of Taman Menteng, there lies a smaller park known as Taman Kodok, named after the many frog statues decorating the space. Here you'll always find a host of lively activities – from music to dance, theatre, poetry and more. Groups of young artists perform passionately and engage in animated discussions, usually in the afternoon after school hours.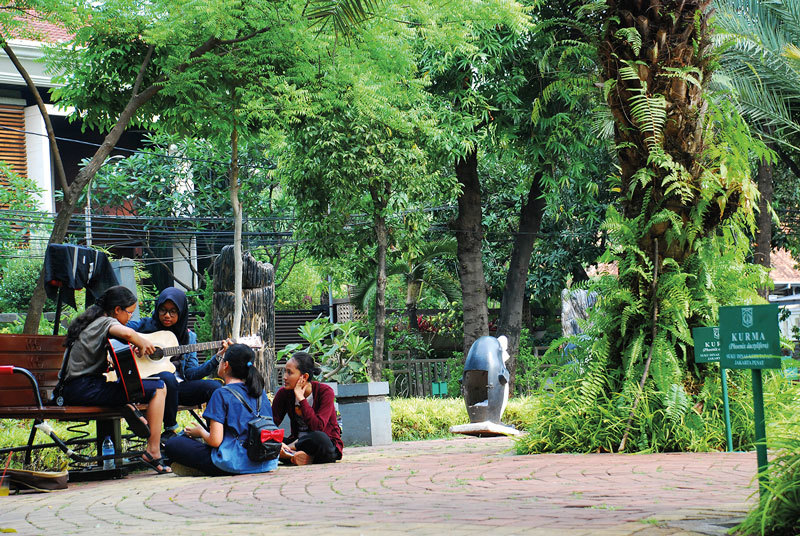 Among the music communities most often seen at this park is Komunitas MusicBox Jakarta, a group of music lovers – vocalists, music instrument players, beat makers and sound engineers – who get together every Friday evening for sessions of learning, sharing, jamming, recording and performing.
Here too one can often enjoy music festivals from different genres. It's the one venue address music fans in Jakarta know not to miss.
Taman Fatahillah
Located in Kota Tua, Taman Fatahillah or Fatahillah Square sits right in the heart of the historical district of the capital, surrounded by more than 250 colonial-era buildings.
But tourists aren't the only crowds attracted by Taman Fatahillah. It's easy to find artisans and musicians here too, many of whom have taken to form communities alongside those who share their mission and passion for creativity.
On the right side of the square, overlooking the Jakarta History Museum, is a good place to watch and be a part of the performances. You'll also find here some restaurants and cafés where visitors can dine and enjoy the variety of shows.
Two of the best-known music communities at Taman Fatahillah are Komunitas Keroncong Kota Tua and Komunitas Musisi Lesehan Kota Tua (Muless). Muless, which was founded in 2014, maintains a regular schedule of evening performance three times a week on Fridays, Saturdays and Sundays.