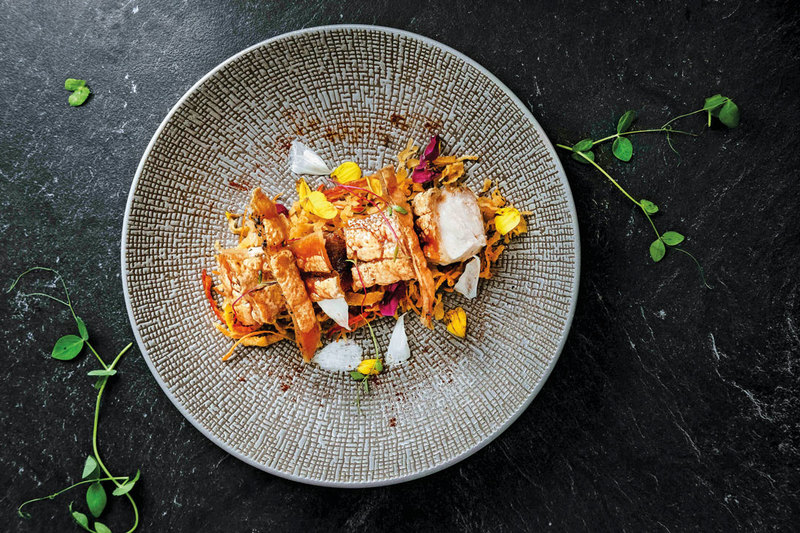 Bali undoubtedly has one of the most vibrant and diverse culinary scenes in Indonesia that is constantly evolving. Whether it is a new restaurant, cafe or bar, the endless list of culinary destinations plays an integral role as to why people keep coming back to the island of the Gods. Here we take a look at some of the finest additions to Bali's epicurean dining, from Ijen, a sustainable seafood eatery by Potato Head Family; IWA Restaurant, Hotel Tugu Bali's newest restaurant serving authentic Indonesian delicacies; SALT Restaurant and Pool Bar's revamped menu; and an intro to the innovative Arak and Brem cocktails at Spice by Chris Salans.
A CANGGU FAVOURITE SPOT ADDS NEW MENU
SALT Restaurant and Pool Bar has added new, mouthwatering dishes and beverages to their existing menu. Ranging from small bites, soups, salads, and sandwiches, the new items are SALT's take on Indonesian as well as international classic dishes such as Pork Belly, Prawn Bisque, Minestrone (vegetables soup with pasta and pesto), Spinach and Mushroom Ravioli, Duck Cannelloni, Papaya and Mango Salad with Smoked Fish, and Pulled Pork Sandwich. For dessert, the new Eastin Chocolate Dome (chocolate and strawberry mousse, liqueur, caramel, almonds and strawberry ice cream) should make a sweet finale to your feast at the restaurant. Though new items have been added, the menu at SALT remains simple; and this only means that the kitchen team is focused on serving familiar, comfort food that doesn't disappoint.
SALT Restaurant and Pool Bar
Eastin Ashta Resort Canggu
Jalan Munduk Catu No. 8, Canggu
T: +62 361 6200 888
www.eastinhotelsresidences.com
---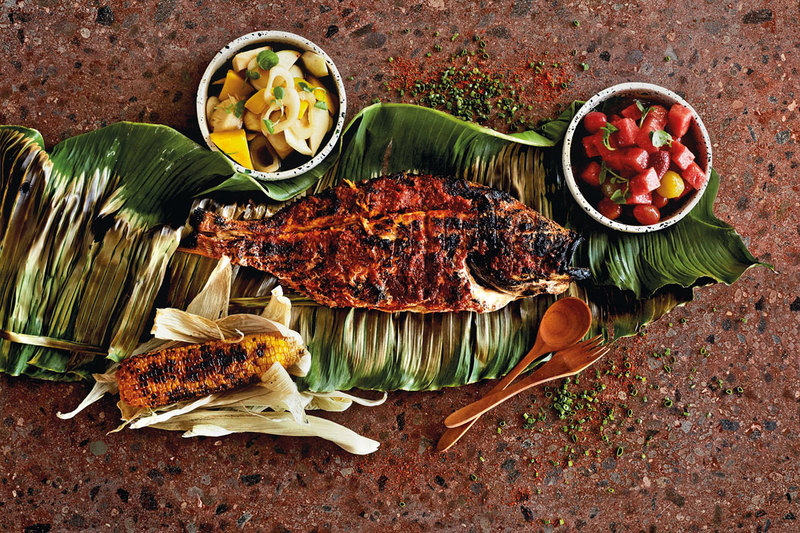 A SUSTAINABLE SEAFOOD EATERY
Nestled within Potato Head Beach Club, Ijen is Potato Head Family's sustainable seafood restaurant and the first in Indonesia to follow a zero-waste philosophy. A haven for those looking to indulge in fresh seafood, Ijen boasts freshly line-caught fish from the waters of Indonesia, set in an al fresco setting constructed using recycled materials.
The dishes served at Ijen are relatively simple with wood-fired daily catch alongside an array of innovative plant dishes. Several must-tries include Wood-Fired Local Edamame (Allum paste, chilli flakes and lime) and Ceviche (Fish of the Day with Calamansi dressing and tamarillo) for starters; Roasted Cauliflower (Kluwak tahini and cashew) for the sides; Grilled Octopus (Chayote, black garlic and seeded crumbs) and Grilled Barramundi Fillet (mango, turmeric and smoked coconut yoghurt) for the main course; and the refreshing Pineapple mint sorbet (fresh sweet salsa and sorghum crouton) served in an actual pineapple to cleanse your palate.
Ijen at Potato Head Beach Club
Jalan Petitenget No.51B Seminyak
T: +62 361 473 7979
www.potatohead.co
---

ARAK, SPICE AND EVERYTHING NICE
Continuing the traditions of Mozaic Restaurant in Ubud, Chef Chris Salans is bringing his love for Indonesian ingredients out of the kitchen and into the bar. His popular gastro-bar on Jalan Raya Ubud, Spice by Chris Salans, will now stay open until midnight, showcasing a Night Bar presenting a special list of cocktails featuring local spirits and ingredients, alongside a new menu of Indonesian finger food to accompany.
One of the focuses of the new Spice night bar is to re-introduce people to the traditional Balinese spirits of Arak and Brem, bringing local culture into the venue's mixology menu. Cocktails are made with arak and brem, as well as imported spirits, and are mixed with local ingredients to really give them a unique, Indonesian edge and flavour. Some examples include, Red Line, with jackfruit arak, grape arak, clarified pineapple, pandan syrup; or Biu Batu, with Banana Arak, Brem, Fermented Banana, Caramelized Banana Syrup, Clarified Citrus, Orange Bitters, Banana Skin Paper.
Spice by Chris Salans
Jalan Raya Ubud, Ubud
T: +62 361 4792420
www.spicebali.com
---
IWA Restaurant Opens at Hotel Tugu Bali
Hotel Tugu Bali, known as one of the most art and culture focused destinations in Bali, has opened a brand new dining experience, IWA Restaurant. This new venue, which replaces the hotels' previous Tugu Restaurant Bali, invites diners to join 'a culinary journey through the Indonesian archipelago', continuing the group's celebration of Indonesian traditions and heritage.
The name of the restaurant, as with all things Tugu, is derived from the Balinese legend of Kebo Iwa: he was a child given to a desperate couple by the Balinese God Sang Hyang Widhi, whose love of food made him grow into a giant. With his immense size, Kebo Iwa created a colossal hall for his home, called 'Bale Agung', and a kitchen in a village called Sri Jong. With Hotel Tugu Bali's grand welcoming atrium also known as Bale Agung, Kebo Iwa returns home with the opening of this restaurant.
IWA Restaurant features an extensive menu of authentic Indonesian cuisine, made with recipes passed down through the generations but prepared with a contemporary approach. The restaurant's signature experience is the DAKON, where a mélange of exotic dishes are served on a Dakon board, a mancala game of ancient Javanese origin, providing tasters from different islands around the archipelago.
IWA Restaurant at Hotel Tugu Bali
Jalan Pantai Batu Bolong, Canggu
T: +62 361 4731701
www.tuguhotels.com
---
This article is originally from paper. Read NOW!Jakarta Magazine November 2019 issue "The Travel Issue". Available at selected bookstores or SUBSCRIBE here.