Both the government and the Indonesian tourism industry players have a strategy and focus on increasing the movement of domestic tourists as the foundation for the recovery of the tourism sector and creative economy post the Covid-19 pandemic. But what should government and the industry players focused on?
In the National Tourism Seminar titled Maintaining the Tourism Recovery Momentum, Pursuing the Target of 280 Million Domestic Tourists in 2022, Minister of Tourism and Creative Economy Sandiaga Uno said that this year is predicted to be the year for the recovery of the tourist market. In this time of unpredictability and uncertain conditions due to the pandemic, the movement of domestic tourists is considered to be the key and play a role as a locomotive in efforts to recover the Indonesian tourism sector from the pandemic.
In the seminar organized by the Tourism Journalists Forum and Creative Economist Indonesia on 15 February, Uno also said that this year's foreign tourist visits will be supported by various international events, one of which is the MotoGP in Mandalika, West Nusa Tenggara in March this year.
As an illustration, one real indicator can be seen from the decline in foreign tourist arrivals, the Central Statistics Agency (BPS) noted that in 2020 the number of foreign tourists (Editor: read visitors because there is a strong overlap between business visitors and VFR visitors and pure tourists) was 4.05 million or 25% of the total 2019 foreign tourist arrivals which reached 16.1 million people.
The decline continued in the second year of the pandemic, which recorded that throughout 2021 the number of foreign tourist arrivals was only 1.6 million or a decrease of 61.57% compared to 2020 ( Editor: again probably including other categories of visitor). The government's move to open Bali and Batam to foreign tourists in October 2021 was also hampered by the outbreak of a new variant of Omicron. since the end of 2021.
"In 2023, I'm even more confident that this momentum will be further developed, and the high enthusiasm of domestic tourists will become the driving force behind the tourism and creative sector to date." Uno stated.
Uno continued that there is a paradigm shift in quality tourism development to encourage more focus on sustainable tourism. That means we must have the provision of very good basic infrastructure and facilities supporting tourism. The recovery of the tourist market with well planned events as well as the restoration of the tourism industry with the adaptation of health protocols are included in the work plan of the Ministry of Tourism and Creative Economy. This step, said Sandi, begins with restoring Bali and other leading tourism destinations, such as Riau Islands, Toraja, etc.
"We put forward the principles of sustainability and justice, a reflection of the government's commitment to realizing quality tourism, increasing connectivity, marketing, implementing CHSE, developing attractions, and empowering communities around destinations," he said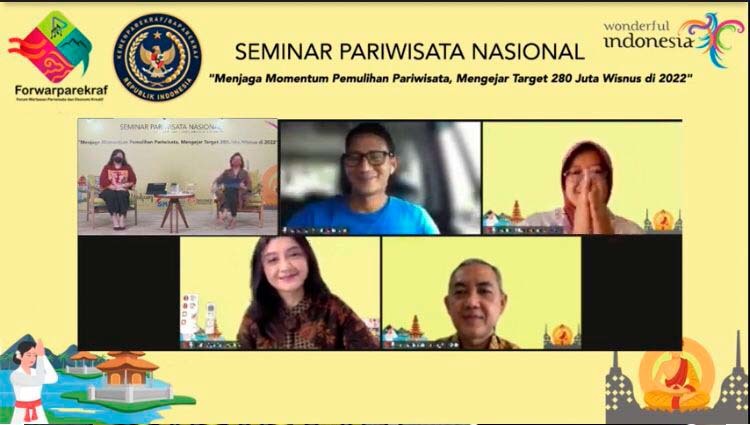 The Ministry of Tourism and Creative Economy targets a significant increase in the tourism sector in 2022. The details of the target include between 1.8 and 3.6 million foreign tourists, the movement of domestic tourists at 550 million movements and the contribution to National GDP increasing to 4.3 percent.
The Deputy for Strategic Studies at the Ministry of Tourism and Creative Economy, Kurleni Ukar, explained that the domestic tourist travel targets have changed in line with changes in the calculation method carried out by BPS. Where since 2019 the calculation has been carried out using the Mobile Positioning Data method or based on the movement of devices.
With this change, the estimated number of domestic tourists in 2021 will reach 525 million movements and is projected to increase to 550 million movements this year (previously targeted at 280 million).
She said this amount would certainly contribute to GDP, employment, and also affect the travel and tourism competitiveness index. In addition, she said that based on UNWTO predictions, international tourism would still not fully recover in one year. The assumptions are for recovering 11 percent in 2022 and 43 percent in 2023.
It is also necessary to pay attention to changes in the tourism paradigm in the new normal and post-pandemic eras which are very different. "We are entering the new tourism economy, and digitizing the tourism industry is a necessity amidst tourist demand for contactless and seamless experiences towards quality tourism," Kurleni explained.
The Ministry of Tourism and Creative Economy developed a scenario in three stages, namely; First rescue to reduce the impact and manage the tourism crisis. Second, recovery by providing stimulus and accelerating recovery.
"Thirdly, we hope that we can accelerate growth towards sustainability in 2025 and beyond, this is preparing a future industry that is resilient and sustainable," Kurleni continued.
The concept that was also developed was to apply innovation, collaboration and adaptation strategies. Then, continue with how the ministry increases market confidence.
On the same occasion, General Chairperson of the Indonesian Travel Agent Association (Astindo) Pauline Suharno mentioned a number of challenges that are still being faced by domestic tourism. These include connectivity challenges, flight capacity, including price issues.
"Flight capacity is still a challenge, especially during the pandemic. Currently there are not too many flights. For example, I flew from Jakarta to Manado, it cost around IDR 3.7 million. If people don't have urgent interests, many prefer to go abroad, which is more economical," she said.
Group Vice President Marketing and Communication Smailing Tour and Travel Service Putu Ayu Aristyadewi added, with the current conditions, his party implemented a strategy to reach a more segmented and targeted market. For example, the elderly segment, millennial youth, and families.
"We also place more emphasis on unique experience-based products and can only be obtained through travel agents," she explained.
Along with the current development of tourist villages, one of the supporting tourism facilities that is also encouraged is the development of accommodation in the form of homestays. To support this effort, PT Sarana Multigriya Finansial (Persero) or SMF since 2018 has distributed homestay financing.
SMF Director of Operations and Finance Trisnadi Yulrisman said homestay financing targets all tourism activists in tourist villages.
"They can use the funds to build homestays, renovate houses or rooms that can be used by tourists," he said on the same occasion."
Trisnadi revealed that the funds allocated for this program reached Rp. 20.2 billion and around Rp. 8.2 billion has been realized with a total of 100 debtors.
"We set a very low interest rate, namely flat and fixed at 3% per year, with a maximum ceiling of Rp. 150 million per house and a tenor of 1-10 years," Trisnadi also added that currently there are 12 tourist villages that have received financing facilities from SMF. These include Samiran Tourism Village, Nglanggeran, Kuta Mandalika, Sembalun, Mertak, and Bangsring.
For this year, the state company is targeting five new locations, including in Likupang, Labuan Bajo, Banda Naira to Papua.