This Christmas, enjoy the season at Alila Ubud where extravagance – and sustainability come together. Gather your friends and family around the tree made out of coconut shells and enjoy a vast menu of meals focused on sustainable production and local sourcing. From cabana feasts to Balinese banquets, the culinary team has pulled out all the stops this year.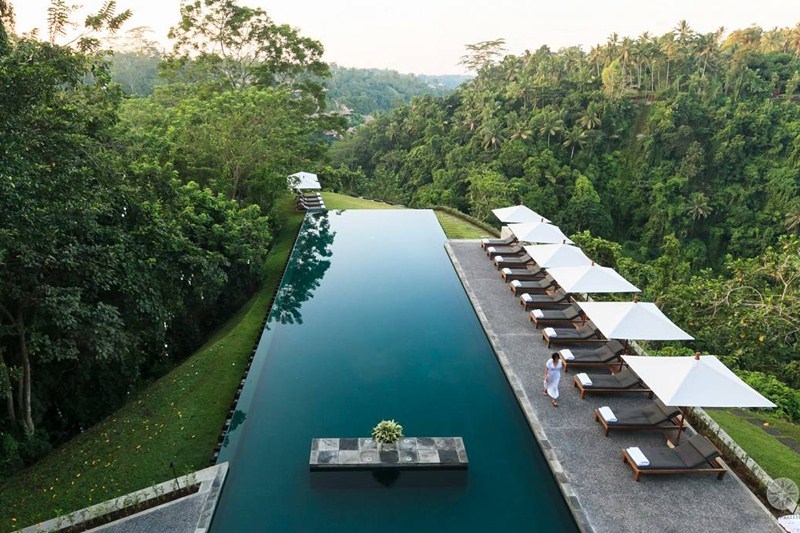 There are a range of activities going on during the festive week. Here are the options for this year's celebrations!
Christmas Eve at Cabana Lounge "Jungle Bells"
Against the backdrop of the mountains, surrounded by the sounds of the jungle – and a live, acoustic Carol performance, enjoy a five-course meal including lobster and barramundi.
7 p.m. to 10:30 p.m
IDR 650,000 ++ per person
Christmas Day at Cabana and Plantation "Meals on Boards"
Enjoy a trio of cuisines served on boards in a whimsical, artistic fashion. There's Rijsttaffel, a sampler offering a variety of Indonesian side dishes, the Butcher Board, where a variety of cold cuts are served in the classic charcuterie style, and a Mexican board with traditional favourites.
This also includes two Christmas cocktails and dessert served on a board.
7 p.m. to 10:30 p.m.
25 December
IDR 890,000 ++ per couple
After Christmas

"Balinese Fiesta at Plantation Restaurant"
It's all about tradition at this night market-style feast where Indonesian dishes prepared using classic recipes and spices from around the country are used. Watch chefs prepare traditional 'babi guling' while being entertained by various dances and music.
28 December. 7 p.m.
IDR 600, 000 ++ per person.
"Love Actually" Is All Around
Relax and enjoy some time by the pool during the screening of the classic movie.
29 December. 7:30 p.m to 9 p.m.

New Year's Eve
"Feel the Jungle Vibes" at Plantation Restaurant and Cabana Lounge
Wrap up the year in style! Enjoy a five-course dinner and live music at Plantation followed by dessert and bubbly at Cabana Lounge – the perfect place to enjoy the fireworks!
Dinner: Plantation Restaurant. 6 p.m. to 8:30 p.m. (IDR 990,000++ Set dinner & Cabana toast to 2019; IDR 250,000++ toast to 2019)
"Spa for your other Half"
Surprise your partner by gifting them a relaxing treatment at the spa. Invigorating body scrubs and massages to help soothe muscles and revitalise and refresh them – and yourself—for the year ahead.
23 December to 1 January 2019
IDR 1,000, 000 ++ per person
"VW Open Air Jungle Safari"
Pick your favourite day during the festive season to explore the villages surrounding Alila Ubud and the Gianyar Regency in a completely original open-air VW Safari. Feel the wind blowing through your hair as you watch day-to-day Balinese life pass by. Visit Bongkasa Village with its beautiful rice paddies and magnificent hills overlooking Alila Ubud, adjacent to a temple on the other side of the valley. Picnic and relax at an authentic bale, enjoying a special selection of light refreshments before returning to the resort.
23 December – 1 January 2019
3 hours. IDR 700,000 ++ per person.
Communal Organic Cooking Class
Enjoy some time on holiday learning the secrets to making authentic Balinese food. Experience the entire journey from picking ingredients at the local market and our organic garden, to cooking up some of Bali's most popular and exciting dishes
23 December – 1 January 2019
IDR 990,000 ++ per person (includes market tour, apron and a glass of sparkling wine).
8 guests.
Alila Ubud. Bali
Desa Melinggih Kelod, Payangan
Gianyar, Bali 80572
T : +62 361 975 963
www.alilahotels.com/ubud