Once there was a town that lived in harmony with time for over a 1,000 years. Lines of old traditional Chinese wooden and mud brick houses were standing side by side filling the hilly contour land, creating an endless labyrinth of little streets with bridges and little canals here and there. Refreshing aroma came from old tea houses in this town, known among traders and perhaps even Kung Fu fighters during that time. We could hear soft Naxi music dancing in the air, alluring a good feeling in our hearts. Welcome to the Old Town of Lijiang where history continues to live on.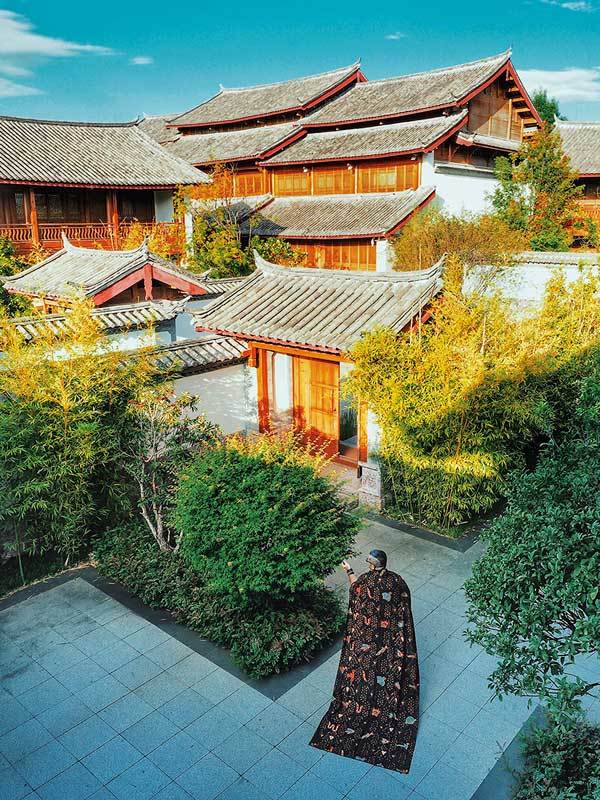 Located in Yunnan province in the Southern part of China, the Old Town of Lijiang is a UNESCO World Heritage Site that is still quite hidden to many world travelers, though renowned amongst local Chinese tourists. It is quite a journey to reach this destination as there are not too many direct flight connections. I chose the Shanghai connection, which took me about 3,5-hours to arrive. Another option is through Beijing, from where you can also fly directly to Lijiang.
However, this journey really pays off when the beautiful scenery of Lijiang welcomes you once you arrive at the airport. A beautiful mountain view and lines of traditional houses rising from meadows with a blue sky backdrop make you feel like you have been transported into a Chinese movie. I was literally at awe when I finally arrived at the Old Town of Lijiang after a 40-minute drive from the airport. The entire city is connected through little streets, alleys, bridges and canals on cobblestones - not a single car is allowed here. Like in Morocco, the buildings of the Old Town of Lijiang feature many beautifully carved windows and doors depicting the wildlife of the four seasons in the traditional Han Chinese manner that is part of the Naxi culture.

The indigenous Naxi people are warm and full of smiles, they are friendly to visitors and definitely love spicy food! They have quite a variety of chilies that are implemented into the local dishes. A trip to the traditional market here is really an adventure on its own for your taste buds and nose! With mild weather due to its high geographic position, Lijiang offers many travel activities ranging from nature, food and culture to history. Below are my personal selections on unraveling the hidden beauty of Lijiang.
The Picturesque Nature
The natural beauty of Lijiang is really fascinating. The Jade Dragon Snow Mountain is a must visit as there is no other scenery like it. A local folk legend says that a clear view of the mountain is only visible to those who come with a pure heart. Only then the mountain will show its entire glory including the eternal snow on its peak. We had just arrived at Blue Moon Valley at the foot of the mountain when suddenly the sun came out and shone through the mountain to give us a clear view. It was really magical to see the mountain juxtaposing the blue water of the lake in this valley, which contains a high percentage of cobalt and thus comes in this particular colour. Both the mountain and lake are sacred sites for the Naxi.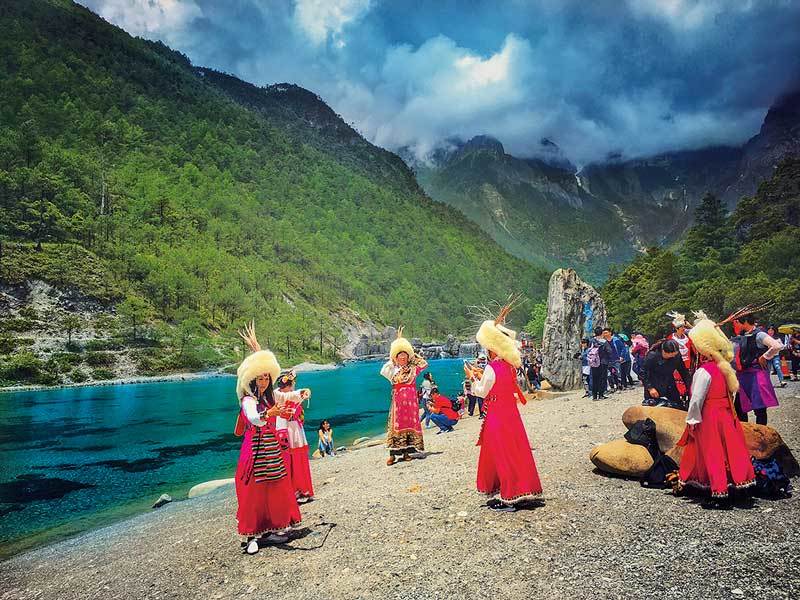 Another great nature sighting is hidden inside Jade Dragon Snow Mountain Park, which is located 3,500 meters above the sea. Here, an open theatre was built, designed specifically to showcase the mountain as a backdrop. A stunning cultural show called Impression Lijiang takes place on a daily basis. Created by award-winning film director Zhang Yimou (Hero, House of Flying Daggers, and Curse of Golden Flower), this is without a doubt one of the most amazing spectacles that I have ever seen. A total cast of 500 Naxi people perform the story and tradition of the Naxi, Yi and Bai people of the area. It has everything from outstanding choreography and singing to a horse riding show, and even an artificial waterfall that is part of the show. The fact that we watched it in an outdoor setting with the Jade Dragon Snow Mountain as backdrop made this performance one of the best that I have ever seen.
The Enchanting Old Town
I loved exploring the Old Town of Lijiang on foot! Every corner and every turn brings new findings, from local artisan and clothing shops, nice cafes and restaurants to historical sites such as Mu Palace where the Mu Clan of the Naxi people ruled for over 400 years. It is a feast for the eyes as the old town is very well preserved and still looks like in ancient times. Although not that many original inhabitants still live in here, you can still find the Naxi, Yi and Bai people going about their daily lives in this town wearing their exquisite and unique traditional clothing. One of the highlights in old town is the traditional market where you can find various fresh and unusual local ingredients. It is definitely a fun walk to go sightseeing around this market.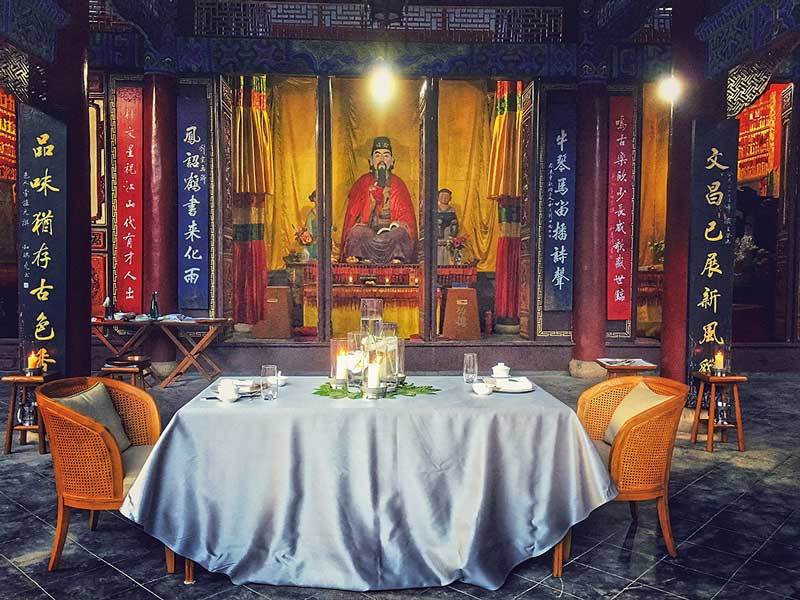 The Exotic Neighboring Villages
Being as curious as a cat, I was wondering where the Naxi, Yi and Bai people really live these days. So I decided to take a half day trip excursion to visit the neighboring villages outside Lijiang. First, I went to Yuhu Village and see the houses that were made of a unique combination of stone and mud called monkey head. Surrounded by meadows, this village has a lovely atmosphere that made Austrian-American explorer Joseph Rock decide to live here for 27 years. It was Rock who introduced Naxi people and their culture to the world through his photos and articles that were published in National Geographic in 1924. Here in Yuhu Village, his former residence has been turned into a museum where you can see the way he lived.
Not too far from Yuhu Village is another authentic village called Baisha, located at the foot of the Jade Dragon Snow Mountain. This is the village where the Mu Clan was born and became the center of politics, economy and culture of Lijiang prior to the Ming Dynasty and before moving to Dayan Town (the current Lijiang Old Town). Personally, I truly love this village as the traditional indigenous Naxi people still live like in the olden days. Here, you can also visit the Baisha Naxi Embroidery Institute to see how the Naxi traditional hand-made embroidery is being preserved. On the main street, you can find a couple of antique shops that sell interesting trinkets. I enjoyed the rest of the afternoon by having a big cup of yak butter tea for the first time in life. It was quite an experience to taste it.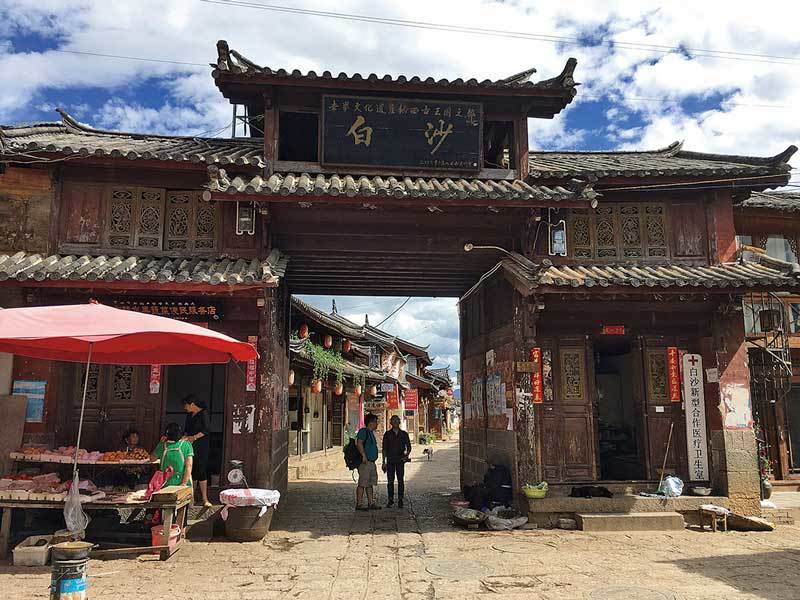 The Opulent Haven
There are many traditional inns located inside the Old Town of Lijiang in old houses. However, the best of them all is without a doubt the Amandayan. Located on top of the hill of the Old Town, Amandayan is part of the famous Aman Resorts and designed by our own Jaya Ibrahim who has drawn his inspiration from the Naxi architecture style that predominantly uses wood designs. All the local elements, such as lattice screens, are made of pale Yunnan pine, while Naxi embroidery adorns the bed heads and the upturned roofs convey the classic understated Aman style. The Amandayan features a great spa and the Man Yi Zuan restaurant that serves traditional Naxi dishes including the famous hot pot.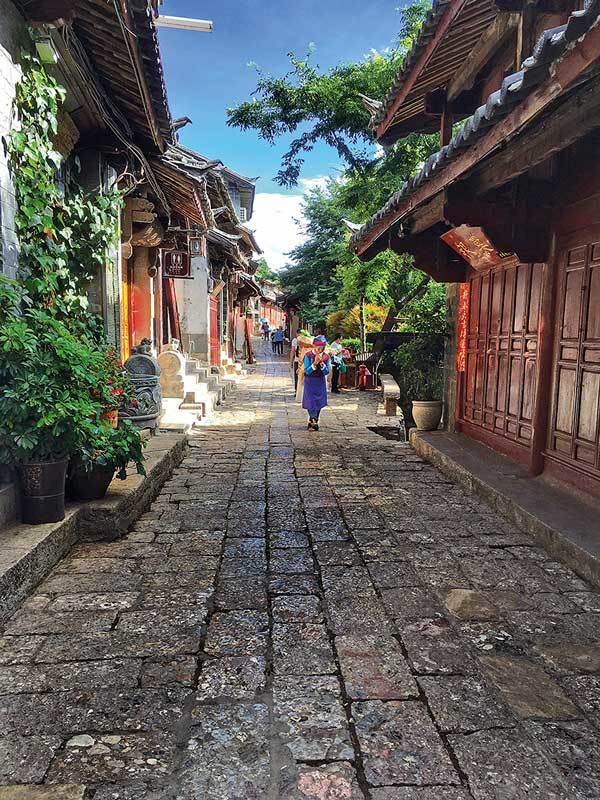 Part of the resort is the historical 500-year old Wen Chang Gong Palace where you can have a romantic dinner for two on the terrace of the majestic temple. Amandayan also includes a very popular Tea House overlooking the Old Town from the top. I have been to many Aman properties