Rev. Andrew Lake was Vicar of All Saints Church here in Jakarta for many years and is currently serving as offsite locum from his home in Tasmania Australia. He is the author of several books and many articles and never fails to bring humour and insight to his writings. Here he brings together the delightful habits of Indonesians with the spiritual path to Easter in this charming tale.
My favourite word Indonesian word is nongkrong. It could be an onomatopoeic word for the melodious sound of gamelan. It's as enigmatic as the proverbial blind men describing an elephant. It's two of your household staff taking a break by sharing an old armchair in the carport. It's some labourers squatting by the road puffing on kreteks. It's an old coca cola ad showing young people hanging out together. It's almost captured by the cartoon of the old hillbilly sitting on his verandah, captioned, "Sometimes I sits and thinks and sometimes I just sits." But that misses the essential element of doing it in company, bearing in mind that in this country solitary confinement would be the ultimate torture.
To many foreigners nongkrong seems like wasting time. The failure to recognise the value of nongkrong shows a foreigner's obsession with watching the clock and with achieving goals. It's like the busy executive who barely sees his children but seeks to compensate by taking them on expensive holidays with the excuse that he makes up for lack of quantity of time with his family by giving them quality time. It's a spiritual disease I call "Martha-itis" based on a favourite bible story about Jesus visiting two sisters.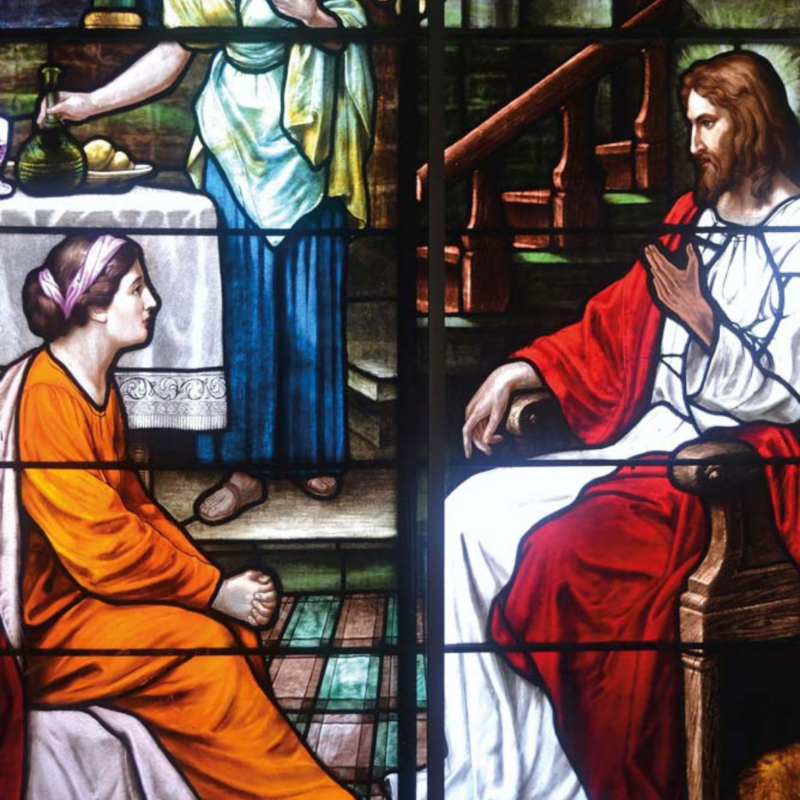 He came to a certain village where a woman named Martha welcomed him into her home. Her sister, Mary, sat at the Lord's feet, listening to what he taught. But Martha was distracted by the big dinner she was preparing. She came to Jesus and said, "Lord, doesn't it seem unfair to you that my sister just sits here while I do all the work? Tell her to come and help me." But the Lord said to her, "My dear Martha, you are worried and upset over all these details! There is only one thing worth being concerned about. Mary has discovered it, and it will not be taken away from her."
Now Jesus and Mary weren't exactly nongkrong-ing because Jesus was teaching Mary who was in turn actively listening. It's a spiritual virtue I call Mary-tude - abandoning busy-ness to spend time with the Lord. There's no better time to embrace Mary-tude than this time of the year. Lent, the six weeks leading up Easter is traditionally the season for taming our appetites by giving up something like meat or alcohol or sugary foods. How about giving up busy-ness for Lent by simplifying your calendar? Instead of wasting time driving, eating out, shopping and checking your iphone, waste time with God learning from him, talking to him and listening to him. Why stop at Easter, why not try it all year round?
There's lovely story about a priest who noticed a labourer who every day before and after work would leave his pick and shovel at the door and go in to spend a long time in the church. Intrigued about what the man would be praying about for so long the priest asked, "What do you say to the Lord?" The man replied, "I say nothing to Him. I look at Him and He looks at me."
We wish all our Christian friends a peaceful Lent and a joyful Easter
Good Friday: 15th April and Easter Sunday: 17th April
9:00 am combined physical service with simultaneous Zoom broadcast; no 7:30 service
The Crucified Prophet, Priest, King and Son
ATTENDANCE LIMITED TO FIRST 60 PEOPLE.
Please sign up here: https://shorturl.at/ehzAC
Online Services: Sundays 09:15AM
https://asjakarta.online.church/