The luxurious Alila Ubud in Bali is moving with the times; seeking to reduce their ecological footprint whilst also appealing to the growing number of eco-conscious travellers, the resort has found a way to phase out plastic bottles through their resort.
"With our compliments". This is the message you'll see besides your complimentary bottles of water in all Indonesian hotels. Indonesia's tap water is undrinkable and so in a bid to provide a basic human need, hotels provide their guests with bottled mineral water. However, it seems every solution has its own problems and perhaps it has been too long since this problem was identified.
We are of course talking about plastic pollution, to which Indonesia is said to be the second worst plastic polluter to the oceans after China. It is well known now that the worst culprits are single use plastics, from plastic bags, cellophane wrappers, food wrappers and of course, plastic bottles. This becomes an issue in a country like Indonesia where the undrinkable tap water creates a demand for bottled water. Luckily, there are solutions.
In an effort to reduce its reliance on plastic bottles, Alila Ubud has invested in an initiative to produce its own bottled water using a water purification system designed by BioSystems. Guests can now quench their thirst with fresh drinking water that has been filtered and bottled in reusable glass bottles, guilt free.
Whilst simple in concept, this Ubud escape has gone to great lengths to ensure that this movement away from bottled water remains as safe and hygienic as possible. Central to the resort's water purification system is large reverse osmosis (RO) plant. Reverse osmosis, also known as hyper filtration, provides the finest filtration, with the ability to remove particles as small as ions. During the filtration process, bacteria, salts, sugars, proteins, particles, dyes and other impurities are removed, improving colour and taste, and producing water that meets the most stringent specifications.
From the RO plant, the water undergoes UV sterilisation and mineralization before being bottled by a trained team within a clean, sanitised environment. Using a water purification system means glass bottles can also be reused. After each use, the bottles are collected, soaked and washed using a biodegradable chemical. Providing an added layer of quality control, a laboratory water test as well as checks of the plant and bottling room are conducted weekly by the resort's trained engineers and heads of housekeeping.
Outside of reducing plastic use, there are other benefits of implementing this system, including reducing the carbon emissions of transporting mineral water to the resort, and in fact filtering water uses no more energy than is required to propel water through the plumbing system.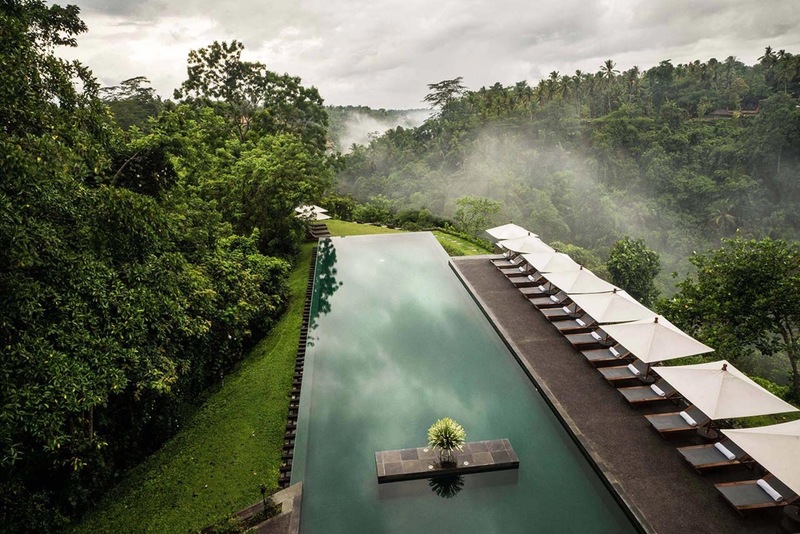 The growing amount of environmentally aware travellers is pushing the hospitality industry to innovate and invest in green solutions. On an island like Bali, known for its beautiful, pristine landscapes, the environment is fragile and its takes initiatives like those shown by Alila Ubud - and in fact by Alila Hotels in general - to ensure Bali remains pristine.
Alila Ubud is a tranquil and secluded hillside retreat that sits high up on the edge of the rich green Ayung River valley in Bali's central foothills, 15 minutes from Ubud, the island's cultural heart. With the installation of the on-site water purifying system, Alila Ubud reinforces its commitment towards sustainability across all its operations.
Rates at AlilaUbud start from US$ 228 per night based on two sharing on a Bed & Breakfast basis.

Alila Ubud
Desa Melinggih Kelod, Payangan Gianyar, Bali 80572 Indonesia
+62 361 975 963
www.alilahotels.com/ubud.