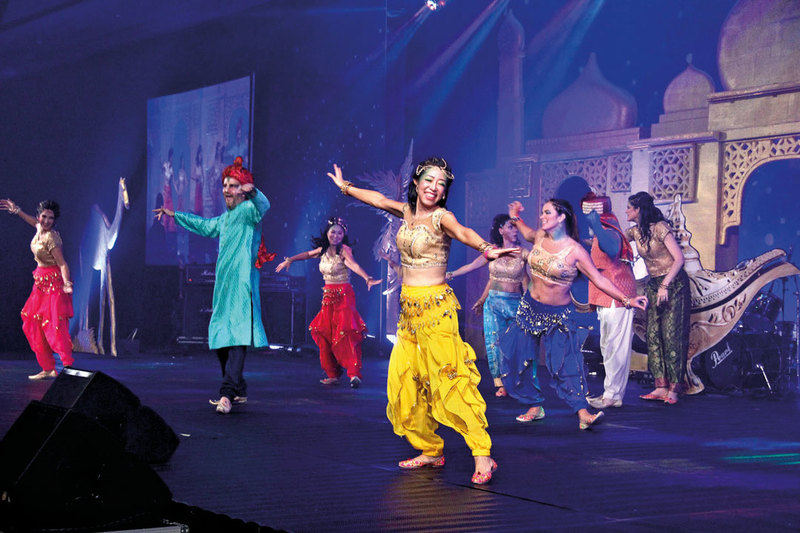 On Saturday, 1 February, the ballroom of Shangri-La Jakarta was once again transformed for the fabulous annual event that is the British Women's Association of Jakarta's Charity Ball.
The theme for this 50th anniversary of BWA was "Arabian Night". Flower-bedecked golden elephants stood guard at the intricately designed entrance, itself swathed with jewel coloured fabrics, to welcome the guests. Behind the closed ballroom doors, the stage was set, and gentle Arabian drums could be heard. An ice-sculpture of Aladdin's lamp stood in the foyer, a hint of what was to come at the show.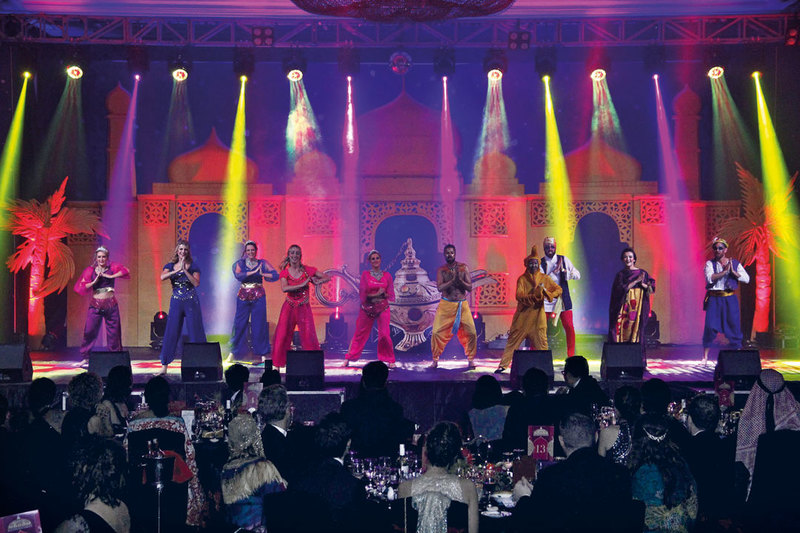 Guests in finest black tie, ball gowns and even a splash of dish-dash sipped champagne and cocktails on arrival, whilst having photographs taken with the camels and bidding on the Silent Auction prizes so generously given by sponsors. Volunteers from BSJ and JIS circulated, selling raffle tickets for yet more amazing prizes, all proceeds of both these going to support BWA's established and extensive social welfare programs.
It was time for the show to start! The ballroom doors opened to gasps of delight as the guests saw the stage for the first time - an Arabian palace designed by BWA and brought to life by Asian Tigers Indonesia. Stageside were golden palm trees and life-sized camels—and the jeep from BWA 2019 ball "Into the Wild" had driven all the way back to share in the evening! Fabulously scented flowers from Jakflo academy decorated the tables, along with lights and mini flying carpets!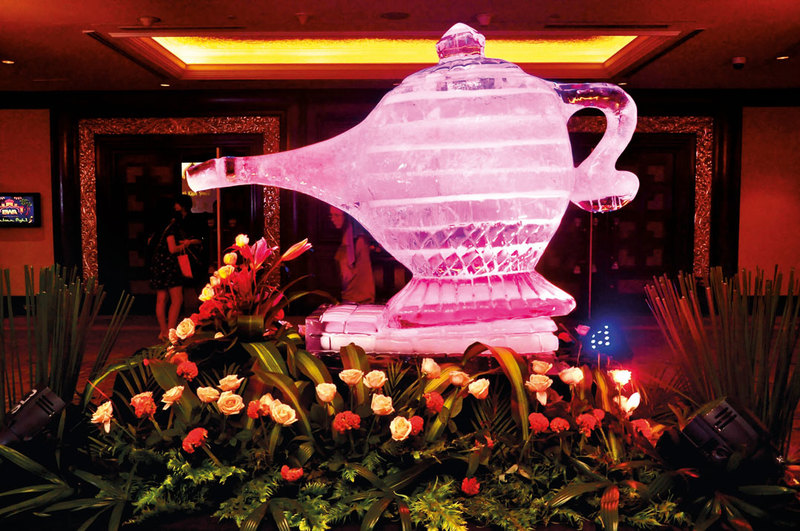 MC for the evening, Josh the Magic Man, started the show and introduced the first of the acts for the evening, BWA's legendary dancers. Three very different performances entertained the guests, as well as Bellydancers and Nicky the Hoop Grll—such a variety of fun! Between acts, a sumptuous dinner, chosen carefully to reflect the evening's theme, was enjoyed, along with free-flow wines, drinks and cocktails.
If this wasn't enough for a fabulous night out—and all in aid of worthy causes—after the finale, Centerstage, everyone's favourite band from Eastern Promise, took over the stage and it was time for the guests to dance, which they did until carriages at 1am. Once again, the BWA Charity Ball would go down as the best night on the Jakarta social calendar.
BWA would like to thank all their sponsors for their ongoing support; Asian Tigers Indonesia, NOW! Jakarta and Phoenix Communications, The RIO Club, Turkuaz and Lifestyle Retreats, to name but a few. Qatar Airways, as new BWA sponsors for 2020, very kindly donated two return flights to the UK, drawn on stage by Mr. Ajay Jacob, Qatar Airways Country Manager.
Follow BWA's activities on social media via BWA Jakarta Indonesia on Facebook and @bwajakarta on Instagram.