The earthquake and tsunami in Central Sulawesi have left many people homeless, shattering families and rendering many children orphans. Leading food producer, Kimbo Kitchen recently participated in a food donation drive to help orphaned children in Palu.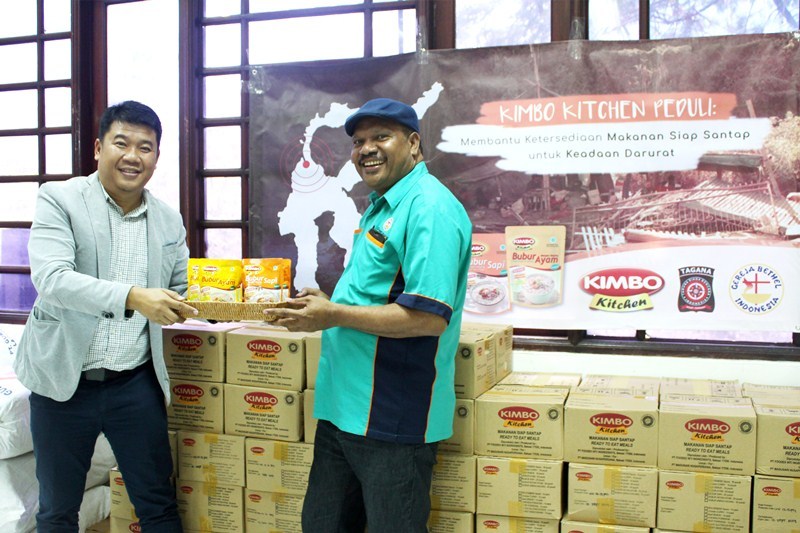 In collaboration with social institution Aksi Cepat Tanggap (ACT) and Pelmas GBI, Kimbo Kitchen donated its signature products, Kimbo Kitchen Chicken Porridge and Kimbo Kitchen Beef Porridge to children in Palu.
The donations were made on 18 October by Marketing Manager PT Madusari Nusapersada, Yenny Andayani and HR Director PT Madusari Nusapersada, Casman Gunawan to the Coordinator of Indonesia Humanitarian Center ACT, Wahyu Abdi and Head of Social Service Bureau Pelmas GBI, Pdt. Didimus Fingkreuw.
"When there is a disaster, the most vulnerable parties are children. I really remember the words of a mother who was a victim of the 2014 flash flood in Jakarta who said that her child only ate rice mixed with water in the last few days until she got Kimbo Kitchen Chicken Porridge," recalled Yenny Andayani, Marketing Manger PT Madusari Nusaperdana, Kimbo Kitchen producer.
During an emergency, there is a lack of clean water and there is virtually no access to cooking equipment. Kimbo Kitchens' products address this situation. Its emergency food range can be used in the immediate aftermath of a disaster. Practical, safe, easily distributed, durable and ready to eat, Kimbo Kitchen's porridge products are very easy and nutritious and can be consumed as is or by warming it in a bowl of hot water.
Kimbo Kitchen products use Retort food technology, which involves cooking under high pressure and temperature that make the products free of microbes. Preservative free, these meals provide much needed nutrition—and comfort—when needed most.