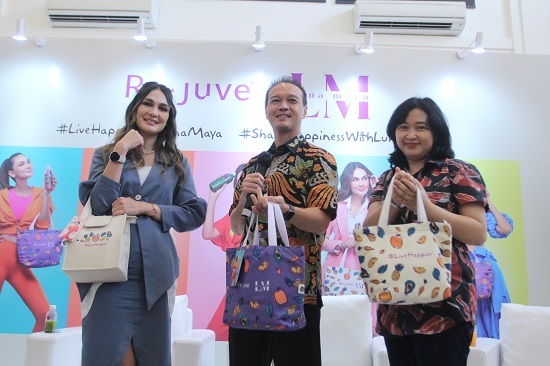 Celebrating its eighth anniversary this year, Re.juve, a pioneer of true cold-pressed juice in Indonesia, collaborated with artists with special needs by launching special cooler bags.
Re.juve has launched the #LiveHappierAlaLunaMaya package, which comes with special cooler bags. Not only collaborating with the beautiful artist and entrepreneur Luna Maya, this special collaboration designed as part of Re.juve's eighth anniversary celebration also invited Prinkadipa, an artist couple, mother and child ,with Autism Spectrum Disorder as the artwork designers for the special cooler bag.
Luna Maya was chosen for this inaugural collaboration because Re.juve considered her figure to be able to provide inspiration for an active and healthy lifestyle in the midst of her busy schedule, which is in line with Re.juve's mission to invite consumers to #LiveHappier.
The #LiveHappierAlaLunaMaya package consists of Luna Maya's favourite products that she consumes daily to meet her daily nutritional needs in the midst of her busy activities as an artist, entrepreneur, and activist for a sustainable healthy lifestyle. The package consists of four choices with various sized juice fillings which are the best alternative to consumption of organic vegetables and fresh fruit made from 100 percent natural fresh ingredients, high dietary fiber, without any additives, ranging from cold-pressed almond milk, cold-pressed elixirs, smoothies, and SHOTs.
The packages are priced from IDR 285,000 to IDR 490,000 including a variety of juice drinks and the special edition cooler bag.
"In order to be able to help others, of course, we have to start from ourselves, by taking care of our own body's health. To meet my daily nutritional needs, I regularly consume Re.juve products such as cold-pressed juice as an alternative to consuming fresh fruit and vegetables. Because, apart from being 100% Fresh, Pure, and Natural, Re.juve is also safe and practical to consume in the midst of busy activities. Since a few years ago, my focus has not only been on cultivating happiness from within by appreciating achievements and hard work every day. I am also moved to share happiness by helping people in need, not only at special moments such as birthdays but also when collaborating on social missions like this," said Luna Maya.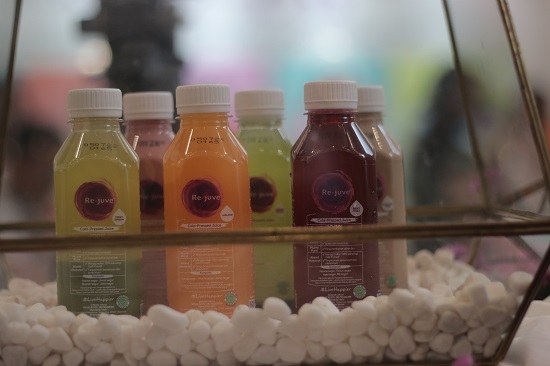 Not only inspiring the community through consuming the best nutrition and practicing a sustainable healthy lifestyle, in this collaboration, Re.juve and Luna Maya also promote a social mission to the community. Re.juve initiated this sharing effort because they believe that the collaboration of Re.juve, Luna Maya, and Prinkadipa can inspire children with special needs, such as people with Autism Spectrum Disorder, to live happier lives by pursuing their potential and sharing through their artistic creations.
Using the medium of art, which is often an advantage and a means of expression for autistic people, Prinkadipa creates a special cooler bag with their own design artwork. It feels even more unique because it contains the spirit of togetherness between Prinka and Dipa, who collaborate on a daily basis to create works through images and colours.
"Since the age of four, Dipa has shown strength and joy every time she draws. As a mother, I am moved to consistently collect and process her work so that it can inspire more people. Including, families in Indonesia who have members, either children or adults, as people with autism. We hope that, with this collaboration, we can help other people with autism to gain access to good education to optimize their growth and talents," said Prinka.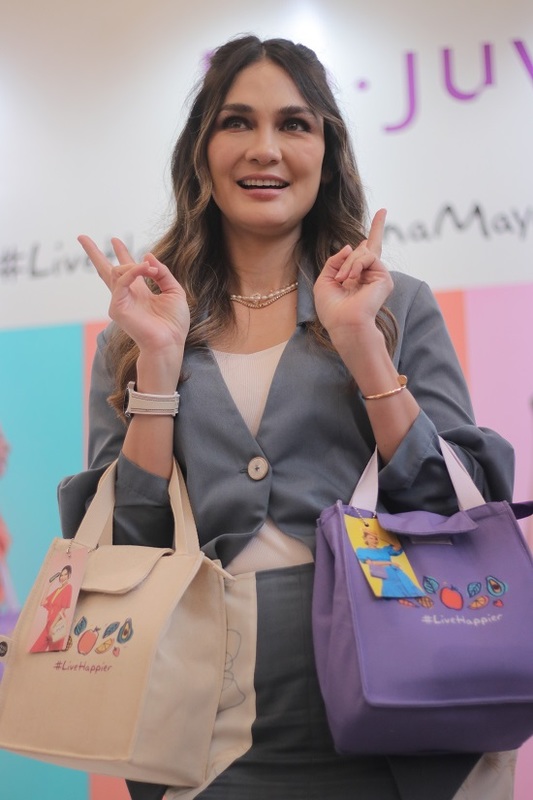 According to the CEO and President Director of Re.juve, Richard Anthony, since its establishment in 2014, Re.juve has consistently encouraged people to live happier lives through the choice of delicious, healthy and honest food and beverage products (#GoodforYou). As part of a sustainable healthy lifestyle, Re-juve believes that happiness starts with oneself, and needs to be shared with others/society (#GoodforSociety) and the environment (#GoodforEarth). For this reason, since 2020, Re.juve has carried out various actions to share this happiness through the Re.juve Cares campaign.
The packages and cooler bags can be ordered during June–December 2022 and ten percent of the sales proceeds will be channeled to the Drisana Development Center, which is a foundation engaged in social and humanitarian work, particularly related to education for children with special needs.