With funding from the Singapore Red Cross, The Learning Farm (TLF) opened its first own learning facility in March to help more vulnerable young people to become economically independent, productive members of society and champions of a healthy eco system.
Located on 2.4 hectares of fertile farmland in Cianjur, this new facility will enable TLF to expand its education programme, which focuses on empowering vulnerable young people from all over Indonesia who are marginalized, at risk and do not have access to education, often due to poverty or displacement because of conflicts or natural disasters.
The new learning centre in Cianjur will enable TLF to escalate its education programme by implementing an "Integrated Farming" concept so that students can learn both farming and fish farming, by including Life Skills Education in the students' curriculae and by providing a larger room and board facilities for female students so that more young women can participate in the programme.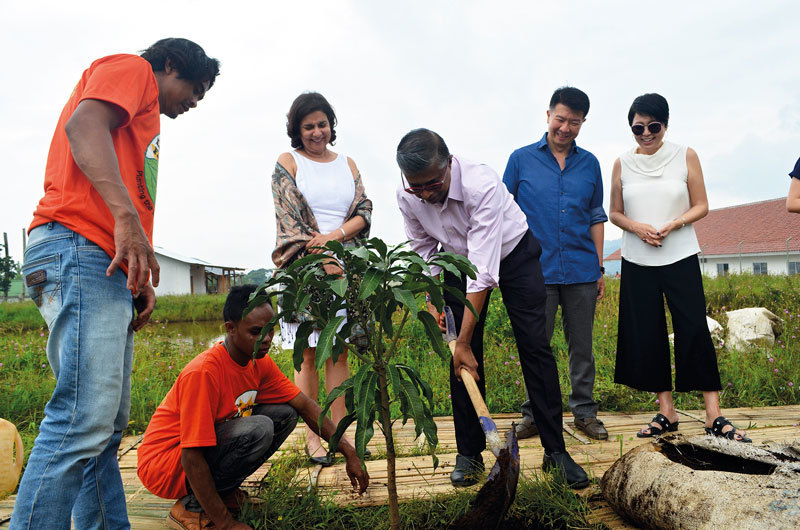 Children under the age of 18 years old make up about 33 percent of the total population of Indonesia. With a population of nearly 250 million people, this means approximately 83 million children. Research by UNICEF (2015) indicates that up to 4.7 million children drop out of school in Indonesia. Education determines the future of the nation and the wellbeing of the people. Vocational education can provide a valuable resource for children and young people who lack access to continued education or are marginalized due to socio-economic conditions. Through properly designed education outreach, young Indonesians will be equipped with both vocational and life skills that will enable them to be economically productive members of society who support their families and community.
The Learning Farm (TLF) was established in 2005 as a non-profit organization that aims to empower and enable vulnerable youth to become economically self-sufficient, capable, and productive members of their communities through participation in a 100-day residential training programme where they learn about life values, organic farming, enterprise development, and a number of other valuable life skills. Through organic farming, TLF is able to transform participants' values, outlook, and expectations of self and community and to equip them with tangible, marketable skills whilst working and participating in a purposeful, communal environment. Trainers and teachers at TLF also ensure that the learning process helps to develop the emotional side of the young people so that they will be ready to implement what they have learnt when they go back to their communities.
"It thrills me to think that many of these young people may be the future leaders of Indonesia," says TLF Founder Mee Kim. "These children are extremely diligent. I marvel when I see them passionately engaged during class time even though farming must be exhausting. I see them trying very hard to hold onto this opportunity so it does not fly away."
The Learning Farm was founded eleven years ago and during this time has managed to run 26 batches of the basic programme (100 days) and 15 batches of the advanced level (200 days) programme. There are currently more than 880 alumni from TLF, alumni who live in 28 provinces across Indonesia plus East Timor. In November 2016 TLF started a collaboration with UNHCR, and now also welcomes unaccompanied youth refugees.