Yesterday, 19 August and today, Indonesia received 2.5 million doses of vaccine in three stages as an effort of the government to meet the vaccination needs of the more than 200 million Indonesian people and proves that Indonesia has many friends to help, one of them the Kingdom of the Netherlands.
A batch of 450,000 Astra Zeneca vaccines arrived in Jakarta yesterday, departing Amsterdam the day before. This first delivery is part of the three million vaccines that the government of the Netherlands has committed to donating to the government of Indonesia through the multilateral COVAX mechanism .
At the press conference yesterday, attended by the Ambassador of the Kingdom of the Netherlands to Indonesia H.E. Lambert Grijns, Indonesia's Minister of Foreign Affairs Retno Marsudi and Indonesia's Minister of Health Budi Gunadi Sadikin, the arrival of the vaccines was greeted with joy.
"Tonight we received 450,000 doses of Astra Zeneca vaccine, which is a dose-sharing mechanism from the Dutch government to provide support for three million doses of vaccine for Indonesia through bilateral cooperation. The discussion about this vaccine support was discussed with Dutch Foreign Minister Sigrid Kaag and Dutch Prime Minister Mark Rutte in The Hague on 1 July 2021. For this reason, on behalf of the Indonesian government, we would like to thank the Dutch government for the support for sharing the vaccines that have been given and for closer cooperation in the future." stated Retno Marsudi.
While H.E. Lambert Grijns expressed, "The donation to Indonesia is a solid expression of not just COVID-19 solidarity, but also of the special ties between Indonesia and the Netherlands and our comprehensive strategic partnership. Indonesia memiliki tempat berarti di hati kami (Indonesia has a special place in our hearts.)"
The government of the Netherlands is making every effort to ensure more vaccines can be sent to Indonesia shortly.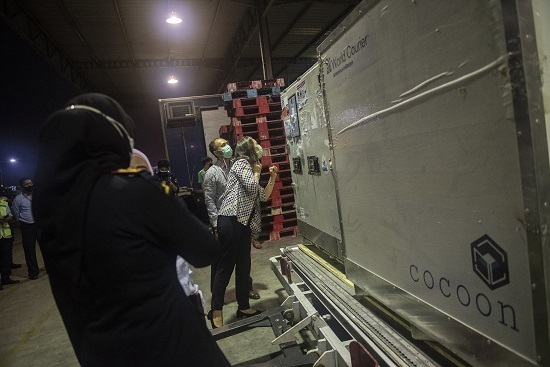 On that occasion, Retno Marsudi also reminded us that we are still witnessing an increase in cases of Covid-19 in various parts of the world. She said, on 4 August, global Covid cases had crossed the 200 million mark. It took the world just six months to reach the second 100 million cases, while the first 100 million cases took more than a year. This means that the spread of Covid-19 is twice as fast as it is today. The WHO Director-General estimates that with current trends, the number of cases could reach 300 million by early next year or even sooner.
Retno also said that in the period 12 to 19 August 2021, several regions experienced an increase in weekly cases including North America by 12%, Europe by 3% and Oceania by 24%. The ASEAN region experienced a decrease of minus 0.4%, several countries in ASEAN still experienced a significant increase in cases, such as Brunei Darussalam, which increased by 304%, the Philippines 41%, Vietnam 12% and Thailand 6%. In the same period Indonesia was able to suppress cases, and was minus 22%.
However, Retno reminded us that despite the decline in cases in Indonesia, we should not be careless. She asked everyone to stay alert as we can see that even countries that have been zero Covid cases for months can experience re-infection.
"The Ministry of Foreign Affairs will continue to work and work to ensure the security of vaccine supply for Indonesia from all channels with all available mechanisms and Indonesian diplomacy will also continue to work, among others, to voice so that equality for all countries can be realized." said Retno who also shared information that the Indonesian government had also purchased 1,560,780 doses of Pfizer vaccine that arrived yesterday afternoon, and 567,500 doses of Astra Zeneca and 5 million doses of Sinovac vaccine that arrived today.
Meanwhile, Minister Budi Gunadi Sadikin said that vaccination for all Indonesians is planned to be carried out until the end of this year. Up till July Indonesia had only managed to reach 90 million doses.