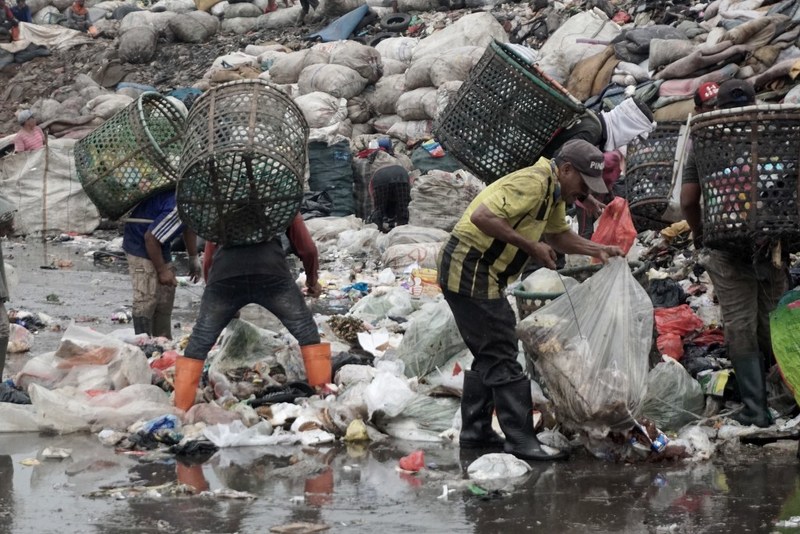 The government has made various efforts to break the chain of the coronavirus, such as appealing people to work from home and do social distancing. But, not all work can be done at home. The medical workers who are at the forefront must be in the hospitals to save the patients, the police and security officers must be standby in several places to secure our living environment. In addition, the environmental heroes who struggle to make a living in piles of garbage such as garbage officers and scavengers have to risk their lives to keep our environment clean. They are, Garbage officers, can be said, as the backguard of our defense against the spread of the virus.
"We interact daily with garbage and the garbage officers. At the time the government announced the emergency of coronavirus and asked us to stay at home, 70 percent of our staff obey the regulation. But we realize about waste management in public services, the garbage must be transported. We make a scheme and special SOP so that our operators can work safely." said M. Bijaksana Junerosano, the Co-Founder and Managing Director of Waste4Change.
Junerosano also said that there are around 300,000 garbage officers and about 600,000 scavengers in Indonesia with around 1,8 to 2,4 millions of scavengers' families who have to survive. And one to be concerned is their knowledge and vigilance about the danger of spreading the pandemic coronavirus is still bad, they still work as usual without personal protective equipment such as masks and gloves, whereas they are very vulnerable and sensitive of the coronavirus because they close with various media, such as papers, metals and many more.
And visually, more and more coronavirus-related disposal, such as tissue, masks, desinfectan and hand sanitizer bottles that need to be aware of, that the back fronts have the potential to be exposed and spread the virus by their work activities. For example, the garbage has started to pile up at the Bantar Gebang landfill and there are 6,000 scavengers and families who need help.
To save them, as many as 67 environmental organizations and communities (the list can be seen at kitabisa.com/campaign/agarmerekaamancorona) unison in collaboration with Greenaration Foundation, Waste4Change and kitabisa.com raising funds for garbage officers and scavengers to stay safe amidst the coronavirus outbreak.
"Indonesia is among the top ten as the most generous countries in the world. For this corona outbreak, we started open fundraisers on 12 March to help medical workers. So far, there are 2,800 fundraisings and we've got more than 600,000 donateurs related to Coronavirus." Fara Devana, Public Relations of kitabisa.com explained.
Donations collected will be used to help supply various needs, like reuse cloth masks, hand washing soap, hand sanitizers, cloth or rubber gloves as well as health needs such as fruit, vitamins and milk. The technical distribution of donations will be adjusted to the donations collected.
"This is a mutual cooperation movement. Since the fundraising opened two week ago, the funds have been collected at IDR 23 millions (8 April), and our target is IDR 2 billions. We hope that will be achieved. The donation distribution method is through communities. Now, there are 25 communities that are ready to distribute the donations. They have high willingness to help our brothers and sisters who work as garbage officers and scavengers." stated Junerosano at live conference on 8 April.