Since its establishment in the mid 1950s,
the American Women's Association (AWA) of Indonesia has offered a wide range of activities for its members. It strives to build a bridge between cultures and give back to the community.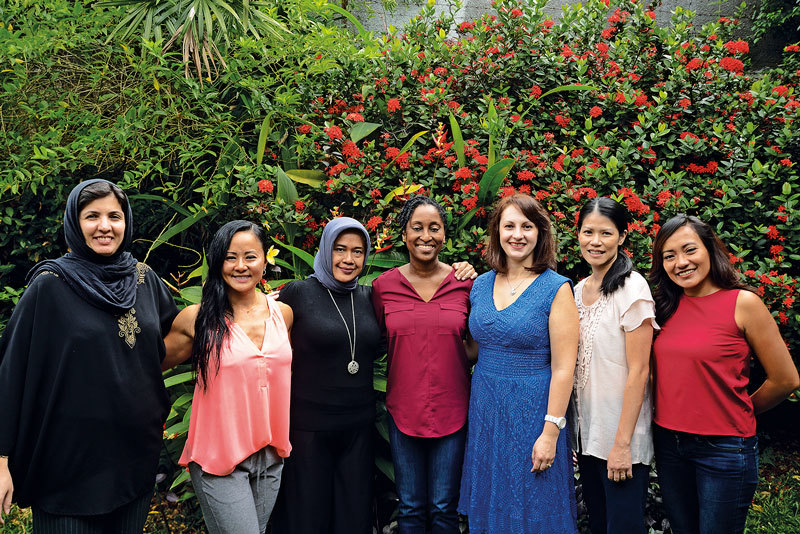 "The AWA was started by a group of American women who were in Jakarta as expats and wanted to bring together the American community for social functions, to explore the cultural aspects of the country and to perform community service works in their home away from home," said Margaret Oehmke, former President of AWA, who has lived in Jakarta for five years and joined the association during a look-see visit.
"The AWA is a great organization for people moving to Jakarta, whether they are American or any other nationality," she explained. "When newcomers arrive as expats, it is really nice to walk in the door and have somebody greet you and make you feel that you are a part of something."
The AWA encourages all new members to become active in the varied volunteer opportunities that are available. From a leadership position on the AWA Board to a casual front desk greeter, there is something for everyone who wants to get involved and make wonderful, lasting friendships.
The AWA organizes numerous activities, such as weekly coffee mornings, guest speakers, luncheons, discussions, social get-togethers and bi-annual charity bazaars. The Social Welfare Committee finds and funds programmes that benefit our local neighbors. Projects focus on the socially or economically disadvantaged – children and students, the elderly, the physically or emotionally disabled or the orphaned.
"We place a great emphasis on education and empowerment through our programmes," said Nicole Thompson, outgoing Chairperson of the Social Welfare Committee. "We strive to facilitate hands-on opportunities for our members and we encourage self-sustainability in the charities we support."
Funds are raised through the AWA's social and special events as well as the sale of the Association's signature publications, including the Jakarta Shopper's Guide, Introducing Indonesia, and Words and Phrases. Proceeds from the AWA in-house Thrift Shop go toward Social Welfare.
One goal the AWA had during the past year was to become more visible in the local business community and to use these contacts to further the mission of AWA. By collaborating with the American Chamber of Commerce, the AWA was able to make valuable connections and open the door to partnerships with local companies.
"It was a great achievement for us to partner with the business community," Nicole explained. "We can't do it alone. We need the support of incoming expats, our fellow AWA members and our friends in the business community."