The Jakarta government, through the Library and Archives Office (Dinas Perpustakaan dan Kearsipan/Dispusip) collaborated with the Jakarta Reading Park Forum (Forum Taman Baca Masyarakat) in April to hold #BacaJakarta (#ReadJakarta) in order to build a reading culture in the city.
During April, nearly 100 reading rooms across Jakarta, including libraries in integrated child-friendly public spaces (RPTRAs), reading parks (TBM) and community libraries, participated in #BacaJakarta, a movement to build a culture of reading and improve literacy. The movement also aimed to increase awareness of and pay attention to reading rooms, community organisations focused on promoting literacy, volunteers and activists.
The movement also hoped to spread a reading culture to regions outside Jakarta, which have low reading levels. According to a 2016 literacy study conducted by Central Connecticut State University (CCSU), Indonesia is the second-least literate in a list of 61 most literate countries.
The movement was inspired by the Mayor's Summer Reading Challenge in Dallas, USA where children were challenged to read a specific number of books within a prescribed time frame in a 30-day period.
#BacaJakarta invited children aged 7 to 12 years to choose their closest reading rooms via the website www.dispusip.jakarta.go.id and enjoy the reading activities. For 30 days, children aged 7 to 9 years were asked to read at least 15 minutes everyday, while children aged 10 to 12 years they were asked to read at least 30 minutes everyday.
The committee provided participants with a special booklet, "Peta Cerita" (storys map) to help them follow the instructions on how to make books more fun and enjoyable. Each participant also received a stamp from officers and literacy volunteers in each reading room every time they participated in a reading activity, after they provided a summary of the book.
The Governor of Jakarta, Anies Baswedan, said "#BacaJakarta is one of the province's efforts to raise a smart generation which we can participate through the movement that facilitated by the Jakarta Library. We invite participants to come to reading spaces and we become literacy volunteers who guide them in choosing books and teach them how to understand what they read and help them to write about their experience. Peta Cerita helps make books interesting."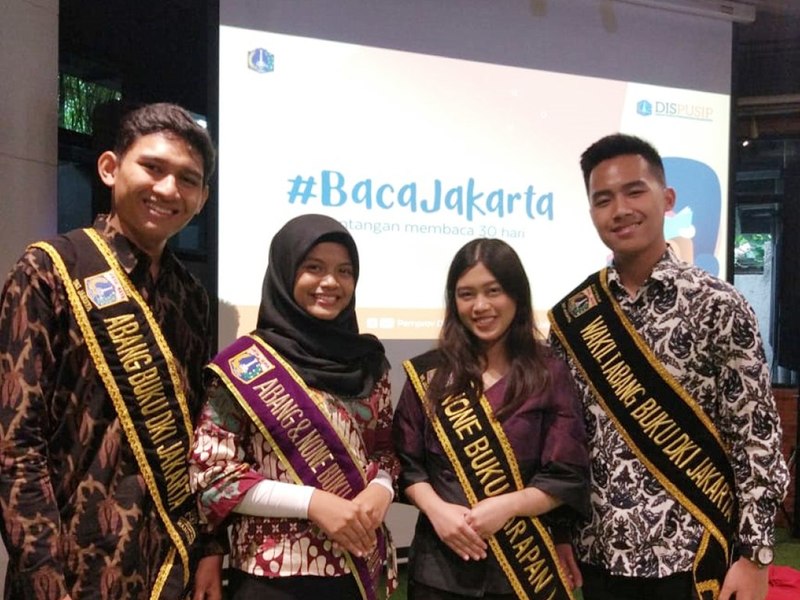 Each reading room nominated two children to be chosen by a panel of judges. A celebration is due to be held on 4 May to commemorate National Education Day.