Dear Readers,
February is the month of love. Of course, there are many who dread the thought of Valentine's Day and bemoan the fact that it has become overly commercialized, putting pressure on couples to find a perfect gift for their significant other and resulting in stressful, last-minute shopping, expensive dinners and bouquets of flowers.
But it doesn't have to be this way. Valentine's Day shouldn't be about creating a perfect Hallmark moment. Instead, it should be regarded as a simple reminder and encouragement to reach out to the people in your life that matter the most to you and tell them you love them.
Often, small gestures are the most meaningful, and the old saying money can't buy love still rings true today. Why not just sit down at your desk, grab a piece of pen and paper and put your feelings into words?
Love letters seem to be painfully out of fashion these days, in a time where everyone can be reached through emails and text messaging in a flash. But when you think about it, letters are a simple yet affectionate way of spreading the love. And the fact that true love letters have become so rare only adds to the joy upon actually receiving one. A handwritten letter says: I took some time out of my busy day just for you.
Over the course of history, some of the most powerful declarations of love have been written down in letters.
King Henry VIII's infatuation with Anne Boleyn nearly drove him crazy, as documented in his letter: "On turning over in my mind the contents of your last letters, I have put myself into great agony, not knowing how to interpret them, whether to my disadvantage, as you show in some places, or to my advantage, as I understand them in some others, beseeching you earnestly to let me know expressly your whole mind as to the love between us two. It is absolutely necessary for me to obtain this answer, having been for above a whole year stricken with the dart of love, and not yet sure whether I shall fail of finding a place in your heart and affection."
At the end of the 18th century, Napoleon Bonaparte wrote to Josephine du Beauharnais when he was away in battle: "I thought that I loved you months ago, but since my separation from you I feel that I love you a thousand fold more. Each day since I knew you, have I adored you more and more."
Many years later, Johnny Cash wrote to his wife June Carter Cash: "You still fascinate and inspire me. You influence me for the better. You're the object of my desire, the #1 earthly reason for my existence."
We challenged you, our readers, to write a letter to your loved ones - to your boyfriends, girlfriends, husbands, wives, parents, siblings, best friends, teachers, pets or anybody who holds a special place in your heart.
We received many creative letters, from humorous to heartwarming, from tearful to thrilling. The three entries we have chosen as winners are not only well-written and downright poetic, but they also speak from the heart of the writers who are not afraid to allow us a glimpse into their soul.
Happy reading, and happy Valentine's Day!
With Love,
NOW! Jakarta's Editorial Team
---
---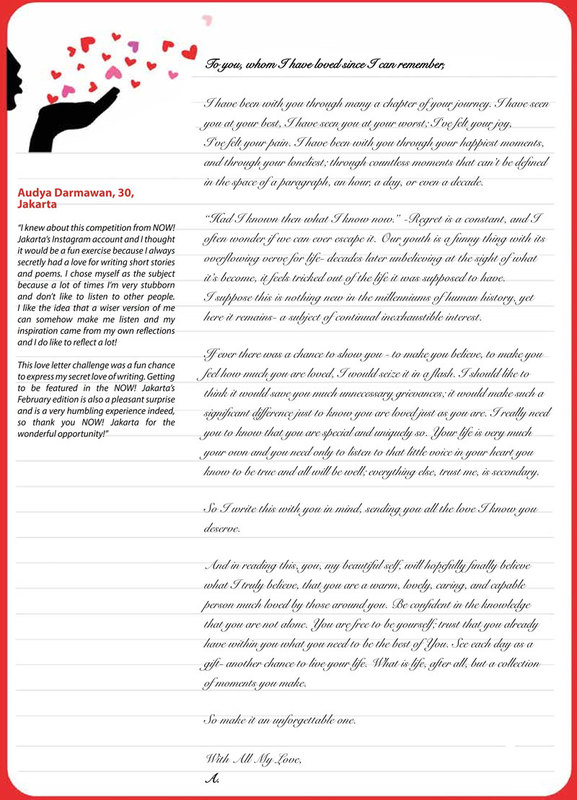 ---