Three women started an organisation that supports women weave their way toward better economic opportunities.
The statistics are grim. Maternal and infant mortality rates continue to be a problem in Indonesia, particularly in East Nusa Tenggara which is among the three provinces with the highest number of deaths reported. Malnutrition and inadequate health care facilities have been blamed for the grim statistics. One out of every 220,000 mothers die during pregnancy, 26 out of 1,000 births are stillborn. 52 per cent of the population dies from chronic malnutrition.
The vicious cycle of poverty grips these communities, particularly women who often have to carry out manual labour—while pregnant—to earn their living.
Now, one organisation has been set up to help these women gain access to better nutrition and health, by marketing their weaving skills.
Hanna Keraf worked for an NGO in Flores following graduation from Ritsumeikan Asia Pacific University in Japan where she majored in International Business. Seeing the condition of women in this part of Indonesia, she shared her experience with her friends, Azalea Ayuningtyas (Ayu) and Melia Winata. During a meet up in 2013 Hanna says, they put their heads together and were determined to help find a solution.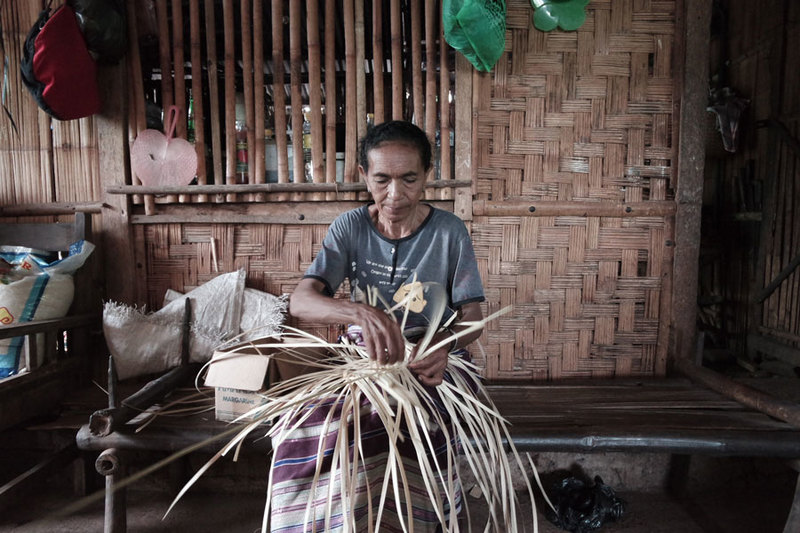 "When Ayu and Melia came to visit the village, we met a woman who was seven months pregnant," Hanna began. "It was her sixth pregnancy and was as challenging as the previous ones because she never had a medical check-up until it was time to give birth," she said adding that it was largely due to the 10 kilometre distance between her home and the community health centre. "We saw her again on the day she was due to give birth. She was carried by stretcher to the [health care centre], but gave birth along the way. The baby did not survive."
Following a year observing women struggle during pregnancy and childbirth, the three friends put their business accumen and education to the test. Ayu graduated from Harvard University in the United States majoring in Public Health, while Melia graduated from The University of Melbourne, Australia with a major in Neuroscience. Hanna, who had good community development skills, mobilised a movement to empower the women and created a sustainable business to improve the health of mothers and children as well as giving them the ability to earn their own income based on skill.
Noticing that the women in the community were adept at weaving daun lontar (palm leaves), the friends established, in 2014, Du'Anyam (mothers weaving). The word du'a in the local language means mother and anyam means weave. They started the pilot project in Duntana village in Larantuka, East Flores. The group then attempted to market the finished product.
"Most women especially mothers in East Nusa Tenggara are experts at weaving palm leaves, We just provided input and provided training for design. We also helped sell the products through various distribution channels," Hanna said.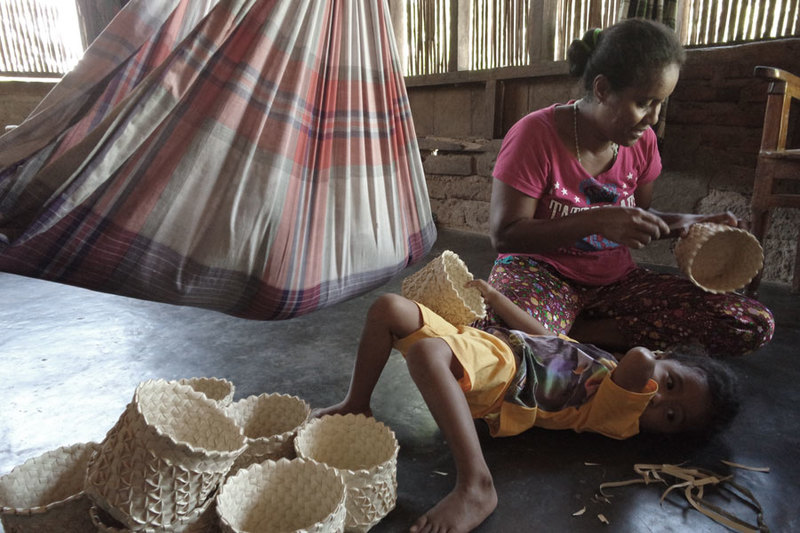 She noted that weaving also meant women had a significantly lower work load compared to farm work. With the additional income, women would now have access to more nutritious food and also to health care. In addition, they could save more and join the local government programme maternity savings, in order to help them during childbirth.
Du'Anyam began selling the products at five-star hotels and resorts, mostly. Each item told a story and helped contribute to the community. The business then expanded to companies based in Jakarta, such as banks which placed orders for souvenirs for seminars and other events.
"We also saw an opportunity to enhance our product demands from the retail side and finally in 2017 we launched our first retail collection during Jakarta Fashion Week. We also continued to collaborate with other local brands that have the same mission to promote Indonesian products, like Cotton Ink, Contempo and Impromptu,"Melia, who handles sales and marketing, said.
Du'anyam has also showcased their products several times at international exhibitions and have already entered Japanese and Korean markets. This year Du'Anyam was appointed as one of the official merchandise producers for the Asian Games 2018. The organisation will also be participating in the Salone del Mobile exhibition in Milan, Italy, as its first showcase in Europe.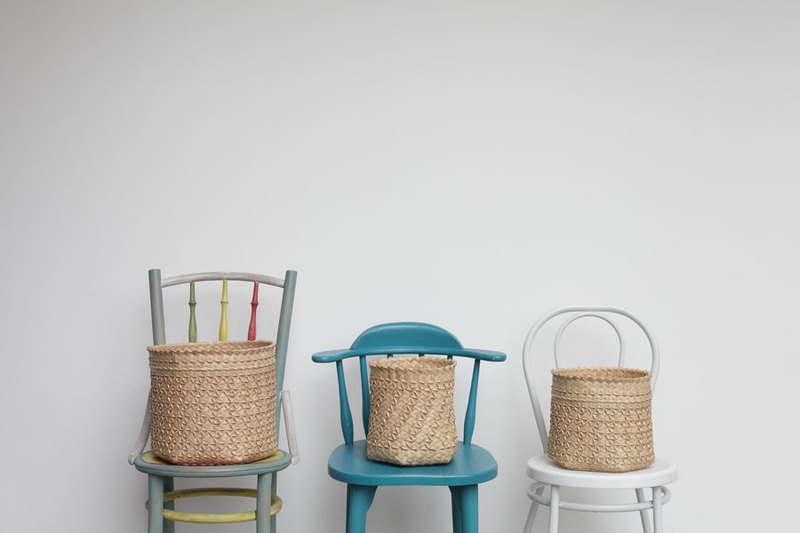 As the business grows and demands for the product designs increase, Du'Anyam has expanded to 17 villages and provides training to more than 450 women in the Lembata and Atambua regions of East Flores, that have abundant palm leaf.
Outside East Nusa Tenggara, Du'Anyam has programmes involving other materials. In Nabire, Papua the company cooperates with the Ministry of Women's Empowerment and Child Protection to develop weaving sheet bark. In Berau, South Kalimantan, training is provided in weaving with wicker. There are also collaborations with communities in Sidoarjo, East Java to develop kenaf or Java yute.
Du'Anyam hopes to collaborate with 2,000 women by 2020, according to Ayu.
As it expands Du'Anyam adheres to its three focal points, which are women's empowerment, health improvement and cultural promotion.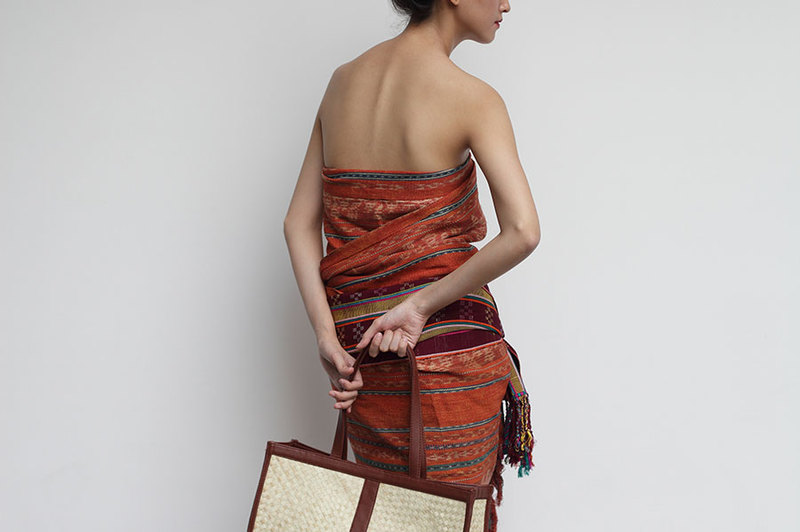 According to Hanna, Du'Anyam always looks at the community's socio-economic situation, especially with regard to health. With the help of local expertise, too, the organisation then helps the community develop avenues that help them earn extra income.
"We have to understand their life priorities, maybe they have to arrange their culture ceremony, take care of their family first, and more. We cannot ask them to make a change to themselves without truly understanding them," Hanna said, about the the movement they have embarked on.
Du'Anyam arranges trips for travellers wanting to explore communities in Flores. They also provide tips for those travelling in the region.
_______
This article is originally from paper. Read NOW!Jakarta Magazine April 2018 issue "Money and Finance". Available at selected bookstore or SUBSCRIBE here.