Gender equality is at the very heart of human rights. Yet millions of women around the world continue to experience discrimination. The Feminist Fest Indonesia, a 2-day festival held on 26 and 27 August, aims to raise awareness on feminism, gender equality and women's rights in Indonesia.
A follow up event from the Women's March in Jakarta earlier this year, the festival includes discussions and workshops alongside interactive and fun activities and specifically targets the country's young generation.
We spoke to Anindya Nastiti Restuviani of the organizing committee about the inaugural Feminist Fest Indonesia and the role of women in Indonesia in general.
Please tell me more about the upcoming Feminist Fest Indonesia. What is the main aim behind the festival, and why did you decide to host one?
Feminist Fest Indonesia 2017 is a two-day event to discuss feminism and its many cross-cutting issues in Indonesia. We decided to organize this event because we observed an upswell in enthusiasm in our society. Young people in particular want to become more involved in feminist activism. This movement grew from our Jakarta Feminist Discussion Group on Facebook, which as an online platform to discuss feminism has grown very rapidly. We currently have 1800 members in the group.
That being said, we also see urgency in the fact that most people only know feminism on the surface. Society often associates feminism strictly with women's issues, when it is actually much broader than that. In addition, Indonesians also tend to believe that feminism is a western ideology, when actually many heroes with feminist values fought for Indonesian independence, especially in regards to women empowerment.
Our aim in organizing this event is to address those stereotypes and to raise awareness in society on feminism and its cross-cutting issues, especially among young people. Of course, we also hope that this event will encourage more people to become actively involved in the fight for equality and human rights.
What kind of programmes and activities can we expect during the festival?
With a target of 300 to 400 participants, mostly consisting of young people, we are trying to make the event as fun and interactive as possible.
Each day will be started by a plenary session. On the first day, we will have an introduction to feminism or "Feminism 101," and on the second day we will hold a discussion about how feminism will help Indonesia to have a better future.
For the rest of the two-day event, we will host a series of classes that will provide more detailed information to participants about feminism and intersectionality on issues such as public policy and marginalization, eco-feminism, economic empowerment, healthy relationships, gender-based violence, women in politics, media and feminism, sexual reproductive health, gender identity, men as allies, and many more.
We will also organize many interactive workshops for skills such as sign language, writing, zine-making, self defense, and bystander intervention.
Finally, we will set up an NGO and community bazaar to help participants to find out more about feminist activities in Indonesia and hopefully encourage them to join the movement.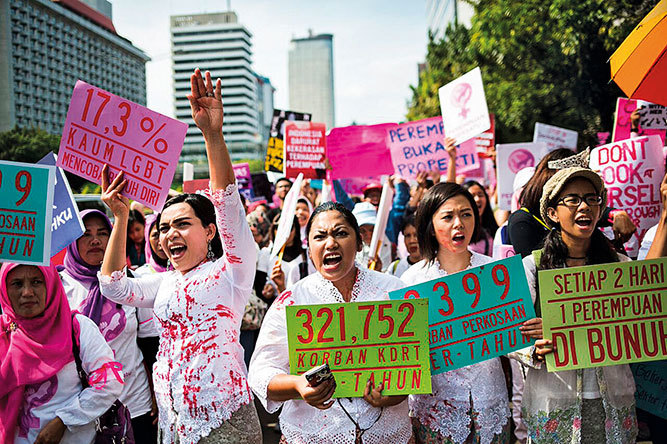 You organized the Women's March earlier this year. How was the response? Did this encourage you to organize Feminist Fest Indonesia?
The response was very positive. We initially had a target of only 400 people to join, but eventually we had almost one thousand people participate in the march. A lot of people kept asking us "What is next?," so we can say that Feminist Fest Indonesia is a follow up event from the Women's March Jakarta.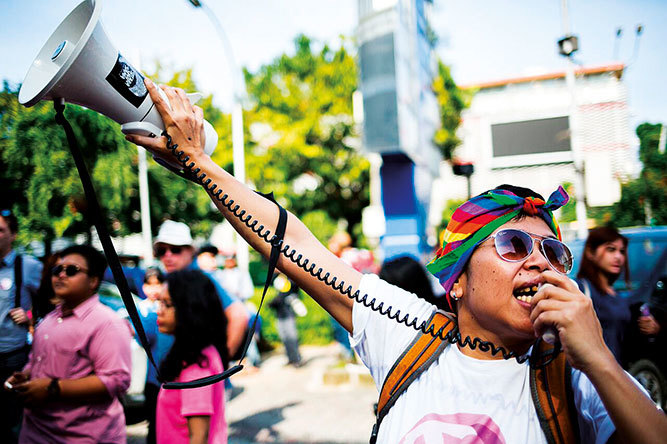 If you look at the role of women in Indonesia nowadays, what are the main issues that need to be addressed? Do you think that it has improved over the last couple of years? What is still lacking?
I personally think it is hard to choose just one main issue since there are so many overlapping problems and challenges that contribute to the diminishment of the role of women in Indonesia.
But if we talk about feminism, then the issue that we need to address first is definitely the patriarchal mindset that is rooted in society, especially in Indonesia. If the prevailing mindset regarding women's social roles relegates them to wives, homemakers and mothers, women will never have the same opportunities as men. It also leads to other minority groups, such as people living with disability, members of the LGBT community, migrant workers, or indigenous peoples having their access to basic human rights denied.
In terms of improvement, it seems that we have indeed improved, especially in urban areas, where we can see that women are thriving in many sectors. Women's participation in politics also seems to be growing, especially after Indonesia introduced a 30% gender quota to increase women's representation in parliament. However, we need to look further than that. Is this participation of women in parliament merely a tokenism, or are we actually given the opportunity to voice our concerns?
The economy gap between men and women is also still far from ideal, especially if we are looking at the conditions in rural areas. Even though more girls have the chance to attend school nowadays than before, they are more likely to drop out compared to boys. There are many more issues that need to be addressed, such as gender based violence, climate change and how it affects minority groups, and so on.
Both our society and the government in its function as policymakers tend to neglect the fact that there are many problems regarding the problems of women and minority groups. Society's education on human rights itself is very limited in Indonesia.
Therefore, our festival is trying to create awareness that there is a problem in our country's mindset that hinder us, women and minority groups to access their rights, including to be protected against violence and persecution and to have equal opportunities in development.
Are you planning to make this festival a regular event?
Yes, we are planning to develop both the festival and the Women's March into regular events. We hope that these events will address the stereotypes of feminism and feminists and give society a greater understanding of what feminism truly is. People should not be afraid to say that they are feminists! We also hope that this event can be a safe space for women and minority groups to voice their concerns, and be a place for them to be comfortable in their own skin.
Lastly, we hope that this festival will encourage more people to join the movement to fight for equality, no matter their gender, religion, race or ability.
You have started a crowdfunding campaign for the festival. How can people get involved?
It's very easy for people to get involved! Contributions can be made at http://www.kitabisa.com/femfestid. We really need funding, so any amount will help. People or companies interested in sponsorship should contact us by sending us an email to [email protected]. For further information on our event and possibilities to volunteer, please visit our social media. You can find us under Feminist Fest ID on Facebook and @femfestid on Instagram.
Photos courtesy of Adhitya Putra