The mountains of garbage at the Bantar Gebang landfill have forced many young children to become scavengers. One person, through her tireless philanthropic efforts, hopes to change that and allow children to dream big and realise their goals.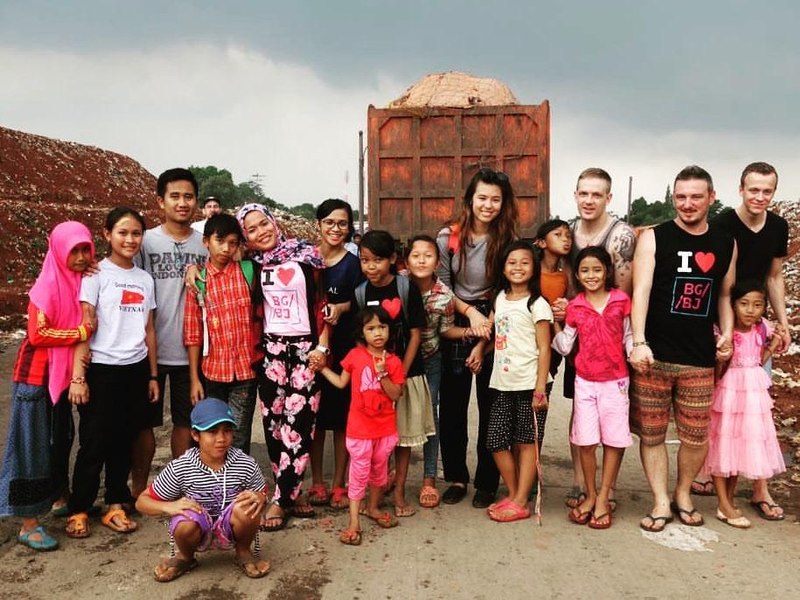 The horizon of Bantar Gebang is dominated by mountains of malodorous and contaminated waste, seedy and barren. The place where tonnes of waste from Jakarta is deposited everyday, it is where scavengers earn a living, picking through the mass waste, looking for discarded items to sell in exchange for a small fee. Bantar Gebang is a sub-district of Bekasi comprised of four administrative villages: Bantar Gebang, Cikiwul, Ciketing Udik, and Sumur Batu which are the bags of settlements.
Bantar Gebang is also a portrait of poverty which provides uneasy living for the communities, the majority of whom work as scavengers and labourers who face a number of challenges everyday including poor quality housing, lack of sanitation, work-related injuries, and illness.
The low income of waste picking and a lack of skills and education has led to a lack of opportunity for most families to succeed. Many parents keep their children from school, which has led to them being scavengers to supplement the family income. They marry young and, when they raise their own families, the cycle continues.
"I have been living here since I was a kid and I see that education is not considered important for people here. They think it's meaningless to take their children to school to the highest level, so it's little wonder then, that when their children have graduated from elementary school, parents get them married. The sooner children marry, the quicker parents are free from the burden of sending their children to school and raising them. This condition is very sad, isn't it?," said Resa Aprianengsih, Co-Founder of Bantar Gebang Biji.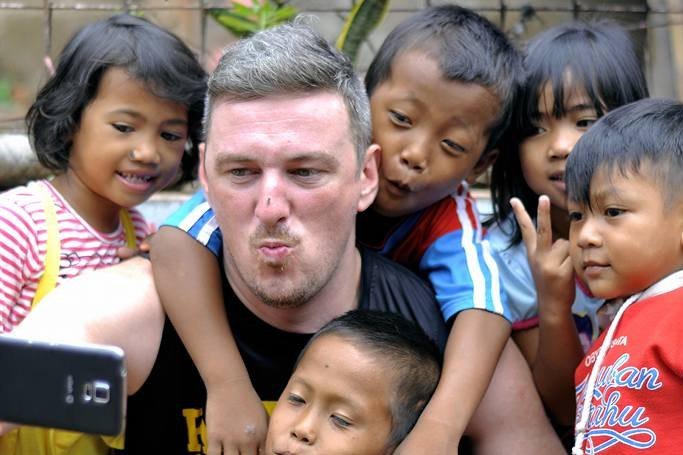 Resa is part of the Bantar Gebang community who live in Sumur Batu. Resa's family moved from West Sumatra to Bantar Gebang when she was eight when the place was green with rice fields. After graduating from elementary school, Resa went to Padang to continue her school in an Islamic boarding school. Resa came back again to Bantar Gebang when her parents' economic situation was very bad, she wasn't able to continue her education at university. When she returned, she saw that Bantar Gebang had turned into a massive garbage dump.
"When I came back, I spent my free time walking around the villages to see my neighbourhood and saw some kids made bulletin boards from recycled garbage, but the result was very ugly. I helped them to make it better with nice colours and also offered to teach them reading, writing, English and Arabic. But at the time there was an NGO, and they took me on a volunteer in 2004," she explained.
A few months after joining, the NGO had ended its work, but Resa was still eager to teach the children. So, she continued to volunteer and make her home as a place for learning activities. Resa knew that she had to give back to the community where she grew up, especially because she considered herself fortunate, given her experiences away from the area. As she tutored the children, she gave them knowledge and skills, even giving them hope that dreams could one day be reality—although she herself was struggling to achieve her own dreams at the time.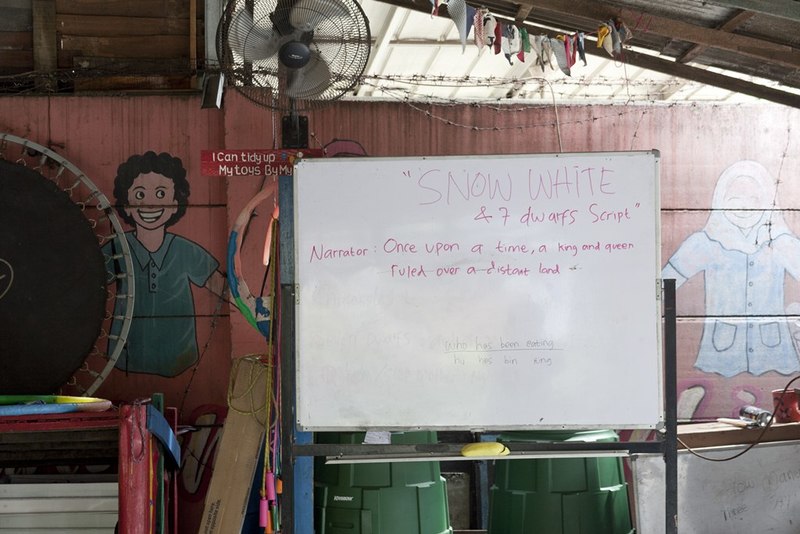 Bantar Gebang also saw a lot of journalists from around the world visiting the region because of its massive trash pile but also because of the activities that Resa co-ordinated. Connecting with visitors both from Indonesia and overseas, she assisted them in getting around the area. Doing so helped her develop her English skills and she made friends who ultimately helped her continue her studies at university.
Resa noted that being at university was difficult, as she was constantly in search of donors—until she met John Devlin from England who became interested in engaging with the activities. She and John collaborated to make new concept of the learning activities and founded The Kingdom of Bantar Gebang Biji (The Kingdom of the Seeds of Bantar Gebang) in 2015. John also helped Resa find volunteers and donors.
"For me the children in Bantar Gebang are seeds, meaning when they are provided with good knowledge, motivation, culture and other insights, they grow up to be good, confident people who can assert themselves in the world", Resa said.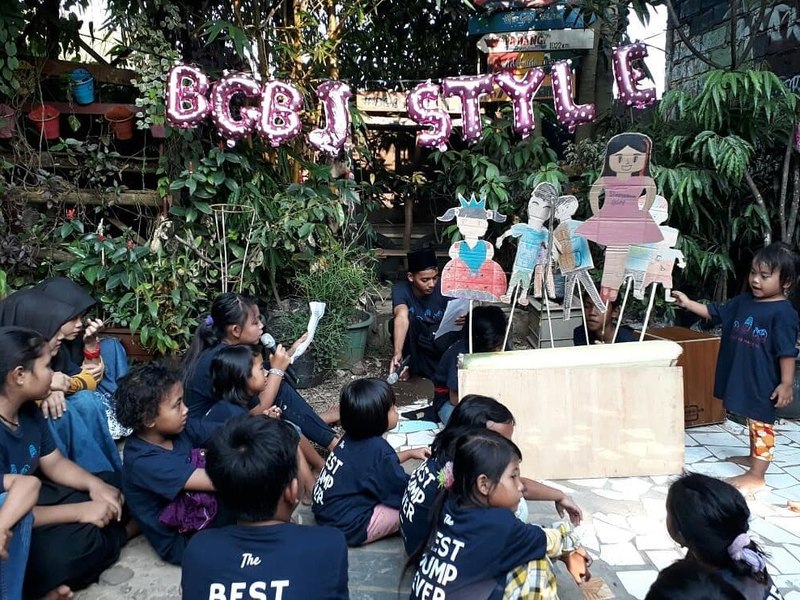 The Kingdom of Bantar Gebang Biji or short BGBJ has become an oasis in the middle of piles of garbage that resemble mountains. Every Sunday, children from all over Bantar Gebang enjoy a variety of classes including English, music and art, sports, IT, health and nutrition, environment and many more. Also, they enjoy healthy meals cooked by local women. BGBJ also works with the women and children in the community on resource management and provides them with life skills. With the help of the community, Resa began a social enterprise to support the day-to-day running of the BGBJ, such as recycling products, natural body care items, furniture, accessories and even opened hostels for visitors and volunteers.
According to Resa, so far BGBJ has received over 300 visitors, volunteers from countries like Australia, the Netherlands, England, Ireland and more, all of whom have helped children and communities aquire skills in various fields, such as teaching English, making creative decorations, building new facilities, etc. But Resa is most excited about the children who have developed the confidence to speak to people from outside the community. She knows they continue to harbour their dreams.
These days, Resa is often asked to speak at forums hosted by cooperate and non-profit institutions.
"If BGBJ earns a lot of money, I would like to build a learning centre like BGBJ around Bantar Gebang. This is so that children who live in other administrative village can reach BGBJ easily. But what I really want is to open a day care so parents don't take their children when they go to the landfill. I see children joining their parents looking through garbage, it's not good for their health. I want to partner with government. So when parents pick trash, they can leave the children in the day care which will operate at an affordable price," Resa said.