Miniature gardens under glass – terrariums – are gaining popularity in Indonesia thanks to their low maintenance and eye-catching designs. They are used as home and office decorations and also make lovely birthday presents for family and friends. NOW! Jakarta spoke to 29-year-old Estherlina Hutagaol, the co-founder of Gardenette, a mini garden and green souvenir specialist service, about spreading a green lifestyle in Jakarta.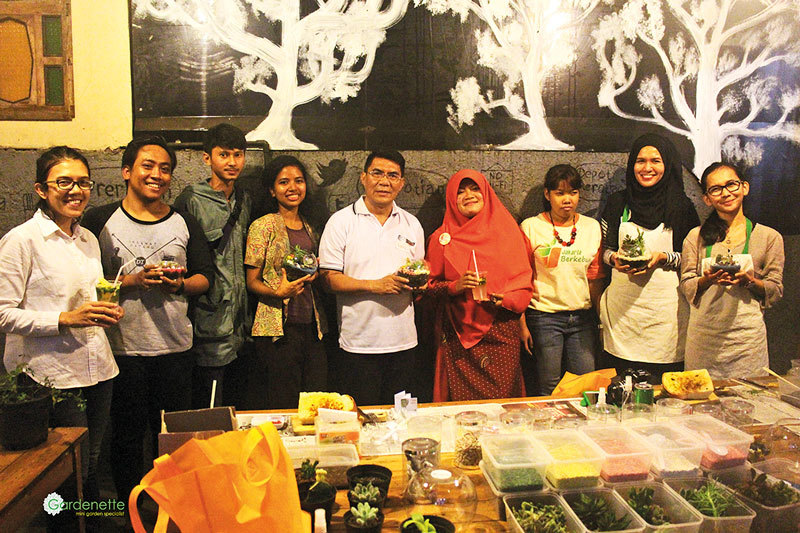 Tell us more about Gardenette. When and why did you first come up with the idea?
Gardenette started from my hobby to collect plants. When I was working in a floriculture company in Jakarta and went on a business trip to Japan, my client introduced me to Tillandsia, a genus of around 650 species of evergreen, perennial flowering plants. He said that Tillandsia or air plants were very popular in Japan at that moment because these plants are very easy to maintain and don't need soil to grow. That is when I started to collect some low-maintenance plants as well, such as air plants, succulents and cactus. I then talked to some of my college friends about this and soon we had a business idea, to become a mini garden and terrarium specialist. That's when Gardenette was born, in May last year.
What exactly are your activities? You sell your products online, but I see that you also hold workshops?
Gardenette wants to spread a green lifestyle to people who love bringing nature back into their home by educating our customers and simply sharing our knowledge. We are not only looking for profit, but want to educate as well. That is why we organize workshops, where people can learn to make terrariums and all kinds of green souvenirs. This year, we would also like to start holding workshops for kids as we want to introduce green activities as an alternative hobby for children, so they can be connected to nature and with their environment.
Do you see a lot of interest among Indonesians in Gardenette?
Since the establishment of Gardenette, we have indeed seen a growing interest in terrariums among Indonesians, especially Jakartans who are currently seeking a more eco-friendly lifestyle. Making terrariums also comes with a lot of benefits, as it reduces stress and improves overall quality of life.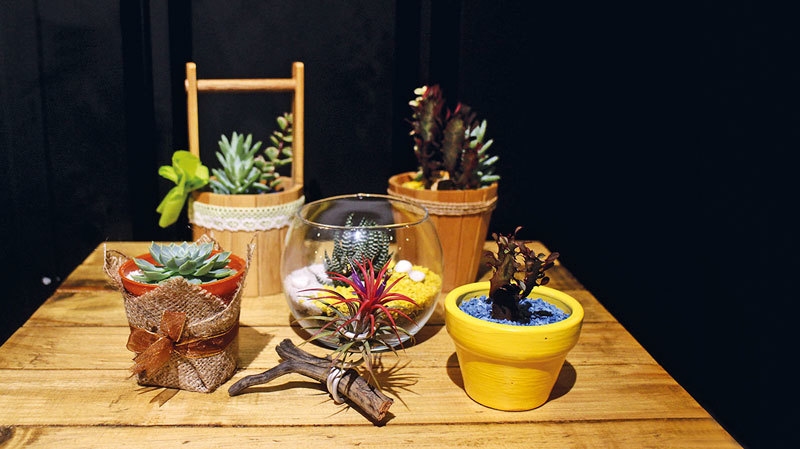 Where are you planning to take Gardenette in the future? Do you think there will be an opportunity for you to maybe open a store someday?
We have some big plans for Gardenette in the future. We are optimistic to open a store someday because many of our customers would like to see our products on display before buying them. We could also use the store to hold workshops and discussions.
Generally speaking, do you think that Indonesia is doing enough in terms of "going green" and being environmentally friendly?
We think Indonesia still needs a lot of effort to encourage people to go green. It will take some time for people to adapt to a green lifestyle, and we have to continuously raise awareness on issues of sustainability. But we believe that everybody should be part of this movement – families, communities, and neighborhoods. Little things can already make a difference, for instance, throw your garbage into the bin, reduce the use of plastic bags, and care for your plants at home. We hope that with Gardenette, we can do our part to spread this message to the communities and in the end our nation.
For more information, email [email protected] or send a message on Whatsapp to 0878 8445 2233/ 0859 2056 1670. You can also follow Gardenette on Instagram.