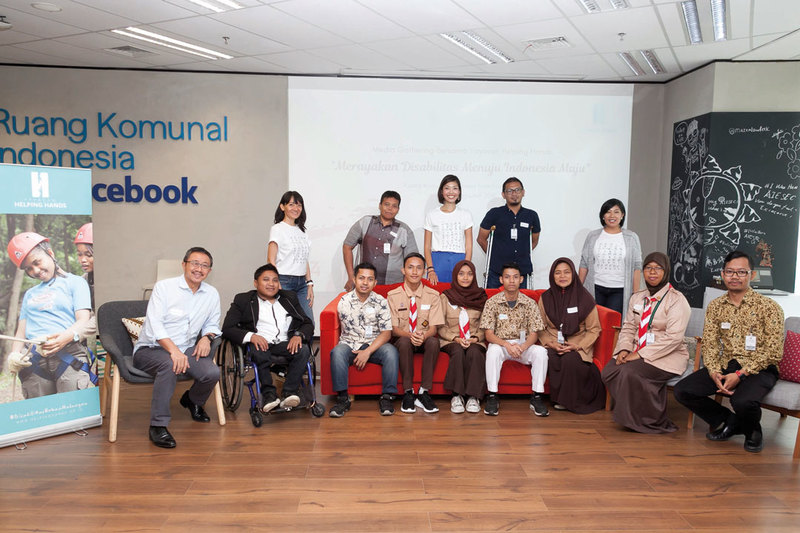 Helping Hands Foundation invites the people of Jakarta to aid people with disabilities in developing Indonesia hand-in-hand.
On 14 August, Helping Hands Foundation held a media gathering titled Celebrating Disabilities Toward Developed Indonesia at Ruang Komunal Indonesia from Facebook in Pacific Place, Jakarta, which has become a space of equality where the foundation brought people with disabilities and non-disabled to et acquainted directly, interact with and understand each other through interactive games.
The event aims to be a bridge of communication campaigning that people with disability can walk together with non-disabled people in order for them to live and work in various fields within society.In Indonesia, the disabled are still facing difficulties in finding a formal job. A 2018 research revealed that only around 1.2 per cent of people disabled people have successfully earned work in the formal labour sector. "The problem of limited access to formal employment has been around for a long time. Therefore, Helping Hands Foundation is putting ahead serious effort to bridge those with disability and the rest of society. By getting to know people with disabilities, understanding their capabilities, weaknesses, their needs, similarities and differences, we hope that they will be more willing to make an impact on the disabled community," explains Willy Suwandi Dharma, one of the Founder of Yayasan Helping Hands.
As for building bridges of equality and togetherness, the helping hand foundation uses a four-element methodology basis: educative, inclusive, participatory and experimental. The four-element is then manifested in its three main pillars, namely natural education, sports education and professional experience.