When we talk about landfills, the first thing that comes across our mind will most likely be the infamous Bantar Gebang, which is thought to be one of the biggest landfill in Asia. Every day, Bantar Gebang receives around 7,000 tons of landfill from Jakarta alone. At this rate, the landfill is estimated to reach its full capacity in 2021, which is this year.
Bantar Gebang is not the only landfill that is at the verge of being overcapacity. In fact, several landfills throughout Indonesia are experiencing the same problem. Take the Bakunci landfill in South Kalimantan for example. Ever since 2019, it is projected that the landfill can only operate for 3 more years, yet simply expanding the landfill is difficult because it is surrounded by protected forests.
Another landfill that faces the same problem is the Kotamobagu landfill in West Moronai, Manado. The landfill that sits on 2,5 hectare of land received around 60 tons of waste per day. If something is not done, it is predicted that the landfill will only be able to operate up until 2023.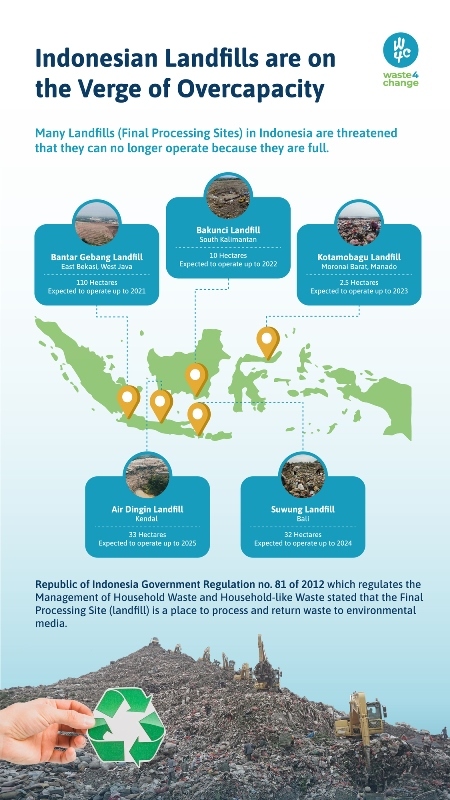 Indonesia's landfill conditions are like the tip of the iceberg that indicates how big and complicated our waste problem is. In most cases, expanding the landfill, if it was even possible, only serves as a short-term solution. The long-term and more sustainable solution to our overwhelmed landfills would be to invest in a better waste management system from the upstream.
In fact, according to the Government Regulation no. 81 of 2012 regarding Management of Household Waste and Household-like Waste, the Final Processing Site (landfill) is meant to be a place to process and return the waste safely to the environment, not to accumulate it into mountains of waste.
This means that we need to start educating people to segregate their waste from the source, and that we need to do better at reducing, reusing and recycling our waste instead of just directly disposing it.
For a starter, companies, residentials, and commercial places like cafes and restaurants can take part in reducing the number of waste that ends up in landfill by starting to manage their waste responsibly. Waste4Change's Responsible Waste Management service can help you just right, and what's more is that our service is now available in 10 more cities, namely DKI Jakarta, Bogor, Depok, Tangerang, Bekasi, Bandung, Semarang, Surabaya, Sidoarjo, and Medan.
Responsible Waste Management service from Waste4Change will help collect and manage your waste in a segregated state so as to significantly reduce the volume of waste that would otherwise end up in landfills. Clearly, this is a massive problem that cannot be solved by only a fraction of people/organizations, but still, every act of responsibly managing one's waste plays a significant role. And you can be a part of the solution (Miriam Bahagijo).