Street harassment - unwanted comments, gestures, and actions forced on a stranger in a public place - is a human rights problem in many cities across the world, and Jakarta is no exception.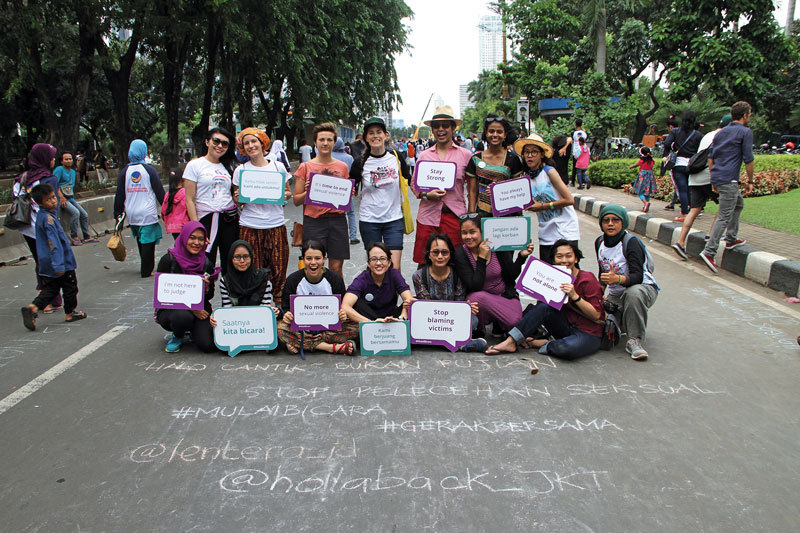 Angie, an American who has been living in Indonesia for almost ten years, knows firsthand what it feels like to become the victim of street harassment.
"About a year ago, I was riding my bicycle to work, and a guy rode up next to me, grabbed my breast and said 'hello sayang'. Before I even realized what was happening, he was already gone," Angie recalled. "I was really upset and didn't know what to do."
But Angie didn't remain silent. She told her friends what happened and quickly realized that this was not a rare occurrence. In fact, it seemed like everyone had their own story to share - which, in turn, encouraged Angie to take action and establish the Jakarta chapter of Hollaback, an international movement powered by local activists. Hollaback was born in 2005 in New York and has since gone global with almost 60 sites worldwide.
Angie joined a global site leader's programme organized by Hollaback in February 2016 and launched the Jakarta site a couple of months later. With her core team - which consists of six women, both Indonesian and foreign - she now maintains the Hollaback Jakarta website, app and social media channels and organizes events, workshops and discussions.
"We are very active on our social media accounts so people are aware that the website - a story-sharing platform - exists for them to share their stories if they have experienced or witnessed harassment," Angie explained. "It's traumatizing and by being able to share the story or to read other people's stories, it can reframe the experience. It also allowed me to see my own experience, initially still quite traumatic, not as an isolated incident that has happened to me, but as part of a bigger problem."
Maura, who was born and raised in Jakarta and is currently taking a gap year after graduating from high school, is one of the volunteers of Hollaback Jakarta.
"Street harassment is not recognized by the public but it's actually quite easy to bring up it with your friends, with your family, in school and the community," she said. "A simple conversation can already raise awareness, and I feel like this is something I can easily address in my own social circle."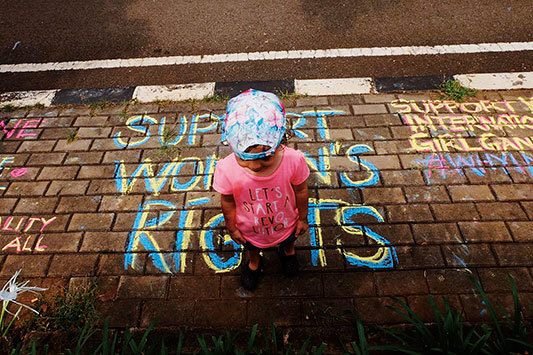 While last year Hollaback Jakarta spent a lot of time trying to organize this global movement on a local level, they have ambitious plans for this year in terms of events and activities, building on what they have already achieved so far.
"Last year we were fortunate enough to join Yayasan Lentera Sintas for their Mulai Bicara campaign, centered around sexual violence and violence against women," Angie said. "We partnered with them in early December to host a Chalk Walk on car-free day, so we basically just took to the streets, writing down our messages. On that day, there were thousands of people on Jalan Sudirman because of a political gathering, so we had a much larger audience than we had anticipated."
When they heard about the Women's March on January 21 in Washington and worldwide, Hollaback Jakarta spontaneously organized another Chalk Walk on car-free day.
"We were only around 25 people but it felt really good to be part of the global movement, to show solidarity and to talk about our message," Angie said.
In February, Hollaback co-hosted a discussion and bystander intervention workshop with the Jakarta Feminist Discussion Group, while more Chalk Walks are planned for the International Anti-Street-Harassment Week in April and the 16 Days of Activism to End Gender-Based Violence beginning in late November.
"We have recently done a bystander intervention training with Hollaback from New York, and we will be adapting it for the Jakarta scene," Angie said. "We have already done one presentation and workshop at BINUS International University and hope to organize more throughout the year at schools, campuses and businesses."
The bystander intervention training offers solutions on how to properly react when witnessing street harassment, implementing a 4D-strategy that gives bystanders the option to either direct, distract, delegate or delay.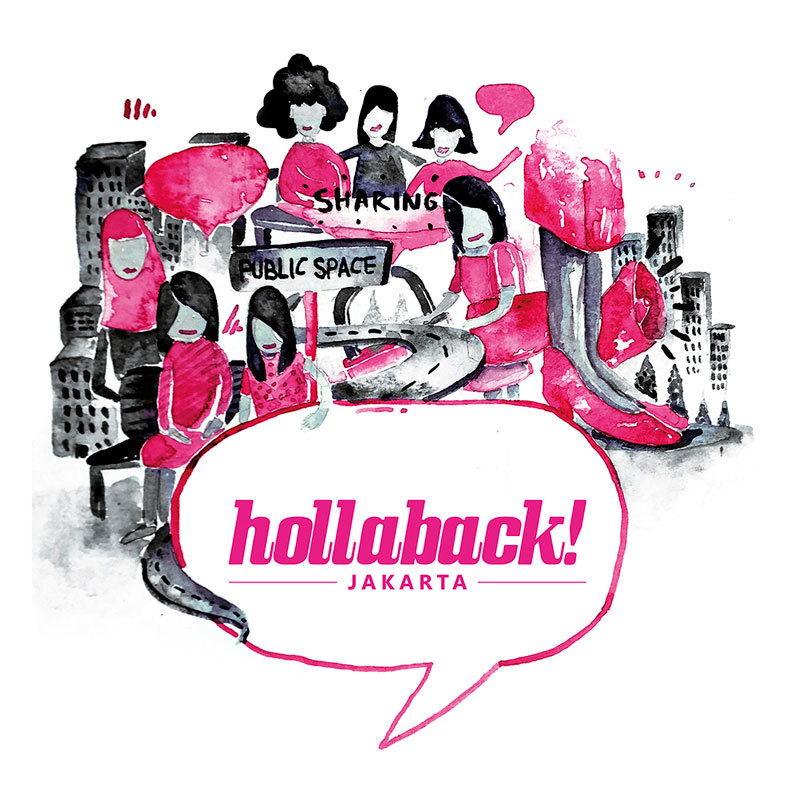 To direct means to confront the situation - in a firm, clear and concise way, for instance by saying "That's inappropriate. Leave them alone." To distract is an indirect approach to de-escalate the situation. A bystander could strike up a conversation with the person being harassed by asking them for the time or directions. To delegate is to seek help from a third party, for instance by approaching the bus driver or a transit employee and inform them that harassment is occurring. To delay means to check in with the person who was harassed after the incident and ask them "Are you okay? Can I accompany you somewhere? What do you need?"
The last step would, of course, be to report the incident on Hollaback because the more people share their stories, the easier it will be to fight street harassment in Jakarta.
At its core, Hollaback is a grassroots movement, and therefore the easiest way to approach people is by talking to them directly.
"On car-free day, a middle-aged Indonesian woman came up to me and we started talking about rape," Maura recalled. "She said that if the woman dresses provocatively, it's her own fault."
Maura was furious about the woman's victim blaming, yet she tried to remain calm and collected.
"I didn't want to get into a fight, so I thought, what if I approached her in a friendly way? I argued that it all comes down to the man's actions - it's his decision to feel seduced, it's his decision to commit a crime, so how is it the woman's fault if she is the one being attacked?" Maura continued. "I expected her to dismiss me but she listened to me and really thought about what I said. I'm not sure if she will stop blaming the victims from now on, but at least I had an immediate impact on her, and I was really happy about that."
Hollaback Jakarta
Website: jakarta.ihollaback.org
Instagram: @hollaback_JKT
Twitter: @hollaback_JKT
Facebook: hollabackjakarta