Old School BMX (OSBMX) Jakarta is a fun community that provides room for those looking to relive the good times with classic BMX bikes and channel their hobby and exercise at the same time.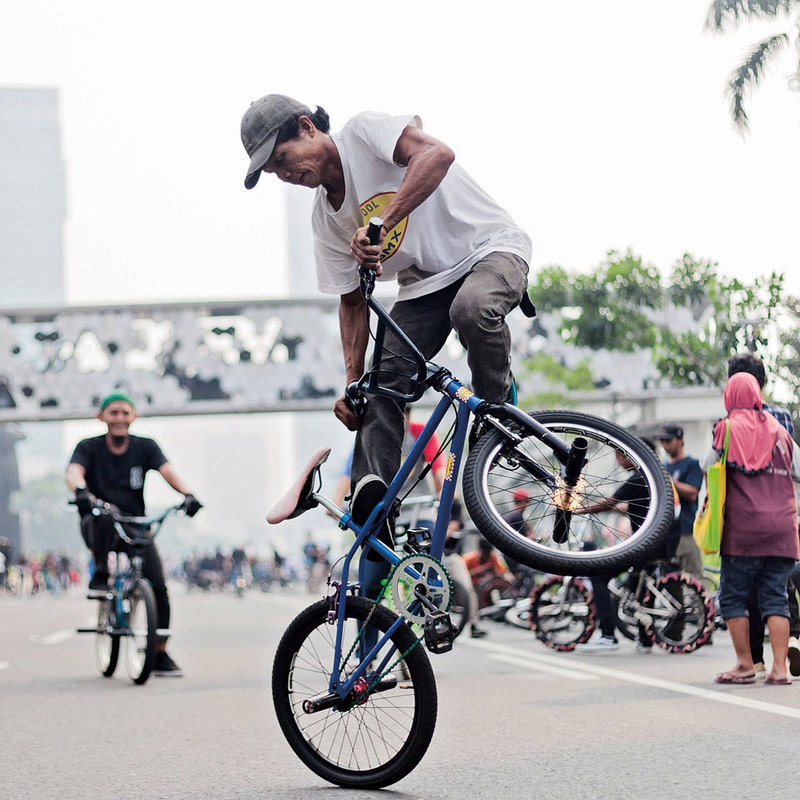 We all remember E.T.: The Extra-Terrestrial, a movie released in the 1980s. The heroic actions of young boys riding BMX bicycle to save aliens from earthlings evil intentions was so spectacular and inspired children in America to go BMX, effectively triggering a new trend that saw a surge in BMX production.
Bicycle motocross, or more popularly known as BMX is a timeless off-road bike used for speed racing and acrobatic. In most European countries, the United States and Australia this bicycle is still in demand for teenagers to adults.
BMX entered Indonesia's market in 1985 and like other countries, most boys loved to have it and felt proud when they went to school together with friends by riding their favourite BMX. Although it is rarely used by children of the current generation, this bicycle is still loved by its communities. Abdul Latif, for example, is someone who will not let memories of his beloved BMX disappear, and so he founded a community.
"Besides BMX Bandits (1982), I was also inspired by a movie titled RAD (1986) where in one of the scenes they have to sell newspapers to buy their own BMX. Even though forbidden by my parents, I sold newspapers like in the movie to save for a Raleigh, because at that time that series was really idolized," Latif explained.
Latif, who is also a BMX collector, likes to ride his bike during car free day by himself. It was awkward and uncomfortable when people stare at him and his old-fashioned BMX. Latif then seeked out other BMX lovers to start a community which he then named Old School BMX Indonesia in 2010. The community gained attention and people from all over the country were interested to join.According to Latif, the community's goal is to invite early generation BMX lovers to nostalgia and have fun together. He stated that the community is so unique because the members range from teenagers to older people—some even 60 years old—and they like to show their skills in freestyle in car free day time around Dukuh Atas area, close to Jendral Sudirman statue. Even though they're not professional freestyle players, they also practice BMX tricks, such as back lift and various jumping styles. When they gather, people can see various classic types and brands, like GT Performer Mach One, Skyway, Hutch, Haro, Raleigh Burner, Pro Raider and many more.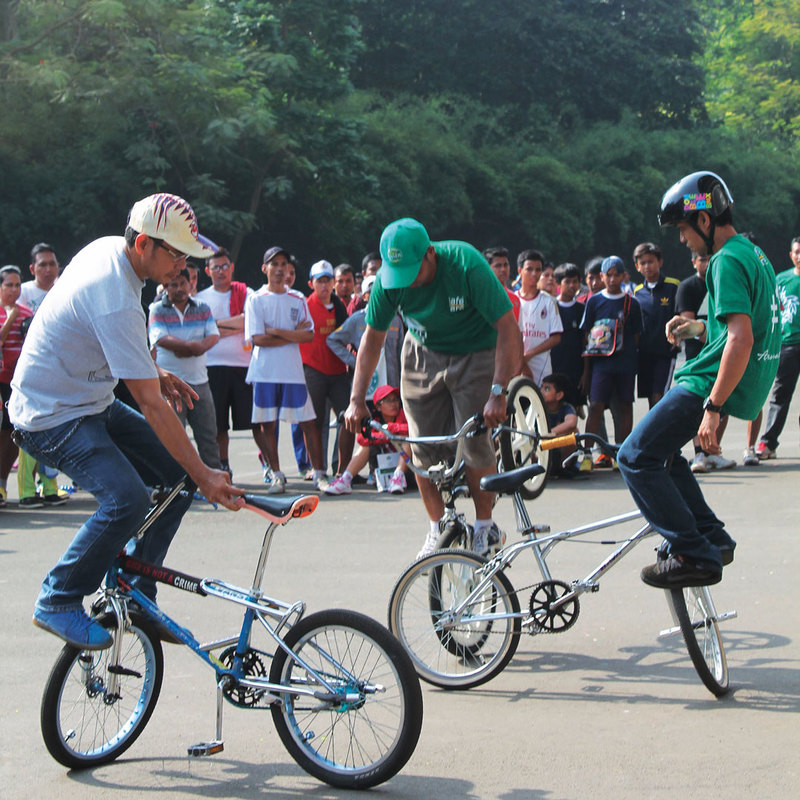 "Anyone who want to join and try to do freestyle with their old school BMX like us are invited to come to our community. We're open to anyone looking to learn, and we'll show what we know at no charge," Latif explained.
There are many BMX communities in Indonesia with different specifications. Latif's community is currently focusing on developing freestyle with old-school types. Before freestyle, Latif diligently participated in various racing events. He became interested in BMX for acrobatic or freestyle because the learning curve is more interesting than BMX for racing.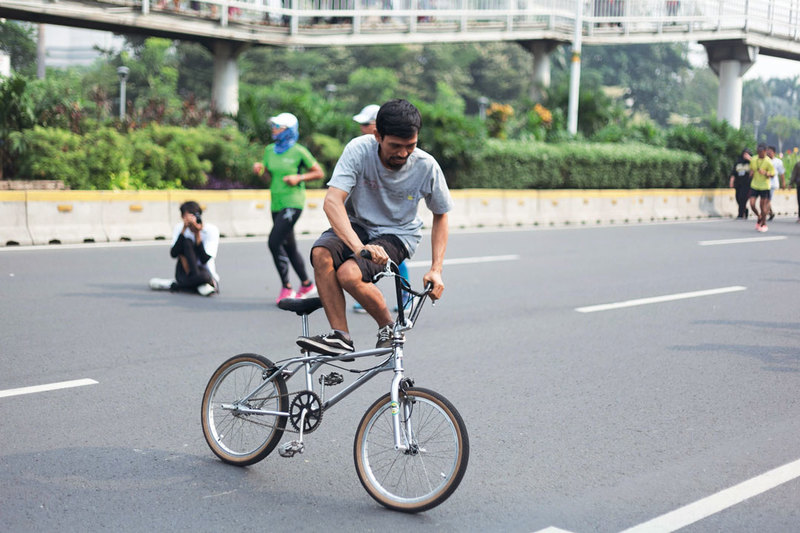 Latif also said that OSBMX Jakarta often organise interactive events at least once a month. In addition to fun events like picnic to Bogor Botany Garden, Latif has organised charities and fund raising to help victims of natural disasters and kids in poverty and various competitions linking to old school BMX community in neighbouring countries."We made a GT Day where all GT owners can join competitions, such as slow race, freestyle and creative display. And for the first time, we've made Raleigh Burner Day event before even England hasn't hold any event for that segment yet. Even Malaysia requested our community to organise the Mega Burner Festival, and it was a success. But the biggest event that we've held was Jakarta Old School BMX Festival in Ancol two years ago with various events, such as music, freestyle, racing on the sand, bunny hop and many more." Latif passionately described.
Latif admitted that so far, OSBMX Jakarta is running without any organizational structure. He is currently in the process of registering the community to be a foundation and have plans for a BMX museum to think about regeneration and reward inspiring athletes for their achievements.
---
This article is originally from paper. Read NOW!Jakarta Magazine July 2019 issue "Health, Sports, and Recreation". Available at selected bookstores or SUBSCRIBE here.