It is always heartwarming to see a group of people getting together to do good, and this was no exception. The following is the story of Andrzej Jakubowski, Chairman of the Polish Business Club in Jakarta, on how he and his supporters aided Lombok.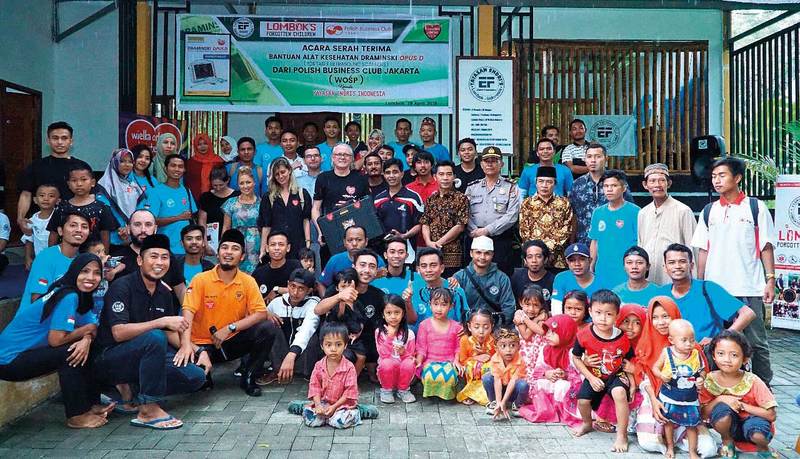 On 28 April, I traveled to the island of Lombok to officially deliver the Draminski OPUS D ultrasound machine, purchased with the money collected during the 27th Grand Finale of the Great Orchestra of Christmas Charity in Bali, for the Forgotten Children of Endri's Foundation, a local charity foundation in Lombok. The unit was proudly handed over to Mr. Endri, the founder of the foundation, in the presence of representatives of local authorities, the Vice-Governor of Lombok, representatives of local government offices, the police, government health organizations, and children with whom the Foundation is directly involved, as well as local residents.
After the official ceremony, which was also witnessed by many Polish people living on the island of Lombok, a short training session was conducted in the operation of the ultrasonography machine for the local doctor. Subsequently, the first official medical examination with said device was performed.
The official part of this ceremony finished with an interview with the vice-governor, doctor and myself for the local press.
I personally think that the purchase of this top-of-the-line equipment with funds collected during the 27th Grand Finale of the Great Orchestra of Christmas Charity and subsequent handover to a community that can fully benefit from its technical advantage was an accurate choice. I would like to thank all those who contributed towards making this happen.
Well done, Polish Business Club.