Religious beliefs dictate that certain sites and structures have been around since the beginning of time, formed from geological formations, and written into the various holy books and considered spiritual spaces. There is also considered sacred among the pious, have increased in popularity and are classified "religious geotourism' by the travel industry.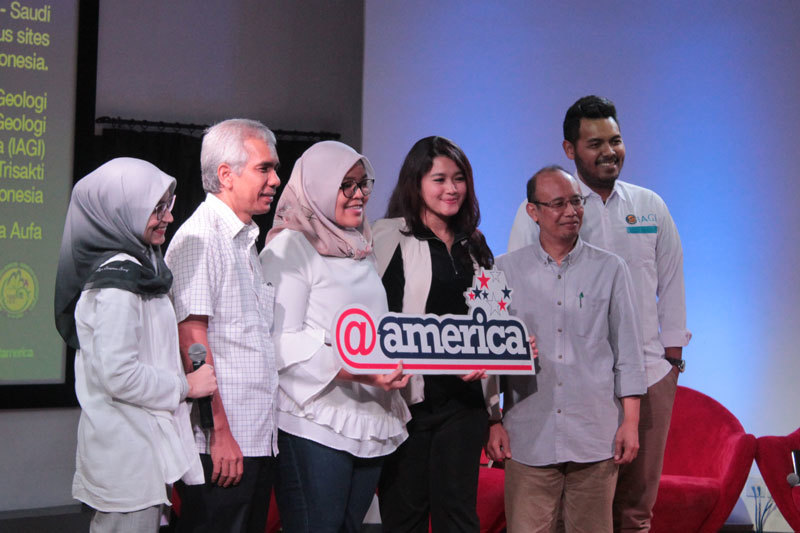 The American Cultural Centre, @america, hosted a seminar titled "Geosharing #5: A Religious Geotourism Experience" in May which discussed the correlation between spiritual pilgrimage sites and geoscience.
Indonesian geo scientists including the founder of Dongeng Geologi, Rovicky Dwi Putrohari shared information on geographical characteristics of Mecca. The head of Ikatan Ahli Geologi Indonesia (IAGI), Sukmandaru Prihatmoko spoke about his travels to Kazakhstan on an Islamic pilgrimage. Trisakti University lecturer Prayang Sunny explored Salt Lake City, the birthplace of the Church of Latter Day Saints with its natural mountains believed to be connected to the faith. Member of Geotour Indonesia, Suci Sarah, shared her experience setting up geographical research about sacred spaces in the mountains of Padang, West Java.
Rovicky Dwi Putrohari explored the zamzam well, black stone (Hajar Aswad) and Maqam Ibrahim in Mecca. Rovicky concluded that all of those three sites has background stories which are believed by Muslims to be holy, but also could be seen from the perspective of geological sciences. Many people believe Zamzam wells are never devoid of the water, considered holy by the Muslim community, and perceived to be a religious miracle.

Based on geological surveys in Saudi Arabia, Zamzam wells is located in a water basin (fracture reservoir) which is now maintained in storage by the government using technology similar to that used in oil exploration. This was done to meet the high demand for Zamzam water during the Hajj season where up to 400,000 litres are collected per day.

Black stone is of particular interest among geologists. Many scientists assume Hajar Aswad is a meteorite which contains siderite. Among Muslims, Hajar Aswad was once white but turned black after being kissed repeatedly by those looking for forgiveness for their sins. Similarly Maqam Ibrahim, believed to be the footprint of Prophet Ibrahim, features indentations were formed over years of abraison.

"These relics are very interesting as they are also believed to be evidence of Islamic civilisation that we know today," Rovicky said.

Prayang Sunny, lecturer of Petroleum Engineering at Trisakti University visited Salt Lake City in Utah and found out how the Latter Day Saint (LDS) movement of Restorationist Christianity spread among in the region. The many monuments around the area are testament to this.
In 1920, the LDS movement was started by Joseph Smith in New York City and was continued by Brigham Young. Young and the followers of the faith moved to Salt Lake City in the early 1940s to build the Salt Lake temple square and continue practicing the missionary programme.
From a geological perspective, LDS has transformed the deserts and mountains of Utah and created Salt Lake City, complete with its LDS architectural establishment such as a Church, Beehive House, as well as monuments of Joseph Smith and Brigham Young.
"In Salt Lake City, LDS is not only a religion but also influences culture and has become a a place of spiritual pilgrimage among LDS followers," Sunny said.
@america's Director and Deputy Cultural Affairs Attaché of the U.S. Embassy Jakarta Jed Taro Dornburg said, "Geotourism could tell us on how we connect with each other and can understand each other. And I hope we understand perspectives of other religions especially when we discuss it through geoscience".
Visit @america at pacific Place, SCBD, South Jakarta to see a variety of events and discussions. Information about education in the United States is also available. Visit www.atamerica.or.id