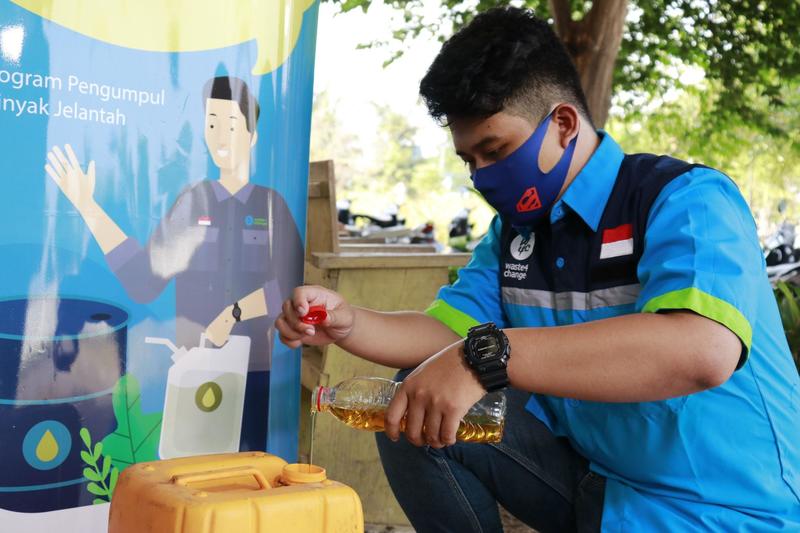 Used Cooking Oil (UCO) can be defined as oils that have been used for cooking and/or frying for more than three times, and thus is categorized as waste and should no longer be consumed. Used Cooking Oil degrades in quality over each use, and there are several characteristics of UCO that one can observe to determine whether the cooking oil should be reused or changed instead.

Let's start with the (1) color. Used Cooking Oils that were initially yellowish and transparent will turn into darker shades of brown. Next is the smell (2); UCOs that are no longer safe to be consumed will usually emit rancid smells, and our nose can easily detect this. The third characteristic is the texture, which will become thicker over each use.

Last but not least, avoid reusing oil that emits a lot of smoke when heated. Why? Because it means that the oil's smoke point has dropped, which signals that the oil should no longer be used.
Health Risks of Used Cooking Oil
Cooking oil should be changed regularly because otherwise it will pose some serious health risks. To start with, cooking oils that have become rancid contain free radicals (molecules that can damage cells and lead to cancer) as well as affect the quality of the food itself.
Free radicals can also cause inflammation, which can lead to more diseases including obesity, heart disease and diabetes. High inflammation in the body can also reduce immunity and make you prone to infections.
In addition, consuming food that is cooked using black, smoked oil can increase the level of LDL (bad cholesterol) in the body, which can result in increased risks of heart disease, stroke and chest pain. Some studies even suggest a link between used oil and degenerative diseases such as Parkinson's and Alzheimer's.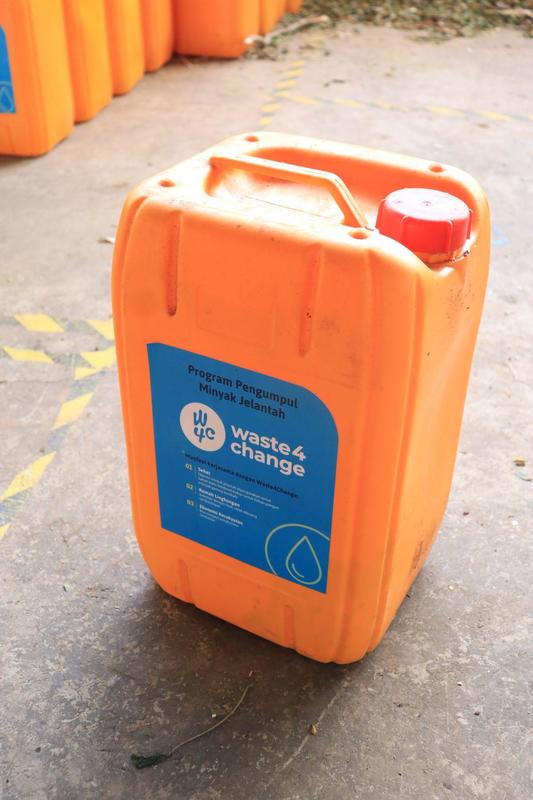 How Used Cooking Oil is Damaging the Environment
Another equally important point to be highlighted is why we should not dispose of used cooking oils carelessly. People typically throw these oils right into the kitchen sink, sewage, or even soil, unaware of the consequences, which range from clogging to water and soil pollution.
To give an example, data from The International Council on Clean Transportation (ICCT) shows that 51% of used cooking oils from households in Tangerang were disposed of directly into the environment. Around 39% were poured into the sewer and 4% were disposed of into the soil. A similar trend was also found in Bogor (2015), where 51% of the UCO from households in Bogor becomes liquid waste in sewers whereas 17% of it pollutes the soil.
The Potential of Used Cooking Oil for Biodiesel
The good news is that UCO can be a viable source of biodiesel, and in Indonesia context, the potential of UCO looks promising. To start with, according to a publication from Indonesia Oilseeds and Products Annual 2019, consumption of cooking oil in Indonesian households amounts to 13 million tons, or 16,2 million litres (katadata).
Furthermore, the potential of collecting UCO from commercial sectors such as restaurants, hotels, and schools in big cities like Jabodetabek, Bali, and Makassar is around 157 million litres, or equal to 3% of Indonesia's annual biodiesel production. The collection potential is even higher from households and other sectors, amounting to 1,638 million litres or 32% of Indonesia's annual production.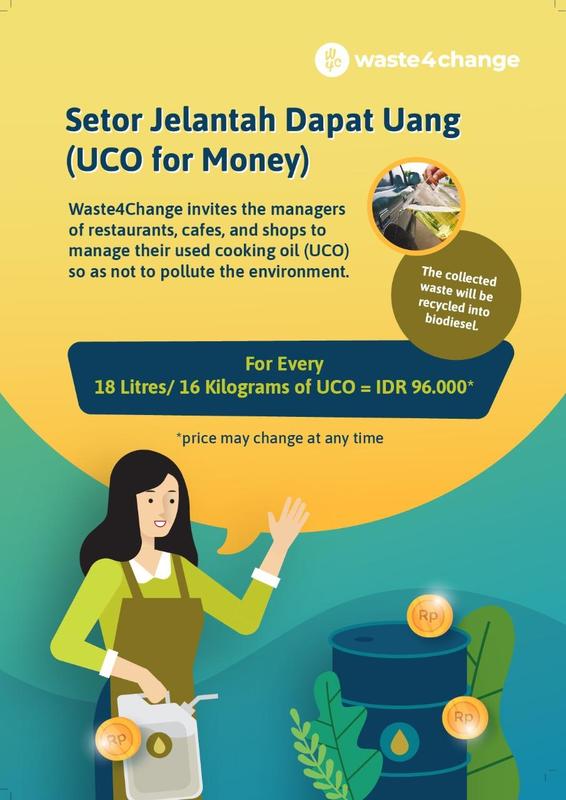 Manage Your Used Cooking Oil The Responsible Way
To help increase the collection rate of Used Cooking Oil (UCO) from commercial sectors, Waste4Change provides a new service called Setor Jelantah Dapat Uang (UCO for Money), and is the perfect choice for business owners such as restaurants, cafes, and even GoFood merchants willing to start collecting and making sure that their UCOs are utilized into biodiesel instead of ending up in the environment.
Here's how it works: register and make sure that you meet the qualifications to store your used cooking oil. After that, start collecting your used cooking oil until at least 5 containers (the containers will be provided from Waste4Change). Then, the UCOs will be checked by Waste4Change before it is then collected and turned into biodiesel.
The best part of responsibly managing your UCO is that for every 18 litres or 16 kilograms of used cooking oil that are collected by Waste4Change, you will get paid approximately IDR 96.000 (the amount may change over time). Also, keep in mind that the used cooking oil should not get mixed with water, leftover flour, and is stored in a room/cold temperature for it to be eligible to be collected.
So, what are you waiting for? Start collecting that rancid used cooking oil and make a money out of it while doing the environment some favor. For more information, visit w4c.id/setorjelantah.