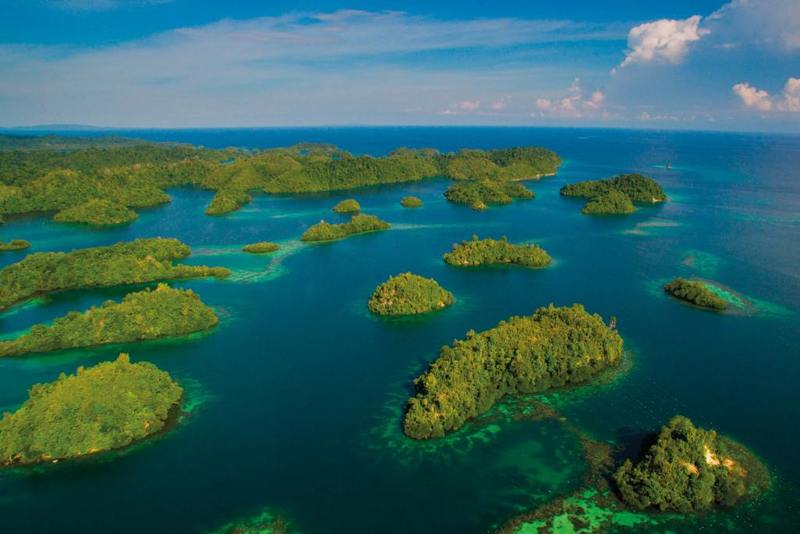 The main aim is not just getting profit but more a sense of concern about the impact of mismanaged tourism in the country to the environment. Sihkami Denting, Founder Togo Eang Ecolodge Togean Island and Iben Yuzenho, Founder Sebumi are probably just few of today's younger generation who realize that the tourism industry relies heavily on the sustained beauty and hospitality of the places and communities. Noticing the sustainability issues in tourism, they developed a business with good approaches and unequivocal ways, to not just label their metier sustainable.
By utilizing the land owned by her parents located in a private island in the heart of UNESCO Biosphere Reserve of Togean Ojo Una-Una Island in Central Sulawesi, Sihkami built an ecolodge last year on the forefront island of a triangle-shaped group of three islands and just started to open its door for tourists few months ago. Guests who stay there will be satisfied with the natural environment of the 1,2-hectare pristine Togo Eang island covered with tropical rainforest surrounded by mangrove. As a home to diverse wildlife, guests can enjoy the endemic primate tarsius and burung alo or Togean hornbills.
"Togean is an underestimated destination. Most people come here only for diving as the island is famous as underwater sites which are situated in the part of the World's Coral Triangle. Only a few know about wildlife here. To receive guests here, I tried to build an eco and environmentally friendly tourism concept, starting from building this ecolodge." Sihkami convey.
Seeing the main characteristics of the island, there are many factors that support a sustainable destination. In building that unique off grid resort, Sihkami operates it by harnessing 100% natural energy from the sun, using a self-made 1,5 kW photovoltaic-battery system and with minimal impact on the environment. She endeavoured to use only the materials from the island. She learns a permaculture garden and plants various vegetables, spices, and herbs to provide food for the guests and collects as well as manages rainwater for its lodge operational needs. She said that the rainfall on the island is very good and when it rains, four to five hours of the falling rain can fill a tank with a capacity of 8000 litres. By using filters and special tools to become clean water so that guests can use it for bathing and drinking.
Sihkami didn't cut down many trees on the island for the lodge and replanted the ones that were necessary for construction. Moreover, she desires to minimize consumption which led her to use reclaimed materials, such as logs floating on the beach near the lodge for furniture and second-hand accessories and equipment for utensils. She wants to ensure the guests can enjoy an experience where adventure, conservation and relaxation live in perfect balance.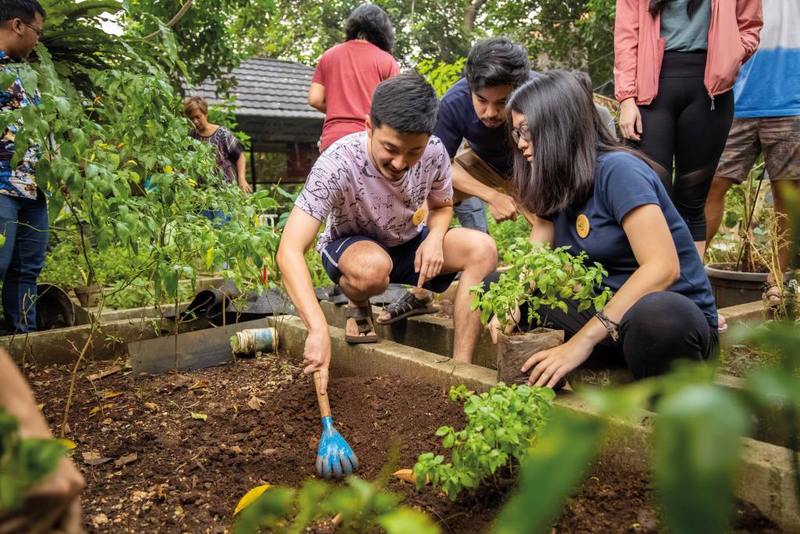 "I don't want the concept of ecotourism to make travellers who come here happy but not to make local people unhappy. There must be two ways. We need travellers not only to bring money but also awareness. In a business there must be a balance. For me, quality over quantity. I can't judge the success of tourism only from the number of tourist visits, but I see more from the impacts. Tourism is a large and always growing industry. Before tourism nature is destroyed, don't let it be more destructive with tourism. If we don't move quickly, I can't imagine what will happen in the next life." Sihkami also revealed that the lodge is not for commercial use
The lodge currently only has two rooms for comfortably maximum six guests and will add two more rooms to accommodate 10 guests. She limits the number of guests and prefers to involve guests -mostly foreign adventurers- to have social interactions for the local community. Besides serving guests, Sihkami teaches local children and students from providing English language education to managing waste and the environment.
Staying guests must also follow the norms of sustainable living, including internet detox, so that they can fully enjoy nature surrounding Togo Eang Ecolodge Togean Island (www.togoeang.com, IG: @togoeang).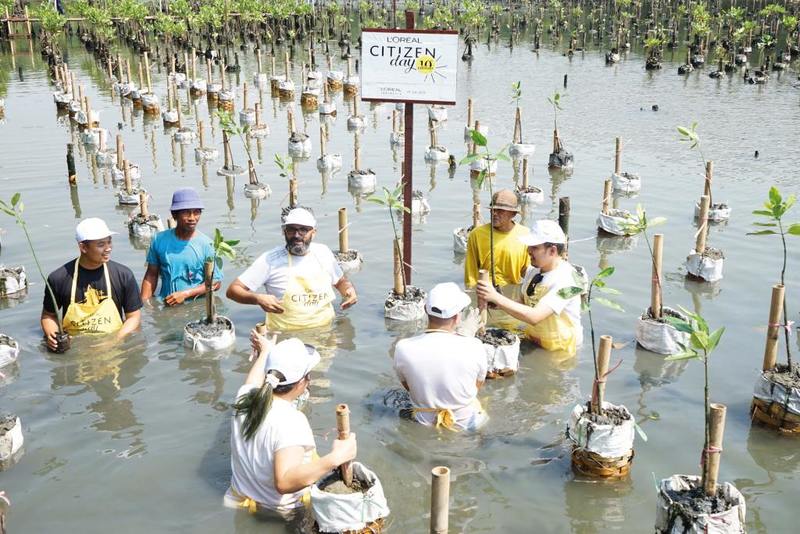 Tourism is indeed a strategic entrance of education, because the weakness of tourism in this country is its content and storytelling to convey its main principles. Departing from the desire to create a tourism activity with the impact of being able to return to nature starting from a tour to returning from a destination, how to actually build community-based activities and conservation actions, in 2015 Iben Yuzenho established Sebumi, an eco trip organizer with a mission to provide sustainability education to urbanites.
Iben sees ecotourism as part of the definition of direct learning in nature to provide education, so he chose to build a social enterprise in the field of ecotourism as one of the media to convey his education.
"This is a form of our expression because things in tourism should run in a system, but I see it's not work. There is a huge gap between policy and implementation, and if we wait for the synchronization between the central, regional, district and village policies there will be no end. And when it's finished, nature is already damaged. So, I chose the social entrepreneurship concept because we can't wait for it to finish. What are we talking about, we just make it, no matter how small it is? Because, if we depend on tourism, tourism will be abused. Mass tourism is the wrong way. " Iben firmly said.
Joining trips with Sebumi is not about seeing and enjoying the beauty of the destination. Not at all. Sebumi has collaborated with local partners and studied the problems faced and helped solve problems with agreed solutions. It provides packages to national parks, such as Sebumi Mendaki (hiking tour), Sebumi Merimba (jungle tour), Sebumi Melaut (sea and underwater tour) and Conservation Journey which participants have to learn the module, recognize the characters of the destinations and national parks and its rural locations and together with community examine the sustainability gap and help solve the problem together.
"For example, we have Zero Waste to Mount Semeru for how the trip to the mountain becomes a social business. One of the principles of ecotourism is local community empowerment so that it expands experience and commitment. We prioritize looking for local partners with the same vision and mission. For example, in Semeru, our local partner is SAVER (Semeru volunteer friends) which we involve and cooperate with the Ranupani village group which has a problem with waste. Participants must carry their garbage down the mountain and then take it to a landfill which is managed by local cleaning officers and we support them. " explained Iben.
Even in Rinjani, Iben sees it as a very good destination but the miss-management is also high. For this reason, Sebumi also develops many connections to the local community because they really need energy.
While on the Conservation Journey, Sebumi invites travellers to learn about conservation from the community perspective. This package offers a smaller portion of tourism aspects than Sebumi Merimba, Sebumi Mendaki dan Sebumi Melaut. 70 per cent of the activity is about learning conservation not only in national parks but also in remote and rural areas.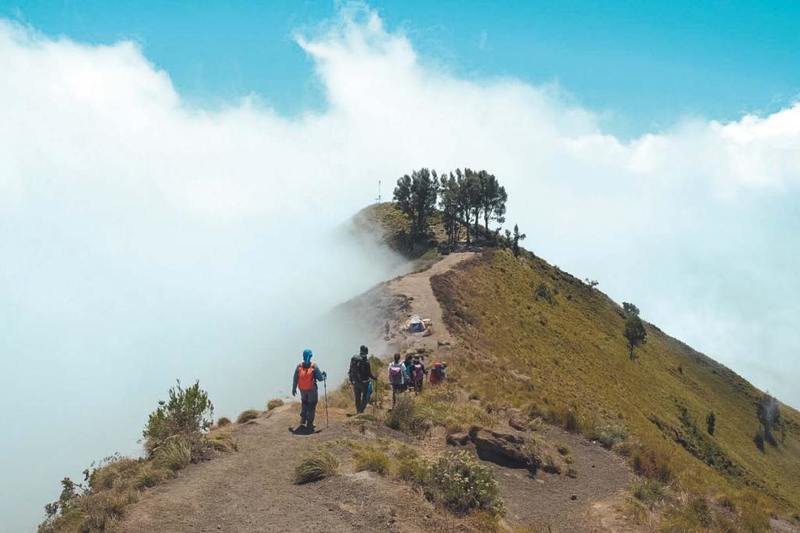 After the young people go to the mountains, forests and to the sea by understanding the issues they see, such as deforestation, coral damage etc, when they return to the city what can they do? Sebumi filled that gap with weekend workshops to lead a more sustainable lifestyle starting at a personal level and from their own homes. There were seven themes presented, namely food, water, energy, waste, shelter, transportation, and biodiversity that exist around them and how to take action in each of those elements. Partnering with various communities, the workshops provide knowledge for urban people to develop their own edible garden and urban farming.
For Iben, there is a missing link between urban lifestyle and the connection to back to real nature, which is not enough just to be vegan or not using single-use plastic. But, if we don't have an experience that can reconnect with nature, something is still missing. The need to reconnect, according to him, becomes a need that will become a large gaping hole in a soul.
"The market for ecotourism is huge and I see young people now as a unique generation and the future generation of this country. And when we talk about ecotourism, we must know that tourism is not the spearhead. The name is eco-tourism, eco is in front then tourism. So, if our tourism activities are not prioritizing the eco, what is it for? What takes precedence must be the eco, the conservation. Tourism is just an impact. It is not a basic need. During this pandemic, people just realized that tourism is the impact of the top of the pyramid when we have a foundation called right livelihood and balanced with nature." Iben said.