The Holy Month of Ramadan is a month of fasting, prayer and reflection but it is also about community, in which the observances it entails include zakat and sadaqah, an act of almsgiving. In the act of sharing the blessings of Ramadan and giving back to the community, specifically to those who are less fortunate, The Sultan Hotel & Residence Jakarta held an Iftar event with orphaned children in collaboration with Bantu Group Indonesia and Jakarta Aquarium & Safari, with support from Bantu Musik, MedPro, Jamu Delicious and Kumikopi.
In attendance at the joint Iftar event were representatives of Indobuildco, Singgasana Hotels & Resorts (owning and management company of The Sultan Hotel & Residence), media colleagues, hotel employees, and of course, the event's esteemed guests of 100 orphan children from Yayasan Al Istiqomah Menteng Tenggulun, to celebrate the joy of Ramadan through sharing donations.
Taking place at the hotel's Lagoon Garden, the event began with an introduction of the hotel's facilities to the orphans with a hotel tour. Upon arrival, the children were invited to visit the Golden Ballroom, where they could experience the expansive venue where a historical event was once held there, the Presidential Debate. Following that, they attended a marine life education session and handicraft lesson courtesy of the Jakarta Aquarium & Safari before breaking their fast during Iftar. The special Iftar session was blessed with a recitation of the Qur'an by Yayasan Al Istiqomah Menteng Tenggulun and Islamic chants by Bantu Music.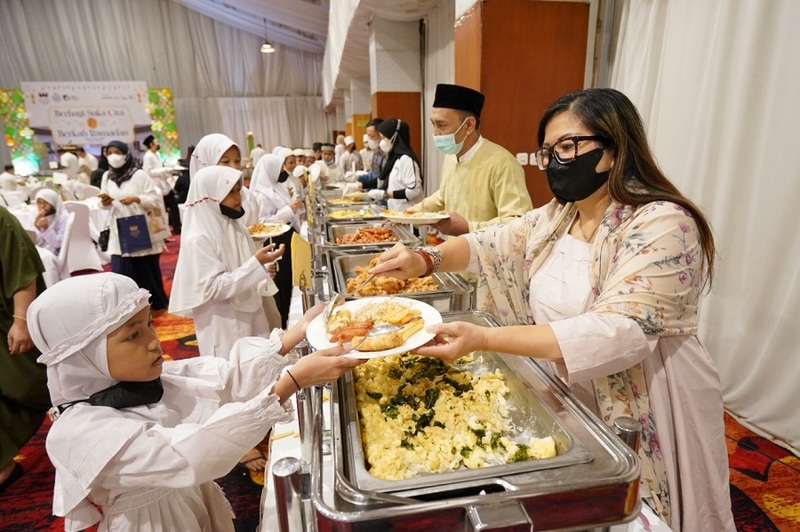 The Iftar culinary offerings were meticulously prepared by the hotel's chef and culinary team, serving up a variety of tantalising traditional dishes with homecooked comfort food familiar to guests' palates. The chef also made sure to prepare popular children's favourites including Macaroni Schotel, Fried Chicken, French Fries, Chicken Nuggets, Assorted Fruits and Pudding.
The children received support not only in the form of donations and school stationaries from The Sultan Hotel & Residence Jakarta and Bantu Group Indonesia but hygiene kits and hand sanitisers courtesy of Medpro so that they can maintain health protocols during face-to-face school period. The donations were given symbolically following the Maghrib prayers and dinner by representatives of the company owners and hotel management, Bantu Group Indonesia and Jakarta Aquarium & Safari. This heart-warming Iftar event was held as part of the hotel's initiative to contribute socially and give back to the community in a sincere effort to give happiness to the orphaned children during the holy month.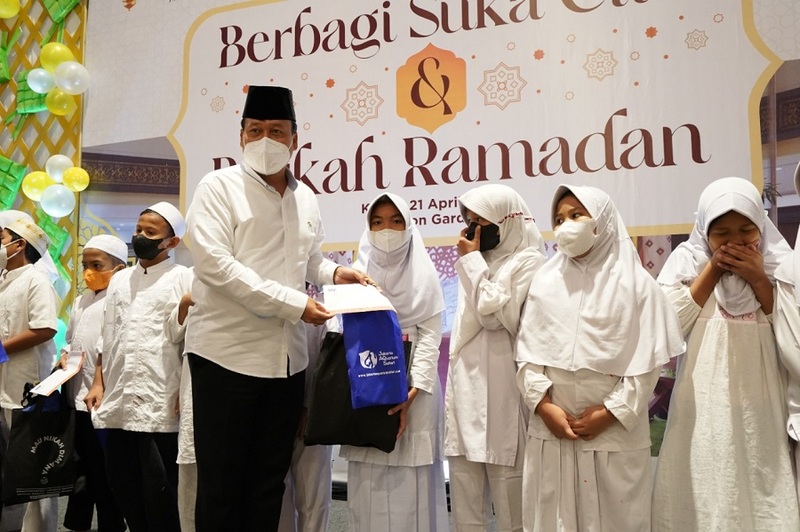 The Sultan Hotel & Residence Jakarta
Jl. Gatot Subroto, Jakarta
+62 21 570 3600
[email protected]
sultanjakarta.com