"I Wanted Freedom, Open Air, And Adventure. I Found It On The Sea." - Alain Gerbeault
We at NOW! Media are huge fans of the Coral Triangle Centre in Bali's amazing efforts to preserve the oceans, so when we saw this idea we have to tell you about it and encourage you to support them in this great adventure AND the proceeds go to the CTC's funds.
Introducing the challengers:
MIKE BRUMBY

Mike is from England, born in El Salvador but grew up in Indonesia since he was the age of 3. He has lived in Indonesia for over 30 years and calls this country home. Mike is a qualified teacher and fitness coach. Currently, he works as a sports teacher at an international school in Surabaya. He has a passion for all sports, especially extreme ones. Mike has done a lot of windsurfing but is very new to SUP so this will be a very tough challenge but one he is excited about.
LUKAS GALLU

Lukas is from Sumba and was born in Wunta Laka. He is a private SUP Instructor working with Maliko SUP Bali. Lukas has a passion for all water sports, including kite surfing, surfing and hydrofoil surfing. Lukas has a goal to become a professional SUP athlete competing in local and international competitions. Currently, Lukas is the number one ranked SUP rider in Indonesia. Lukas is really looking forward to the challenge of circumnavigating Bali.
Mike and Lukas paddled from Sanur to Tianyar from October 10th to 14th, 2021 to test out their bodies and raise money for North Bali Reef Conservation. They paddled 150kms in 5 days, 5-6 hours a day and raised around IDR 10 million. The main thing they gathered from the trip was that the currents and winds are stronger than expected and the challenge to paddle around Bali will be tough and take a lot of preparation.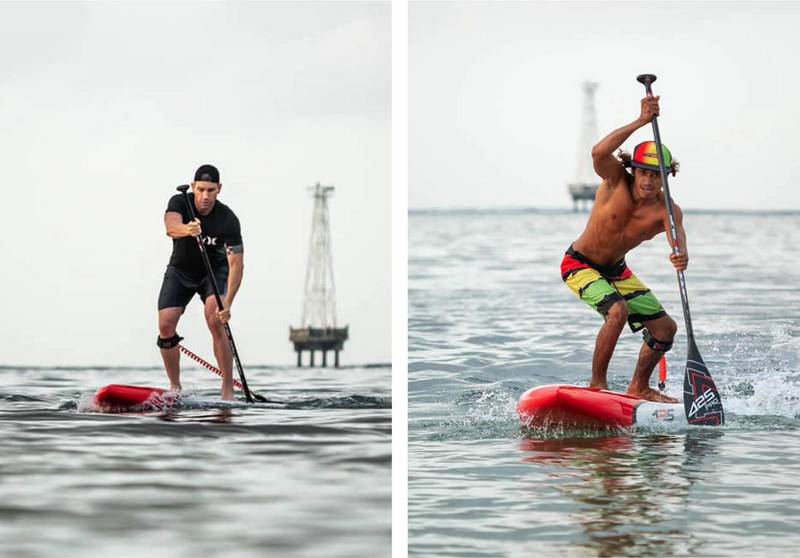 BACKGROUND
"Because the oceans are essential to life on Earth"
The ocean is the largest ecosystem on Earth. It is the planet's life support system. Oceans generate half of the oxygen we breathe and, at any given moment, they contain more than 97% of the world's water. Oceans provide at least a sixth of the animal protein people eat. Living oceans absorb carbon dioxide from the atmosphere and reduce climate change impacts. The diversity and productivity of the world's oceans are a vital interest for humankind. Our security, our economy, and our very survival all require healthy oceans.
WHY ARE THEY DOING THIS?
1. To challenge themselves to paddle 450 kilometres around the coast of Bali in 16 days.
2. To educate Indonesian children about the importance of ocean conservation.
3. To raise IDR 20 million for Coral Triangle Center which focuses on ocean conservation.
"Don't limit your challenges, challenge your limits" – Tony Robbins
Paddling around Bali will be a very tough challenge. There will be many obstacles to overcome besides the sheer distance of the journey. Many parts of Bali have big waves, strong currents and crossing ships. The heat will also play a big factor. However, Mike and Lukas like to challenge themselves to do things that other people do not think are possible.
"It's impossible to imagine our planet without coral" – Ian Somerhalder
During the paddling journey, they will stop at various schools to speak about the importance of ocean conservation. This will help guide the students towards independence; teaching them ways that they can take in their daily lives, helping develop belief systems and world-views as they grow into adolescence and adulthood.
"No water, no life. No blue, no green" – Sylvia Earle
Corals are important marine animals that form the foundations of a reef. The more corals there are the healthier the reefs are, and the more fish you'll find in the ocean. Coral Triangle Center will use the Mars-Assisted Reef Restoration System method that helps to cover barren coral rubble fields and gaps between the remaining live coral on the reef.
EVENT DETAILS
Day 1 – Sanur > Pantai Cucukan (20km)
Day 2 – Pantai Cucukan > Blue Lagoon (30km)
Day 3 – Blue Lagoon > Karengasem (35km)
Day 4 – Karengasem > Pantai Amed (35km)
Day 5 – Pantai Amed > Tianyar (30km)
Day 6 – Tianyar > Air Sanih (35km)
Day 7 – Air Sanih > Pantai Lovina (30km)
Day 8 – Pantai Lovina > Gerokgak (30km)
Day 9 – Gerokgak > Pejarakan (45km)
Day 10 – Pejarakan > Gilimanuk (30km)
Day 11 – Gilimanuk > Pantai Baluk Rening (40km)
Day 12 – Pantai Baluk Rening > Pekutatan (35km)
Day 13 – Pekutatan > Pantai Soka (35km)
Day 14 – Pantai Soka > Pantai Batu Bolong (30km)
Day 15 – Pantai Batu Bolong > Uluwatu (30km)
Day 16 – Uluwatu > Sanur (35km)
SPONSORSHIP REQUIRED
Boat Rental - 16 Days | 450km (IDR 15million)
Hotel - 15 Nights | 2 Rooms (IDR 10million)
Food | Other - 16 Days IDR 5million
TOTAL: IDR 30million
Proceeds from the challenge will go towards Coral Triangle Center's marine conservation programs, specifically to support the restoration of damaged reefs in Bali through its Adopt-a-Coral program, and to provide environmental education to public school children living in Nusa Penida Marine Protected Area. Donors will receive the following from CTC:
- A Donor acknowledgement e-certificate
- A photo of the baby corals transplanted in its restoration site
- An annual report detailing the growth and progress of the baby corals
- An update about the environmental education program provided to the school children
With your donation, you are not only helping restore damaged coral reefs but also helping inspire and teach the future guardians of Bali's uniquely rich marine biodiversity. If you would like to make a donation then please do so at the following links: kitabisa.com and gofundme.com