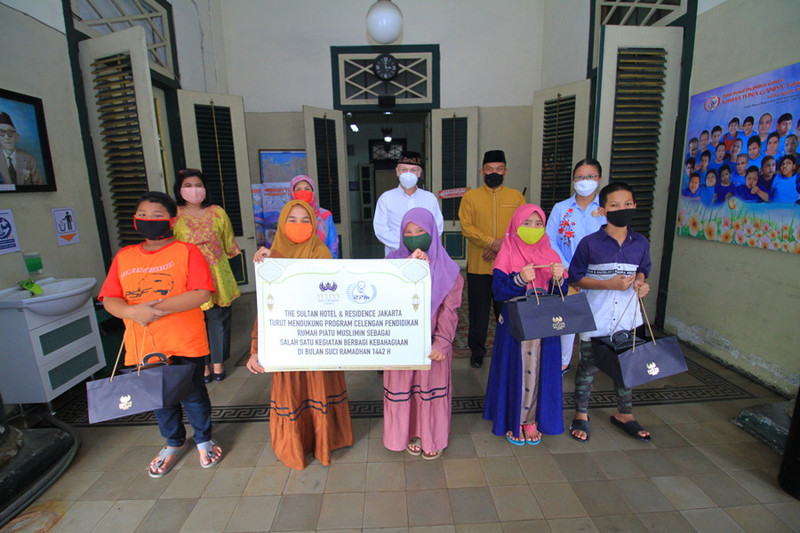 The month of Ramadan should be about sharing happiness, especially to those in need, and while we're amidst a pandemic, it hasn't prevented The Sultan Hotel & Residence Jakarta from helping the less fortunate during hard times like these.
The last few years have seen The Sultan Hotel & Residence Jakarta share happiness during Ramadan by inviting orphans and dhuafa (underprivileged communities) to experience fast-breaking at the hotel. This year, however, the hotel is showing support to those in need by donating to 'Celengan Pendidikan Rumah Piatu Muslimin', a fundraising programme to support children's education.
Established 90 years ago, Yayasan Rumah Piatu Muslimin is a non-profit foundation that provides shelter and education for the less fortunate children through 3 social welfare units: Panti Asuhan Rumah Piatu Muslimin for Muslim orphans, Panti Sosial Wisma Tuna Ganda for children with multiple disabilities, and Perguruan Islam Muslimin, a college for Islamic students. Currently, the foundation fosters up to 400 children with various backgrounds including children with impoverished families, social dysfunction, victims of domestic violence and children with multiple disabilities.
The pandemic has forced the foundation to go through big changes to adjust to the situation, including changing the education system. This change in the learning system requires equipment such as laptops, tablets and printers, as well as props for children with disabilities.
To help smoothen the transition of the learning system, The Sultan Hotel & Residence Jakarta donated laptops, printers and hard drives for the children at Rumah Piatu Muslimin. The hotel also provided ta'jil, iftar meals, snacks and cakes for all the children and staff of the foundation.
Fintan O'Doherty, General Manager of The Sultan Hotel & Residence Jakarta, and his team visited Rumah Piatu Muslimin to symbolically present the donation. Both the hotel and foundation team ensured health protocols are strictly followed before the visit to guarantee the comfort and safety of everyone.
"Even at this difficult time, we are still trying to be able to give back to the community. Luckily, we can contribute to the children by providing education, because education is the most important thing. Hopefully what we provide can help these children so that they remain excited about learning for a better future," said Fintan O'Doherty.
The Sultan Hotel & Residence Jakarta
Jl. Gatot Subroto, Jakarta
+62 21 570 3600
[email protected]
sultanjakarta.com